Elite Avengers (OFFLINE)
Elite Avengers is text-based browser game with interesting features. Mostly fighting and getting your hand on best weapons you could get. Car stealing and gambling will mostly be your income if done correctly and with caution. Your cars can be damaged so take care of them. In case they are too damages you can repair them, but it will cost you. Join a crew to make your beginning easier. The design is a bit old-schooly, but why should every game be fancy? Enjoy the features and free your inner killer instincts.





(15 votes, average: 4.67 out of 5)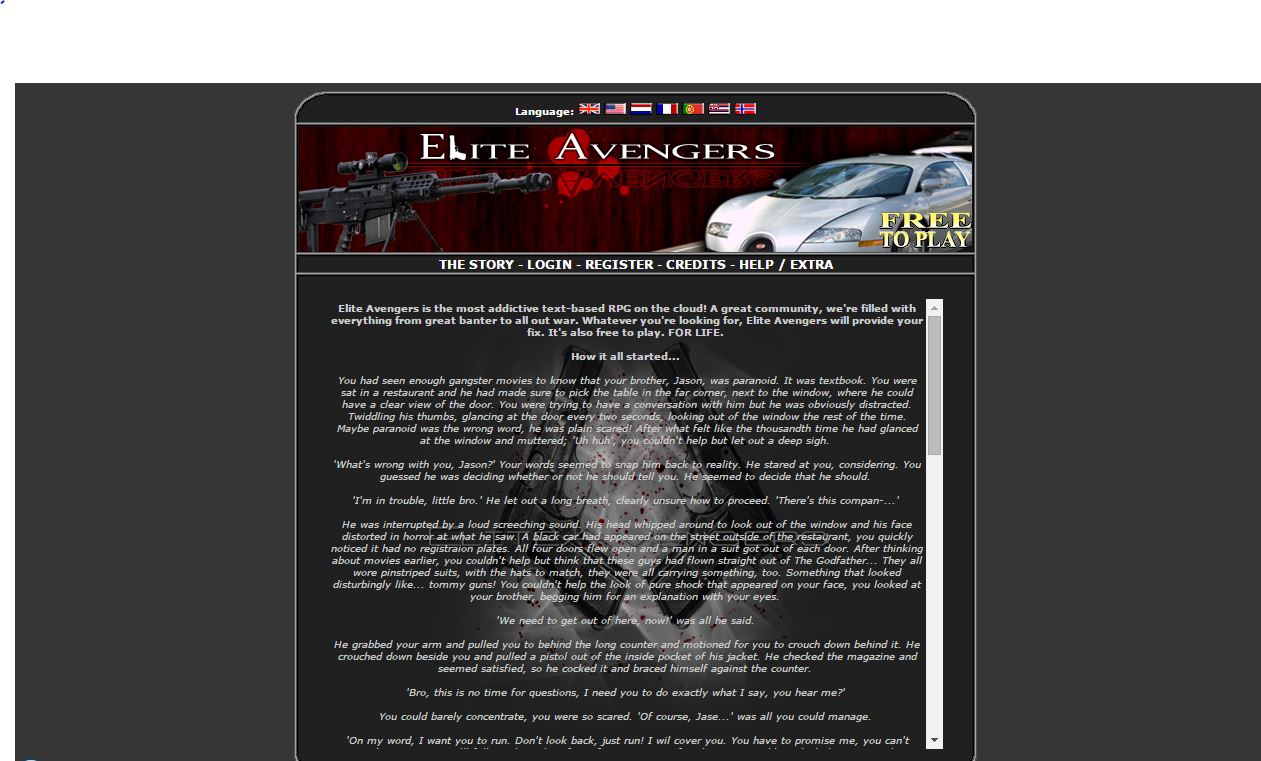 5

comments on

"Elite Avengers"
Rodney Race
June 18, 2019 at 09:37 am
R.I.P EA
Z350
October 13, 2019 at 09:45 pm
#Pozzzzzzzzzzzzzzzzzz

good old days
Stealth
September 09, 2019 at 07:29 am
What happened to EA? Randomly had a dream about it and wanted to log on... What happened??? ~Stealth
Dave_Chappelle
September 23, 2019 at 05:31 am
is there any alternatives to this game? i really want to play something simple and entertaining as this was
Gearack
June 28, 2019 at 05:50 pm
ouu nouuuu... :(
DevilsHorse
June 12, 2015 at 10:31 am
Elite Avengers is definatly the place to be, if you're looking to be active on an online text-based game. It has cool features, has a good staff and overal fun game-play.
Jordu
June 11, 2015 at 05:21 pm
I can't get to play the game, is the game down or whats up?!?
Holsje
June 11, 2015 at 05:23 pm
The game is up right now!

However you get linked to the .org you should try the http://eliteavengers.com/
Hols!
June 11, 2015 at 05:14 pm
EliteAvengers is a very addictive but fun text-based game. I've tried multiple games like it but it's always fun! The staff is very nice! All it needs is a few more active players!

10/10!
Poyser
June 11, 2015 at 04:01 pm
EA is easily the most addictive text-based game out there. The community is full of interesting characters and the forum is the best I've experienced on other games of this nature. Would definitely recommend.