Elite Forces
(Online since

2020

)
A new military-styled game has joined the fray. If you are looking for something new (launched September 1st 2020) and exciting, then you'll be sure to love Elite Forces.
Elite Forces is a free-to-play, browser-based MMORPG. With a vast array of different opportunities for you to choose from, you will never run out of things to do! The graphics look fresh, and well polished.
It's all about a world of tactics and operations. You have the option to create your own regiments or join one to your liking. Progress through the different levels of the game by completing missions. Upon successful competition you will earn both experience and money and advance up the ranks!
Defeat your enemies through the orchestration of successful operations, or, if you prefer, you can train your stats in the gym. You will have to choose your allegiances wisely, before your friend becomes your enemy.





(2 votes, average: 3 out of 5)
Rate it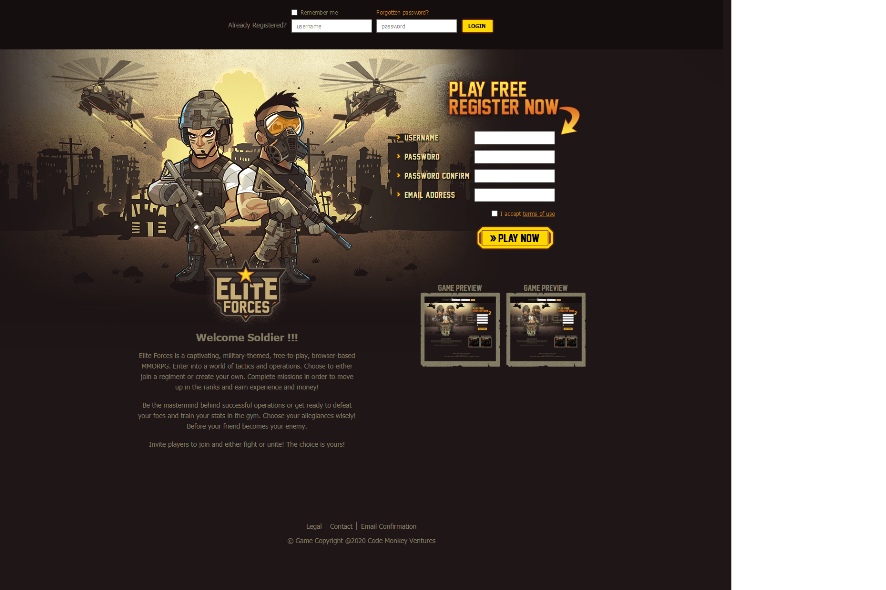 3

comments on

"Elite Forces"
Howie
September 22, 2022 at 12:12 pm
Game would be great if the owners didn't abandon the game.
Bob
August 09, 2022 at 02:28 pm
The game is great but the admin barely ever fix or update anything which is killing it Even more….
GamerFromWest
October 31, 2020 at 03:41 pm
Well I tried to register the game but it wont let me open it after I try to login.

PS: I did verify my E-mail