Elyssia (OFFLINE)
Elyssia is an old-school looking text based browser game. This game is mostly about fishing, harvesting, mining, woodcutting, smithing, cooking, crafting, thieving and lots of other activities. Increase your attack and defense to advance further into the rankings. Choose your equipment and go explore the map. You can create your own clan if you want to help others. Game has its own forum for tutorials and announcements. Game used to be called "The Reborn".





(65 votes, average: 4.08 out of 5)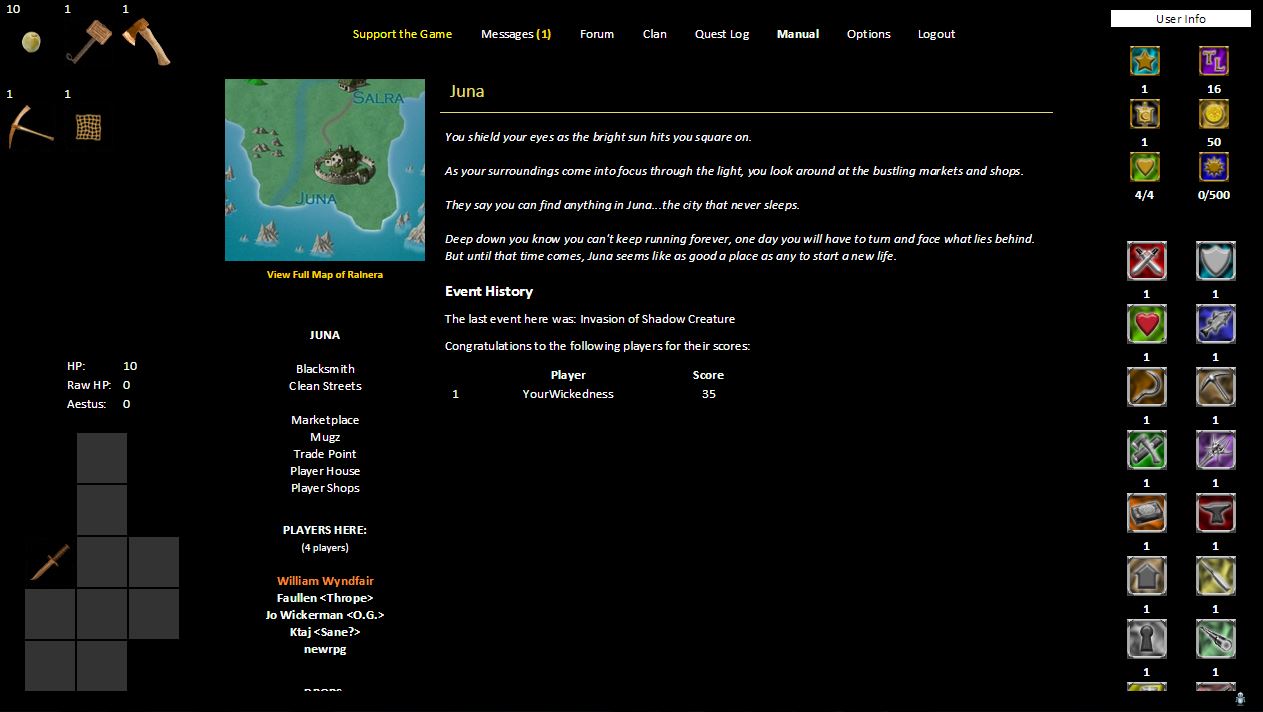 13

comments on

"Elyssia"
Liu
August 07, 2021 at 02:23 pm
Great game, still going.
anon
April 18, 2016 at 10:01 pm
Way too many skills in the game..
tiggerlicious196
September 16, 2015 at 02:11 pm
This is now Elyssia, not the other as stated in comments- This game has gained alot of skills and upgrades as of late and IS spun off from the other game, BUT is not that game anymore :)
Theking
April 17, 2015 at 06:24 pm
Under go new server dc
DC
April 15, 2015 at 10:32 pm
Game disapeared yesterday morning, can't find any info on what is going on at all, just times out whenever I try to login, seemed promising enjoyed the 3 weeks or so I played it at home, cell and job!
Smashedolbasher
March 27, 2015 at 04:27 pm
its called elyssia.org
Smashedolbasher
March 27, 2015 at 04:26 pm
new game renamed. its a secret lol i win
Disgruntled
March 01, 2015 at 08:25 pm
This game hasn't been online for well over a month. No notice that it was going down. No news anywhere on why it's gone ... it's just gone. I've heard from a couple people that the new owner just didn't pay the host. What a shame, as I used to like the game, but since the change in ownership it hasn't been the same. I feel sorry for those dedicated players who financially contributed so the game could have a better server / host. Seems the new ownership has decided he had better things to do with other people's money *shrugs*
Darkknight
January 15, 2015 at 10:04 pm
This game is far from dying as some are want to point out. The game changed ownership around 6-8 months ago and the previous admin/owner had given up on the game entirely and even stated he no longer wanted to continue working on the game as he no longer had the enthusiasm for the game any more. Thus the new admin took over and if you know anything about games it is easier to build a game from scratch then it is to take over the game someone else has made and try to add your own spin to it with out making the player base mad. The new owner has done this and in the process made a few players mad. IT happens but he has some wonderful and for this game ground breaking things in store in the coming months. While this game could use a bigger player base it is far from dead and has many wonderful things to do for players of all sorts.
YourWickedness
January 11, 2015 at 06:04 pm
I love the reborn, awesome skills to work on and great community with an admin who cares about what people think and whom is always changing things for the better, and of which is usually around to answer questions and help the players
Dave Jones
April 27, 2016 at 10:17 am
Can't get on again this morning, any ideas? (Nie Tingale).
Dari
January 11, 2015 at 06:03 pm
Honestly, this game isn't really that good and there are better alternatives out there. The game ownership transferred a little bit ago, and I'm not really sure the guy knows how to code well or understands how a successful MMORPG is supposed to run. I haven't butted heads with him or what not, it's just my observation. So to me, it seems like a dying game.
Dave3460
January 11, 2015 at 06:03 pm
Great game to play as cheez says not active in chats a points . but apart from that easy to play and very enjoyable to play
Cheez
January 11, 2015 at 02:53 pm
It's my favorite game. Not the most active chat but you can always join a clan to help remedy that a little. The games interface can be customized, and there's tons to do. 16 skills, some quests, and tons of timers to keep you satisfied while you endlessly afk the day away playing other games.The game is still in development as well so hopefully tons more content to come. If you like text games, timer games, or you just want something you can play at school, work, or while playing other games then this is a game for you.