Empire Warzone
Empire Warzone is a mafia-themed browser game. There are crimes like Mug a Millennial, Dine & Dash, steal a purse and much more. Complete Special Ops for points, experience or cash. Compete against other Criminals to earn a place in the Weekly Warzone. Buy a pet to participate in a pet track, they can do almost everything you can do and they give your stats a nice boost. There's also an opportunity to pray once a day – select a prayer to get more money, points or experience. Welcome to the Empire.





(7 votes, average: 4.86 out of 5)
Rate it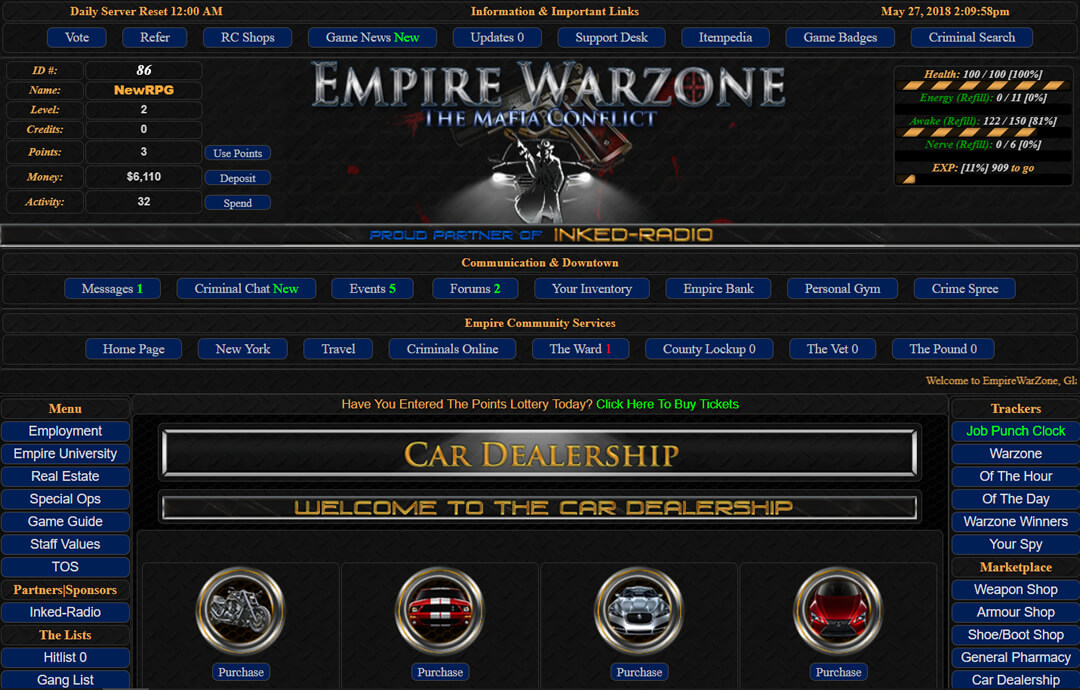 5

comments on

"Empire Warzone"
damon e sturgeon
February 29, 2020 at 11:03 pm
shitty game,..the staff robs you-they have no game sense at all
Wymsg
May 28, 2018 at 06:44 am
Love the challenge. Old school format.. you may find it addictive!
MAYDAY
May 28, 2018 at 01:12 am
Great gameplay. Challenging objectives. Exceedingly stable for a new release. Firm but fair owners, and a great supporting staff.
Once you check it out, you will not be disappointed.
Having been a player of this type of game for many years, I can honestly say I see no reason to not give Empire Warzone 5 full stars.
Ravenous
May 28, 2018 at 01:00 am
Enjoying it quite a bit. Nice to see Old School till holding up and proving its worth. Hope to see more come to the game and find their Empire too.
YourOldFriend
May 27, 2018 at 09:20 pm
Pretty fun game, old school.

pretty chill players some come over