Eternal Wars (OFFLINE)
Eternal Wars is a free text-based roleplaying game. Reveal your power and fight against monsters. There are 1000 quests which have been divided into five different chapters. You will get a reward after finishing each chapter. Increase your skills by fighting or completing certain quests. Specialties are the most powerful items and you may find them as special rewards or buy them with Cash Credits. The Beastiary is a training place that allows you to become an ultimate beast master. The fighting system includes fighting against monsters, battling in arena, duelling other players and fighting against beasts.





(15 votes, average: 4.47 out of 5)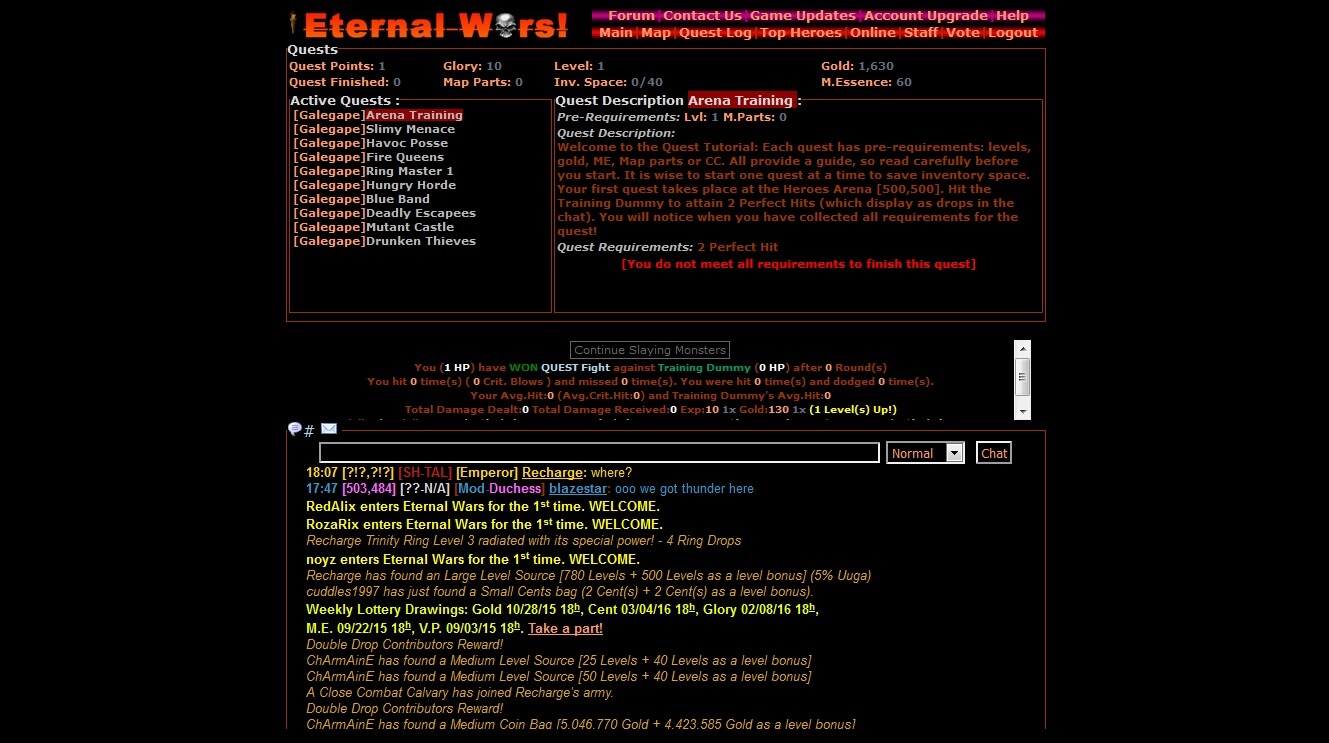 9

comments on

"Eternal Wars"
Weezy
September 15, 2023 at 09:31 am
Got taken down because Duma went to prison for being a convicted paedophile.
Terry
September 27, 2021 at 12:32 am
Game been down a year , no real surprise , we all knew it was coming
Eclipse
April 28, 2021 at 05:38 am
good bye piece of shit Duma and game !!!!
Eclipse
December 30, 2020 at 10:55 am
By by pos game hahaha!
Prince of Hate
February 12, 2023 at 07:00 am
Haha good stuff. spent way to much time on this game growing up.
huntingtrash
October 24, 2020 at 04:57 am
has the game been taken down?
Sondra
April 10, 2019 at 10:42 am
Can't remember login Information
Peace
April 16, 2017 at 02:02 am
Top game i recommend to every pbbg gamer
Zuma Truba
May 21, 2016 at 03:21 am
I like this game a lot.
Lasombra
May 09, 2016 at 08:33 pm
Great game. There is some stuff thats still being worked on but its easy to level up and the staff is freindly definitely 5 stars.