Fallen Sanctum
Fallen Sanctum is a free text-based, timer-based RPG with epic battles, quests and achievements. There are lots of creatures to fight, dungeons to explore and dangerous missions to complete. You can explore different locations, gather resources, train skills, get yourself good equipment, earn coins, join/create a guild and chat with others. You should also get woodcutting, because eventually you will need a house to store all your items and keep them safe in a personal house. Gain experience in order to level up. Very active forum and friendly community so you can find answers to all your questions.





(42 votes, average: 4.14 out of 5)
Rate it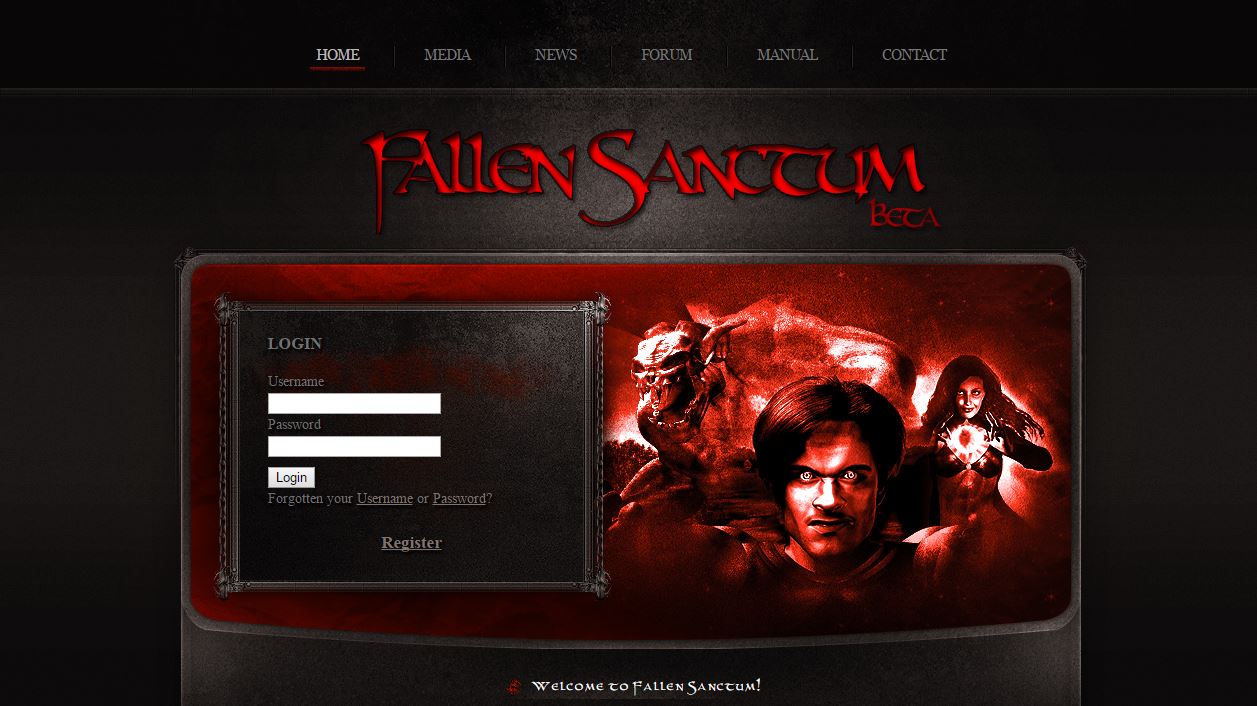 19

comments on

"Fallen Sanctum"
Sassie
August 11, 2019 at 11:04 pm
another game that stinks
Heichi
April 02, 2017 at 02:49 am
Great game. Definitely worth trying out. There are a lot to do so you will never get bored. The gaming community is friendly and is always eager to help new players. Hope to see you there!
Alexa
February 09, 2017 at 04:46 am
You have Done a great job on this game Vexx!
Vexx
January 29, 2017 at 11:27 pm
better than sex
Popcorn
January 29, 2017 at 08:37 pm
I have been playing nearly three years, minus a short break, and the game quickly became a favorite of mine. There are many skills to work on, and team work is encouraged! Helpful community with many guilds to choose from. Frequent events and invasions pop up to work on. There are so many factors to the game there just isn't enough space to write about all of them. Just come give it a try and you will see! The Admin is active in chat and behind the scenes constantly working on improvements, while listening to input from the members. This game absolutely earns 5 stars :)
DAcs
January 29, 2017 at 08:32 pm
It's probably the game with the best events I've ever played
TearThief
January 28, 2017 at 06:14 am
Amazing game, constantly updated, amazing community, honestly what's not to like? Best text based RPG out there by far (and I've tried them all)
Princess Buttterfly
January 28, 2017 at 06:04 am
I've been playing since september and I love this game can't seem to get enough of it I'm here from the time I wake up in the morning intill I go to bed. Everyone is very helpful when you first start out. So many guilds to choose from . Holiday events are the best because we all become one. Gm and Mods are always here at all time. Love Fallen-Sanctum
Sweet_Thing
January 28, 2017 at 05:50 am
Good game, been playing since the game came out. Active Admin.. Great Community!
SlyTheFantastic
January 28, 2017 at 05:48 am
Great game, active community, very active developer
Thor67
January 27, 2017 at 09:08 am
Been playing this game for 2 1/2 years now and I love it. The community is very helpful and friendly, with lots of banter. The GM is very active, both with updates, holiday events and in chat, where he will bounce ideas off the community and is very responsive to feedback.

I highly recommend this game.
cari
January 24, 2017 at 10:16 pm
great game, lots of skills to choose from, and a great group of players
FriedPotato
January 24, 2017 at 10:13 pm
great game :)
only min side is: it's very addictive
Soy
January 24, 2017 at 06:23 am
Active GM, great community. Fun game!
Vlomaster
January 24, 2017 at 06:12 am
Great Game! Vexx is a good active owner as well!
fraggel
March 18, 2016 at 08:39 am
Great game, constantly evolving, which keeps us on our toes!
Mindy
December 17, 2015 at 12:26 am
I will give you guys 5 stars and vote for the game if I could come back
Flixy
December 30, 2014 at 02:54 pm
good game, i'm in top 10 :D
Ebulinsky
December 28, 2014 at 06:19 am
The world map is awesome, huge territory and game itself is not too easy which might be frustrating at the beginning, but it's worth a try, 5 starts!