Fallen Titans
Fallen Titans is a futuristic fighting based RPG. Characters have different bonuses: Phoebe (Healing), Iapetus (Health), Hyperion (Strenght), Crius (Defense) and Cron (Speed). Attack other players to steal gold and to gain experience. Join a clan or create your own. Complete missions, each mission takes a certain minutes to complete. You can face fierce Boss creatures once you've reached level 75. You can buy weapons and armors to increase your strength and defense skills, weapons can also be upgraded. Buy stocks, wait for the price to increase and sell for profit.





(62 votes, average: 4.76 out of 5)
Rate it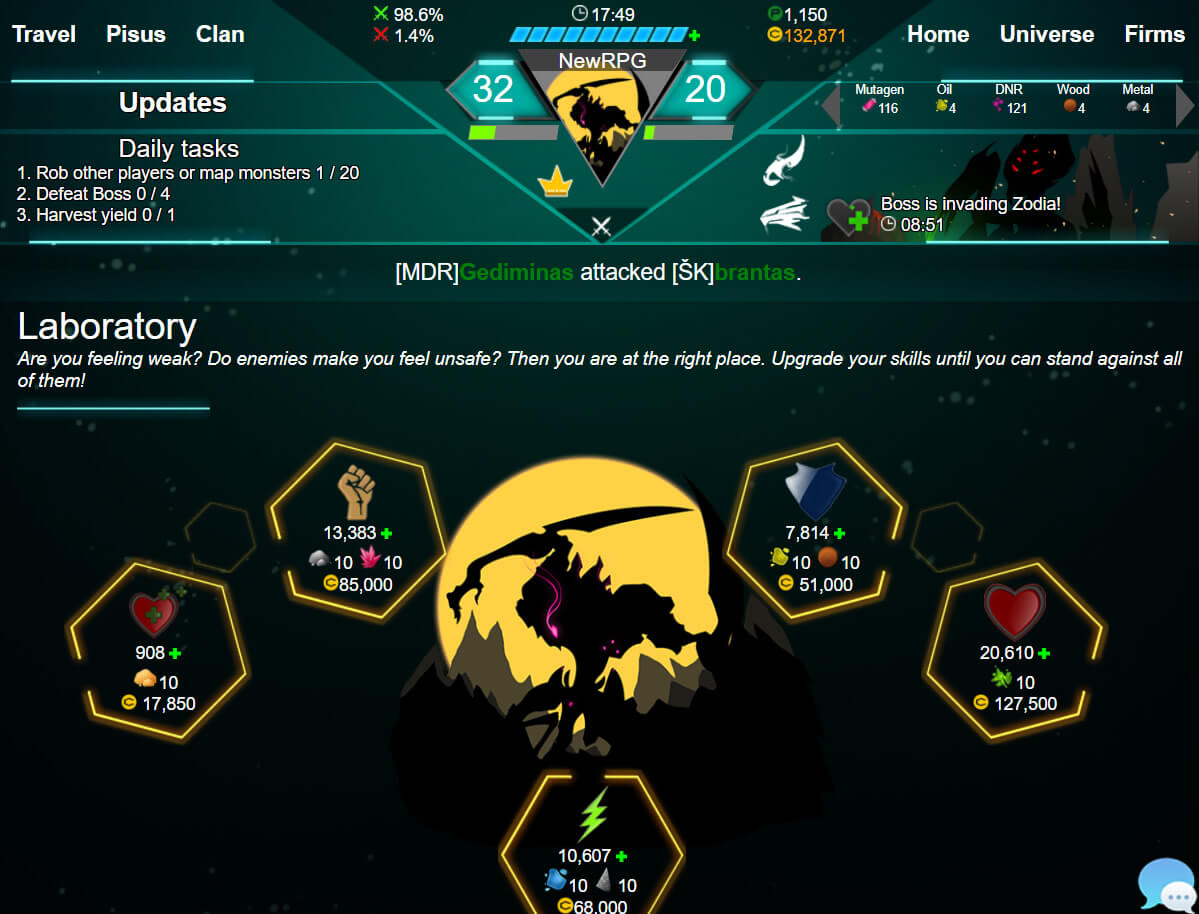 5

comments on

"Fallen Titans"
rdc46341
January 25, 2020 at 09:39 pm
My fav all time game come and join me.
Deivis
November 16, 2018 at 08:12 pm
V2 design was introduced. Also game itself was optimized and the most important part it is now available on Google play https://play.google.com/store/apps/details?id=com.fallentitans.app
Deivis
May 15, 2018 at 01:22 pm
Clan bosses and Clan gifts were introduced to the game. From now on players who fight NPCs in map can share gifts with Clan members. The more NPCs you beat the more gifts Clan will get. Also beating Clan bosses will boost your skills a lot. Of course if your clan gets in Top3. :)
Boss666
April 22, 2018 at 12:52 am
I liked it. The main aim of the game is to be the best. Upgrade your 'Titan' in Laboratory. Sometimes there is a lack of players to attack but Map filled with NPC helps in this case. Beating NPCs also gives some resources.
Weekly rankings bring some competition to the game. Including both clans and players.
Overall game itself seems to be 'spinning' around getting resources and spending them on upgrades.
Deivis
April 01, 2018 at 01:34 am
To add up this game has Map full of NPCs what lets players fight all the time. Currently there is Easter event going on. This event should really help new players.