Feral Clans
Feral Clans is a free browser game with vampires and werewolves. You must train your stats: strength, guard, labour and agility. Purchase great weapons and learn how to use them to become the best. Complete missions to earn xp, but try not to end up in the dungeon. Before starting a mission, you should make sure that your Will is high because it gives you more of a chance to complete the mission successfully. Gold Mine is the right place for finding lots of extra gold. Get a job, buy good equipment, enter the auction, participate in special events and attack others.





(122 votes, average: 4.63 out of 5)
Rate it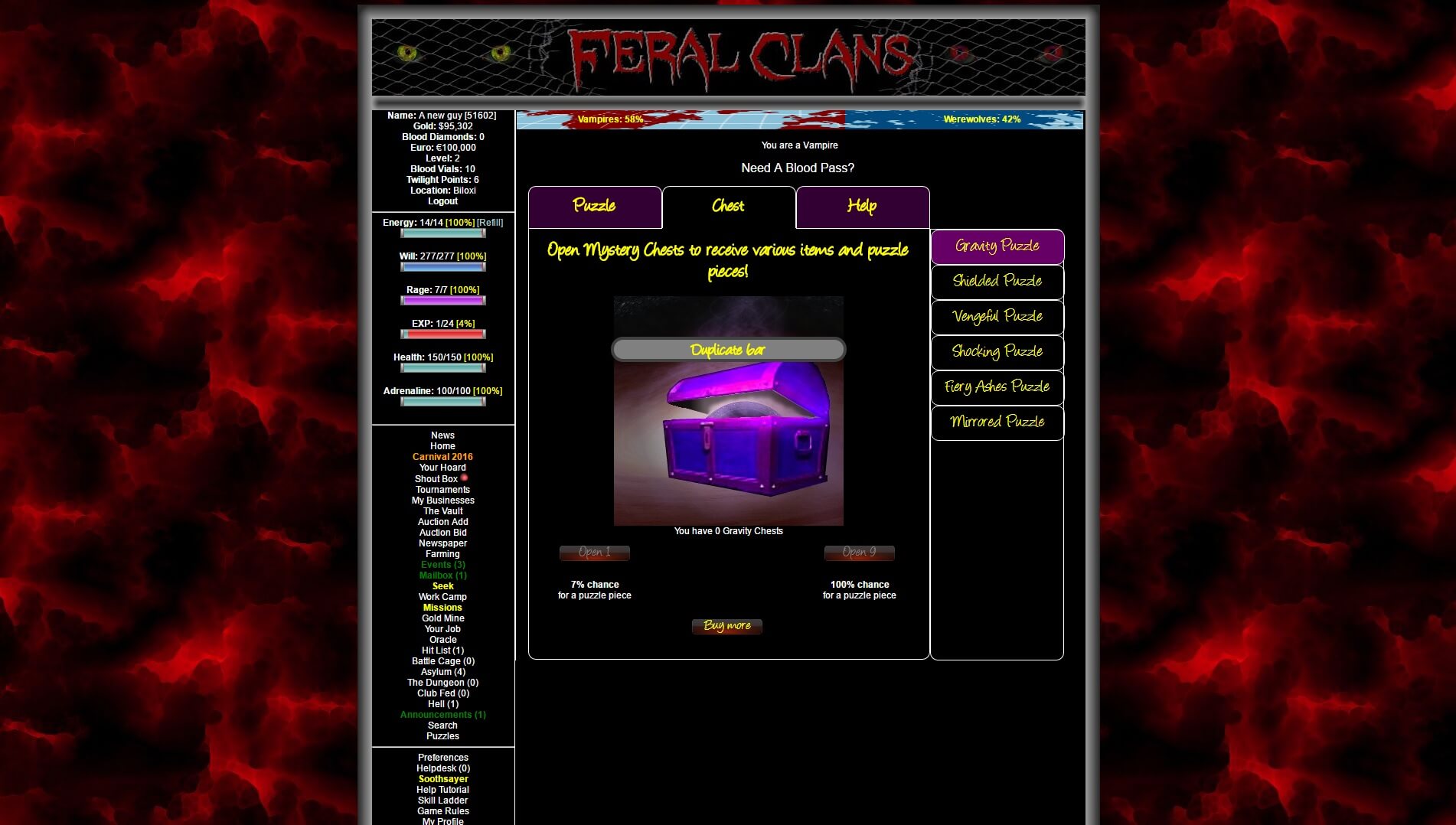 19

comments on

"Feral Clans"
CaliGirl
April 30, 2022 at 12:16 pm
Feral Clans is a little tough to start out but I am glad I stuck it out. The game has been around for well over a decade, which is saying something!!! I enjoy the PvP tournaments,they are pretty new to the game and the special events. I do like having the in game chat (shoutbox) for both the public and just for each clan. If you are looking for a game that requires some thought and strategy, come hang out with us. If you're cool, players will help you get started.
Alpha 7478
October 08, 2022 at 08:57 am
Love the game but it seems to have gone poof!
My werewolf is howling to play but server ip not found....if you know where the game gone?
Sondra
April 10, 2019 at 10:10 am
Can't seem to login it want take my user name or password just keeps saying player doesn't exist please help me get in the game I was really looking forward to playing
Neko
November 25, 2018 at 11:03 am
I'm trying to rejoin in with my account but for some reason it won't process my user and password.
I mostly want to get in contact with the people I enjoyed playing with but I don't know if it's worth going back if it's still filled with trolls and stuff
Cameron C.
August 16, 2018 at 10:08 pm
I love Feral Clans, man. This is the best and most interesting browser game I've ever played. The best part is the PvP tournaments, it's a rush to see your name jump over others. Admins actually care about the game and are around a lot, not doing the disappearing act like some other places. Next best part, the community, everyone is willing to help you get started out. Great game!
Himiko
August 13, 2018 at 02:36 am
I haven't been playing long, but love it already, experienced players to help you on your feet, easy to do good, friendly community. Lots to do. Well worth it!
Stephanie Martin
August 06, 2018 at 06:22 am
I am still fairly new to the game, but I love it. Everyone is really nice and extremely helpful. This game is such an adrenoline rush when it comes to training and attacking other players. I will be playing this game for a long time
Vivienne
August 06, 2018 at 06:00 am
Feral Clans is easily addictive and the helpful players and staff make it that way! Lots to learn and keep busy with, but people are always willing to help and make friends. So far my friends and I really love it here and have felt very welcome since day 1!
Anna
August 06, 2018 at 05:56 am
All i can say is IM ADDICTED, anyone who joins will enjoy it as much as i have.everyone is helpful and friendly and can take jokes :) if you havent joined yet you dont know what your missing
Bob White
July 16, 2018 at 05:02 am
The Game is a Joke and the Admins try and suck the Money from you . Free Game BS! Save your Money and Find a Different game . Play Jail lords or something .
DEEJAY
December 09, 2017 at 12:06 am
I love this game and have been playing for over 7 years. The admins do a great job of catching banned players (usually for cheating or breaking the rules). There are special events throughout the year where you can earn stuff. You can spend as little or as much as you want. I do recommend being a donor as you get special things or can buy helpful items. We have helpful people to help the newbies, although most in game will help, you just have to ask. Come try it out but join the bootcamp for helpful tips.
tyler fayant
January 27, 2018 at 08:05 pm
how to you log in ?
DEEJAY
January 30, 2018 at 01:28 am
go to FeralClans.com and sign up
sandrino
February 22, 2018 at 11:53 am
i can login
Bludworkz
December 09, 2017 at 12:04 am
I left the game and now I am coming back in full force! As soon as a figure out how to navigate the new site! :-p Site looks amazing, well done mates. If Queen is still there, I'm coming for your crown!
3p
December 08, 2017 at 11:25 pm
I love this game,Administration is very involved with the players.i myself have been here over 5yrs,they are always doing things to make the game more exciting while also being affordable to play,of course you can play for free....i would recommend this game to everyone,lots of things to do here....come try it out...
Toxic V
August 02, 2017 at 07:07 am
I love this game its really lots of fun
The Jester
March 15, 2017 at 09:27 pm
LOL love the people who made comments. All in 1 day from 5 different people. This is a typical thing the Admins do from this game. They either pay people with in-game credit and/or make new email accounts to boost themselves.

The fact is this game has been a mask for a very very long time. If you wish to play have at it. just don't spend more than 10 bucks a month on this turd of a game.
3p
December 08, 2017 at 11:43 pm
Do'nt listen to a foul mouthed banned player,he is pissed off because of abusing other players...
Krissh
September 01, 2016 at 03:20 am
Been playing FC couple years now i can tell u how a awesome game it is. Especially when it comes role playing and warring u can be whoever u wanna be.. which is really awesome.
Its a very amuse and fun game just come and join the game and lets have lots of fun ;)
Tart
August 31, 2016 at 12:11 pm
great game, lots of fun
Jess
August 31, 2016 at 08:26 am
I have been playing FC for about 5 yrs. what keeps me here is new content is added every couple of months (PvP and Hellhound tournaments, special events) the Admins are super tough on cheaters and psychos, and I love my friends there. I'm not able to spend much on things like games so I like all the freebies I can win from the daily spins, BloodBath, fishing derby, tokens from Timed Wars and trading. i have ADD and FC has so many features it keeps my attention. Log in and ask for Rocko. LOL
Rosalie
August 31, 2016 at 08:05 am
I have played Feral Clans for a few years and I love it. The war system is second to none. I love the adrenalin rush when you have out smarted bigger players.
The Admins are really hard on cheats and I like that a lot. If you cheat you will get caught. Thats really refreshing.
Its a great game come and play.
Nephy
August 29, 2016 at 10:39 pm
Love this game!!!