Ferion (OFFLINE)
Ferion is a free massively multiplayer online space strategy game. It's quite old game, because it has been on the web since 1999. You don't need to download anything to play this game. The idea of this game is to build your empire, attack your enemies and defend yourself. To be the best, you must use your own strategy. Find out whether your strategy will be good enough to be a winner.





(16 votes, average: 3.69 out of 5)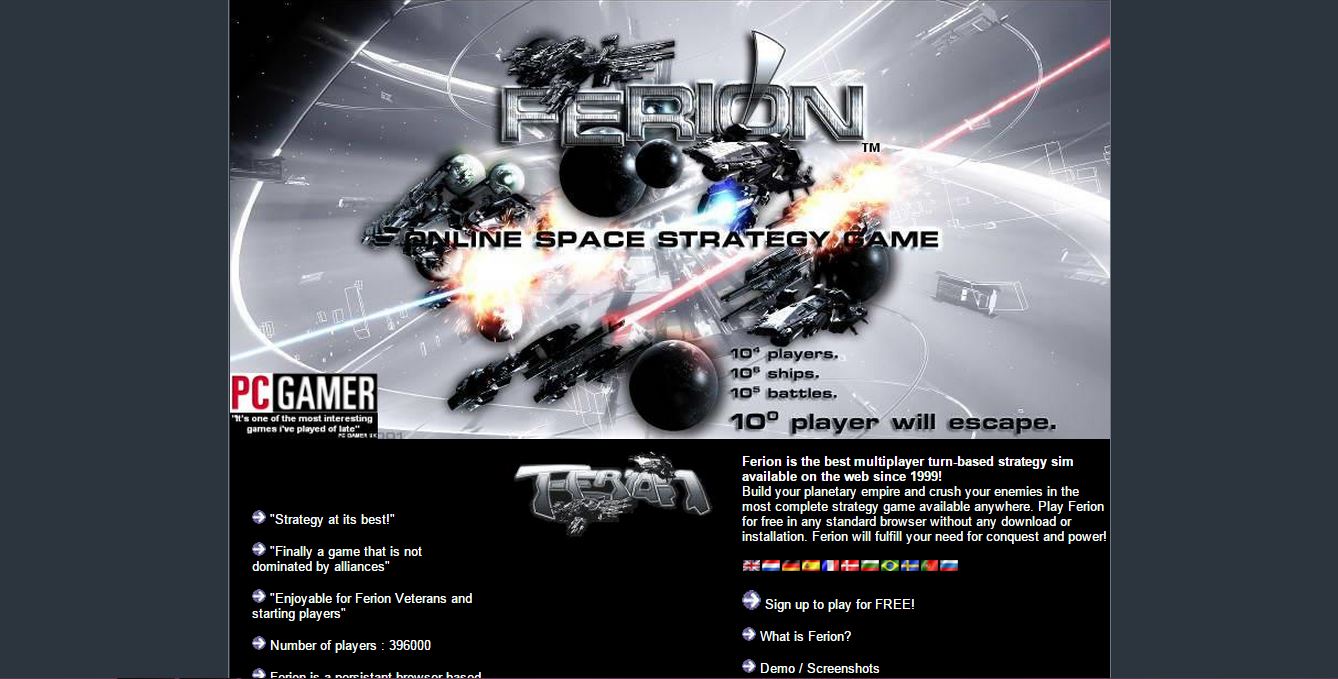 5

comments on

"Ferion"
Steven
February 26, 2023 at 03:46 pm
Great game, never mastered it but had some exciting battles, 1 hour ticks were demanding, would the current owners be interested in selling?.

Thanks
Brent
March 18, 2019 at 06:03 pm
So is Ferion dead in the water as I can not find a log in screen
Aviss
May 12, 2019 at 12:56 pm
Yes, i also cant find any active page for this game.Seeems its dead.
Ravennites
November 28, 2017 at 09:00 pm
The great news is that we are very very close to re-launch. While further tweaking and testing is still underway and the last of the bugs are being squashed, there are open arenas available to play for free. We do have a special bonus key package for a limited time and we are hoping to be ready for re-launch within the next two months. Come and join us :)
bruh
July 15, 2021 at 12:36 am
Well, thanks for killing the game I guess
Ravennites
November 28, 2017 at 09:04 pm
the new address for Ferion is https://ferion.space
HackMan
November 22, 2023 at 04:38 am
So is the game ever going to go online again? I loved it in the past.
Dragonkid
August 10, 2021 at 10:27 am
Hi Ravennites
Are there any news about FERION ?
We miss this game...

Have fun
NewRPG
December 12, 2017 at 12:07 am
Thank you, we've updated the link!
UltimateNewbie
May 17, 2016 at 09:36 am
What happened Smokey, is this still in progress?
Smokey Inc.
January 24, 2015 at 10:54 am
A new management team is being planned for Ferion and in the first months of 2015 you will start to see improvements and more activity. The game is being rebuilt with an eye towards further improvements, features and game play options in mind, to be introduced toward the end of 2015. Please log into the forums if you are interested to hear and learn more. Smokey Inc - Temp Ferion Admin.