Footballtop - Football Manager Online
(Online since

2019

)
Footballtop is a Polish online football manager. Currently when you start in Footballtop, you can pick a Polish soccer team to manager from scratch.
You are responsible for managing the first team and the youth team. You have to build a club to power. You are assessed by the Footballtop board and all your wrong decisions may end up in dismissal.
Managing a club comprises of choosing the right players, trainers, and game formations. But also managing ticket sales, finances and the transfer market. You compete for the league championship and cups with your team.
It's clear the owners are currently translating the game from Polish into English. Seems like a smart step and let's see how the game evolves from here!





(69 votes, average: 4.8 out of 5)
Rate it
Footballtop - Football Manager Online images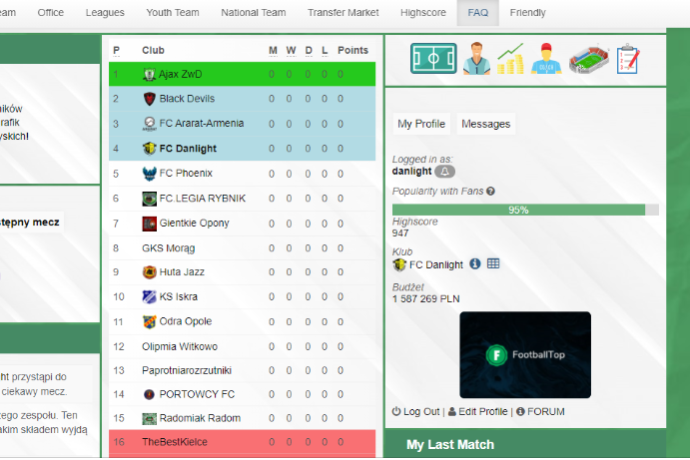 4

comments on

"Footballtop - Football Manager Online"
Gou
August 15, 2022 at 09:39 am
The game has changed a bit. We now play in 16 European leagues.
Baron
July 06, 2021 at 11:16 am
Fantastic game. Real league. Most cups and turnaments.
Beny
December 30, 2020 at 07:28 am
This game is translated in polish language. Default is english language. Fantastic game.
Csu
January 12, 2021 at 12:20 pm
Agree, intersting game. Has a big potential.
But, unfortunetaly there are some things that don't like me.
It's a little pay to win because you have to buy premium accounts to can build in a stadium, to get the best coach, to can set the best training camp, etc.
Then, the manual of the game is only in polish... And the forum too.
danlight
January 12, 2021 at 03:17 pm
the game has items for premium points, but they can only be obtained for free. You cannot buy premium points from us. You can exchange budget money for premium points.
danlight
November 08, 2020 at 01:37 pm
Thanks!