From the Pavilion
From the Pavilion is a sport browser game about managing a cricket team. Squad is a place where you can see players in your team and the basic information about your team members. For example, player's age, experience, skills, technique and wage. In a training section you can train your team members to make them stronger and more durable. Keep an eye on the matches between different teams, watch matches live, earn trophies and make history.





(53 votes, average: 4.08 out of 5)
Rate it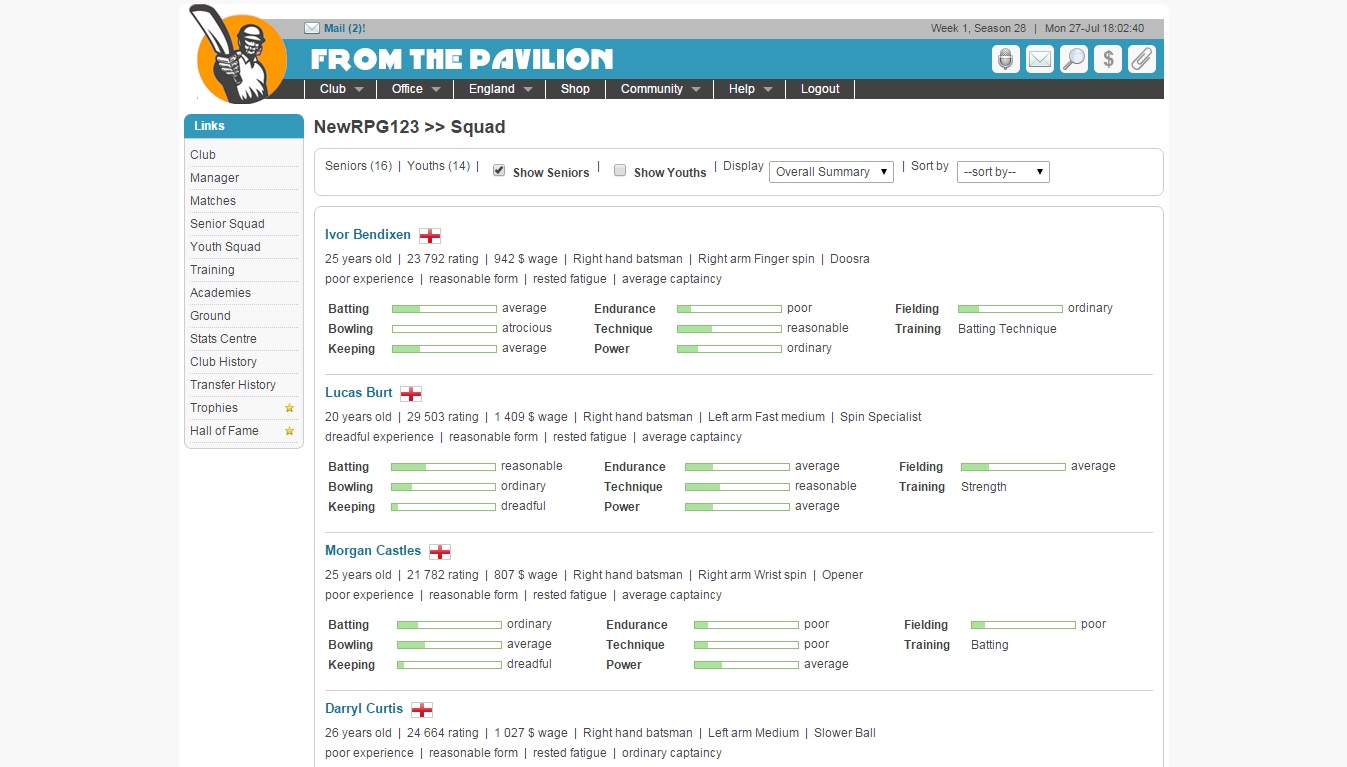 10

comments on

"From the Pavilion"
RP
August 01, 2015 at 02:15 pm
Great game but the forums and admin are in desperate need of improvement.
Peter Pan
July 30, 2015 at 06:23 am
I like chicken. And this game is like a prized laying chicken. Produxes maby awesome feels.
Ricardo007
July 29, 2015 at 06:00 pm
Best cricket manager game out there competitive and enjoyable ! Cant recommend highly enough !!!!!
The Real CT
July 29, 2015 at 02:24 pm
excellent game which I have thoroughly enjoyed for ages. We need to have a bigger member base to make it a truly fantastic game so please come and join.

There is a FA Cup style elimination tournament every season where the best 2048 teams go for FTPs hardest prize as well as league matches in several different nations and 3 formats (50 over, 20 over and U19 40 over) 18 National teams that compete for T20 and 50 over honors in both Youths and Seniors and a vibrant community waiting to help new players and create a close knit community.

You end up falling in love with your favorite players and their are some amazing stats to look at some of which you can even freely comment about

Overall it is a fantastic game
Kaushik
July 29, 2015 at 01:46 pm
Its a very addictive game and the thing I love about the game is, its very simple to understand and very user friendly. Lots of thoughts have been put into every aspect of the game and the support for the game is fantastic.
AnnonymousButels
July 29, 2015 at 10:21 am
I've been enjoying this one for years now. You can get pretty attached to your players, your club and your results! It's nice and casual learning - good for something to pass the time during the week or for those slow days online.
Debanjan Ghosh
July 29, 2015 at 02:52 am
this game is better than other browser based sports management games...it requires knowledge on the game as well as some time for developing the team...but hey you cant expect a team to grow without these things...plus it offers a mentoring facility which allows you to gain the required knowledge from experienced managers...addictive gameplay, easy game interface--its all there...the transfer market is also pretty good...i would request everyone who sees this page to join the game ASAP...
Ross Johnson
July 28, 2015 at 10:04 pm
I'll openly admit I am not a cricket fan. Not anymore. Used to be, and know the game of cricket somewhat, but there's something incredibly addictive about FTP.
It's not simple/basic, but it's not overly complicated. It has the right mix.
You can concentrate on seniors, or if you like them young (!!!), you can concentrate on the youth side. You have regular youth recruits, you have 3 matches a week, but can arrange extra games if you like.
Lots of exciting changes/improvements are in the pipeline (apparently) so reckon now would be a good time to join in the fun!
Darren Cook
July 28, 2015 at 11:21 am
Excellent Cricket management game, build a team and train your players plus select the tactics for game time! Well worth a go...
Jonathan egg
July 27, 2015 at 06:19 pm
Great game ...over time you build your club, love your players and learn tactics to either become nation club champion or the global cup champ!