Galatium
Galatium is a browser-based RPG. This is one of the most old-school browser RPG out there. The looks of the game will give you instant nostalgia. Game story involves you being a hero. Your journey will be full of epic battles and hopefully glory and fame. Galatium offers you six different classes, pick one that you like the most. Regular updates and in-game news with community chat will get you connected with the game and the players. Mobile users will experience a good user interface when using mobiles or tablets since the website is build for all devices.





(22 votes, average: 3.91 out of 5)
Rate it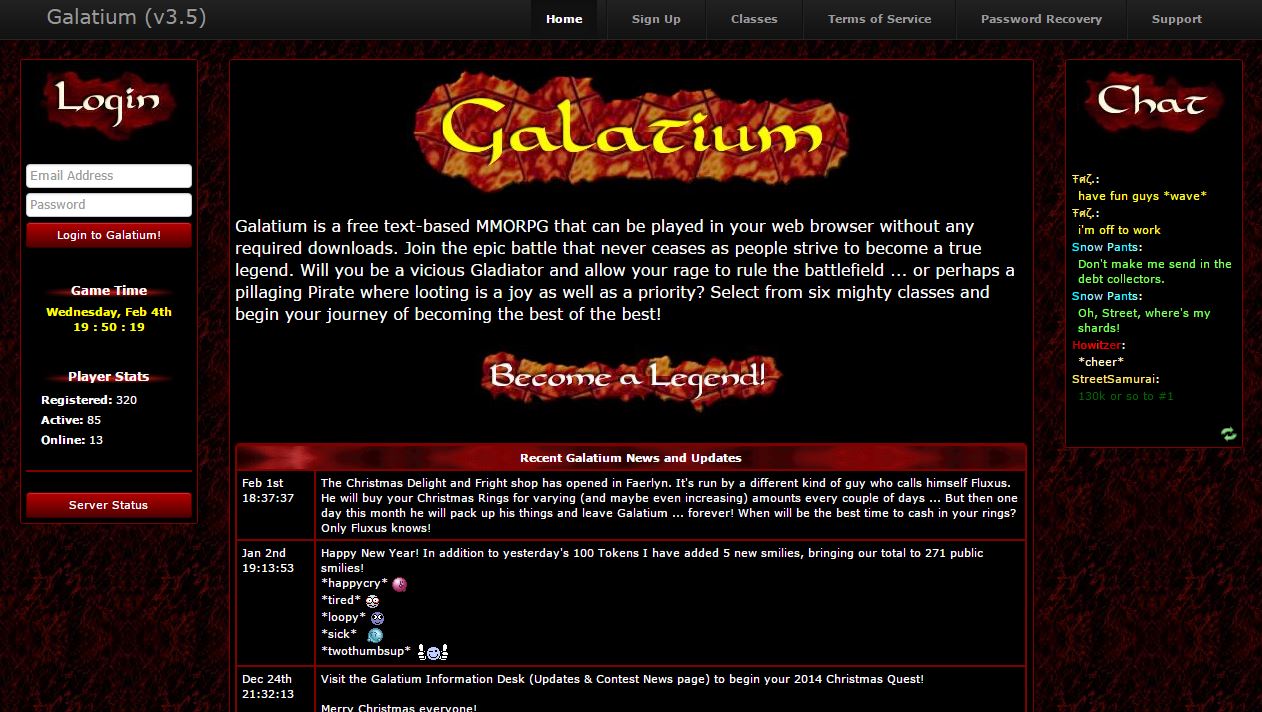 4

comments on

"Galatium"
Higg
January 02, 2016 at 06:28 pm
A good place to meet new friends and find various treats to a player's mind. It can be relaxing or consuming with accordance to Your approach.
Demo Wolf
December 20, 2015 at 09:30 am
Great game loved it for years highly addictive :)
Ton of Bricks
December 10, 2015 at 09:52 pm
Anytime I start searching for a good text based game to play I always come back to Galatium. The game is well developed and supported. Regular contests and awesome and helpful people in chat. There is both PvE and PvP content and different locations with a number of different ways to improve your character.

Overall, awesome game that I've been a part of for years, and I see myself sticking around for years to come.
Temu
February 07, 2015 at 12:11 am
Galatium is a good game suitable for people who have plenty of spare time or only a few moments here and there. Most members are friendly and helpful to new players.
Choose from 6 classes each will unique skills. Join a clan mine if you are a Gladiator :P
Jump into chat meet new people hopefully catch a contest.