Galaxy Warfare
Galaxy Warfare is a free Sci-Fi browser game with space exploration and combat. Join a faction, earn experience and start leveling up. Explore the Galaxy, find resources, complete quests, find planets and battle other players. Make sure to upgrade your ship to be able to travel further when you play. The ship can be upgraded in different ways and you can also install additional components on your ship. Valuable items can be received by finding them on planets, winning them in the auction, purchasing them from the shop or you can destroy other players and get some of their items.





(29 votes, average: 5 out of 5)
Rate it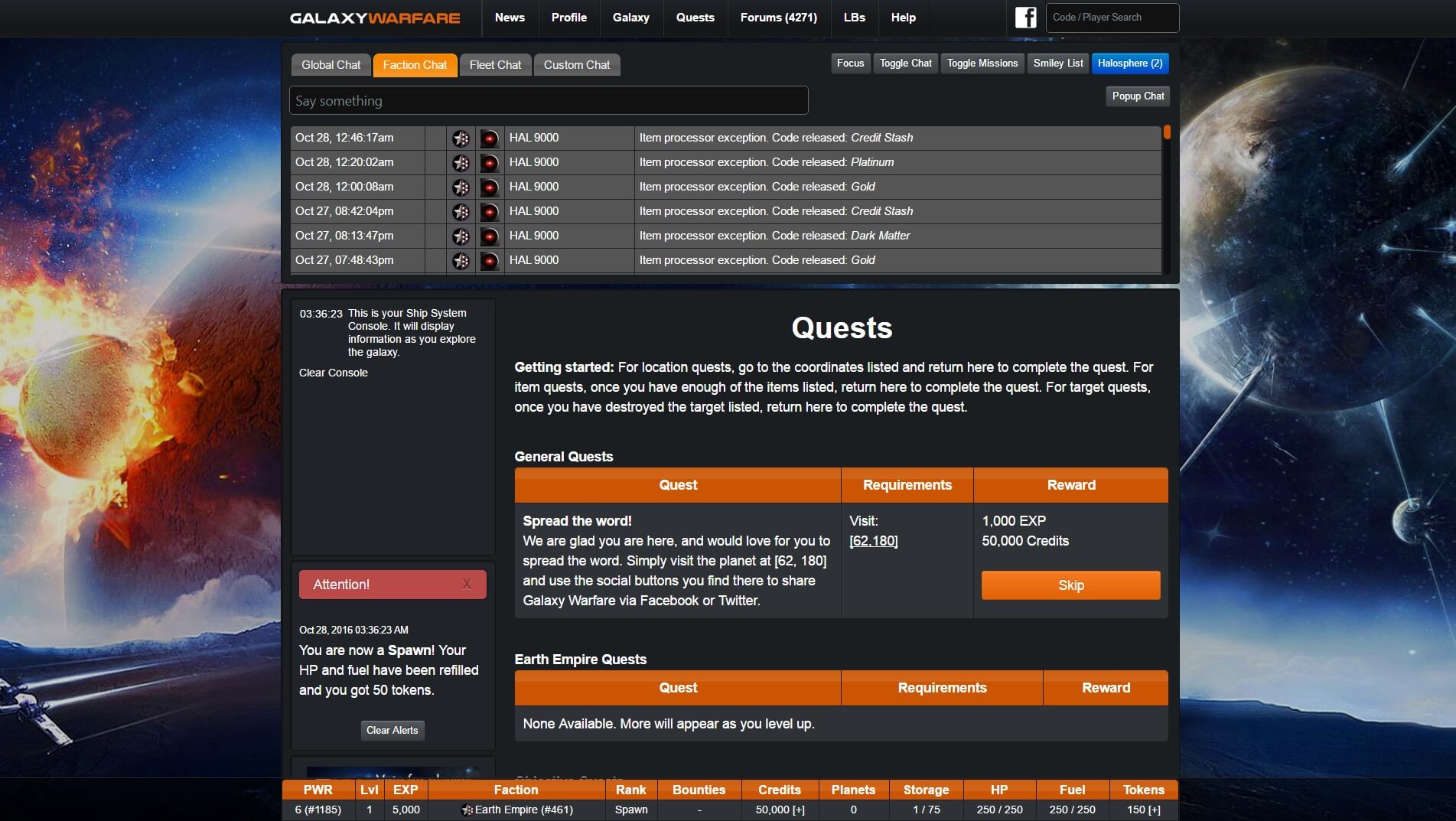 25

comments on

"Galaxy Warfare"
222
May 14, 2021 at 06:26 pm
I like this game and i have ideas for it
WasntMe
April 28, 2021 at 01:10 am
This is probably the best browser game I've done. I definitely recommend this game. It's great. Once you pas into the level 12 and up, thats where it gets even more interesting. It's a crazy cool game. I cant wait for GW 2
Jesse Mackintosh
April 19, 2020 at 02:01 am
Still playing in 2020 Look out for the new GW2 coming online soon
Kanemanoa
August 11, 2019 at 09:34 pm
Intriguing game. Many chances to gain glory, to show you are the best. The best fighter? Go for it. The most planets claimed in your name? Can be done. Destroy other factions? It's a work in progress. Own the most items collected? Well, you can't have that one. That's mine.
Thermo
May 10, 2019 at 07:02 am
Galaxy Warfare is a super fun space themed 2D browser game. The pace can be casual but also heart pumping PvP whether you are the hunter or the prey. The community is very supportive. There is an option to donate as a subscriber but it is not a pay-to-win system.
Angamaite
January 17, 2019 at 03:46 pm
I play and enjoy this game as a free to play account. Graphics are lower end 2d, but the pvp gameplay is quite deep if you can handle a steep learning curve. You will learn humility.

As mentioned before, a surprisingly non-toxic community. You cannot wallet warrior through this game, effort and perception are rewarded.

There are some grinding elements, in collecting different resources, but that adds to the fun.
SapohaGeek
October 24, 2018 at 02:37 pm
É um jogo espacial de combate baseado em grade 2D, bastante divertido e viciante, com uma comunidade sensacional. Lute pela sua facção! Controle a galáxia! Recomendo totalmente, um dos melhores e mais divertidos jogos de navegador espacial!
Xecende
January 15, 2018 at 09:46 pm
I fell in love and haven't ever been able to quit. Doesn't eat too much data on the phone and being stuck to a phone, I prefer it to any other mmo I've played. The depth is unreal and the community is fun even just to chat to while you hunt them down :p Definitely my favorite game! But we need more players so if you're reading this, download and say hi!
SlightlySkitzo
January 15, 2018 at 09:39 pm
I have been playing this game pretty much everyday for the last few months. Easy to learn all the different elements of gameplay with a good wiki and an amazing community thats only too happy to answer any questions or help out in other ways. Staff keep things fresh with constant tweaks/updates and events. This is my go to game and I keep coming back for the fun gameplay and incredible community. Everyone should go and give this game a try. Glory to the Vile Rogues!
Nihilant
January 15, 2018 at 09:27 pm
One of the best Sci-Fi MMOs I've ever played. And I'm harsh critic!
quenster
November 07, 2017 at 09:36 pm
It's a rather fun, enjoyable and addictive 2D grid-based space exploration and combat game, packed with a great community and staff members. Fight for your faction! Control the Galaxy! Totally recommend!
Trexel
November 15, 2016 at 09:51 pm
This is a rather fun game! Engaging 2d space exploration and combat game. Explore a large and persistent galaxy in your ship, claim planets for your faction, battle opponents and defeat the alien threat to the galaxy. You can upgrade your ship, and even buy and upgrade new ones. It is a simple yet fun adventure. :)
midnightowl23
November 07, 2016 at 02:45 am
my friend got me interested in this game an ive been hooked ever seince
Boggratt
November 07, 2016 at 01:07 am
Addictive and enjoyable, you will just not see the time fly by while playing. Backed up with a solid community behind it. Highly recommended.
Stormer
November 06, 2016 at 10:11 pm
Great game, and growing fast. Don't forget to come by and be sure to join the Earth Faction!
jeff
November 06, 2016 at 09:52 pm
best web based game ive played in a long time
Smyf
November 06, 2016 at 09:13 pm
Excellent "more than meets the eye" game. One that has layers of complexity which unveil themselves at a pace that lets you learn them comfortably.
Alex
November 06, 2016 at 08:41 pm
Absolutely awesome game that is well designed and nicely maintained with an active community from the upper staff all the way to the lowest of levels. Very nice and friendly community and smooth gameplay.
IRONHEAD
November 06, 2016 at 08:26 pm
Great game, community is active and gameplay is addictive
GalaxyDestroyer
November 06, 2016 at 08:26 pm
One of the best games I played
VreeDogNight
November 06, 2016 at 08:16 pm
This is truly a great game. Come join the wonderful community! Once you start playing and getting into it, it will be a hard game to put down!
SomeRandomStickboy
November 01, 2016 at 03:55 am
Best game I have literally ever played-Made a huge impact on my life. The community, gameplay, and developers are absolutely amazing. You should definitely check it out.
Justin Mabry
October 28, 2016 at 05:24 pm
best game for your web browser ever!!
HB
October 28, 2016 at 05:21 pm
Amazing community, engaging 2-d gameplay. Favorite game of all time.
Firestream
October 28, 2016 at 05:00 pm
Hey! Thanks for listing us! I'm the owner and main developer of GW. We have a fantastic community of players in an ever evolving game that is a lot of fun! Come check it out if you're looking for something different and addicting.

AAA+++ would play!

- Firestream