Gates of Survival
Gates of Survival is an online text-based MMORPG, set in a medieval fantasy setting. Unique backstory and countless skills to learn. Adventurous quests, wide range of items and regular improvements. It has a fresh old-school text based browser game design. Huge in-game map to explore. You can start by learning basic skills like mining, fishing, cooking, etc. Fight monsters, complete quests and become part of the community.





(50 votes, average: 4.2 out of 5)
Rate it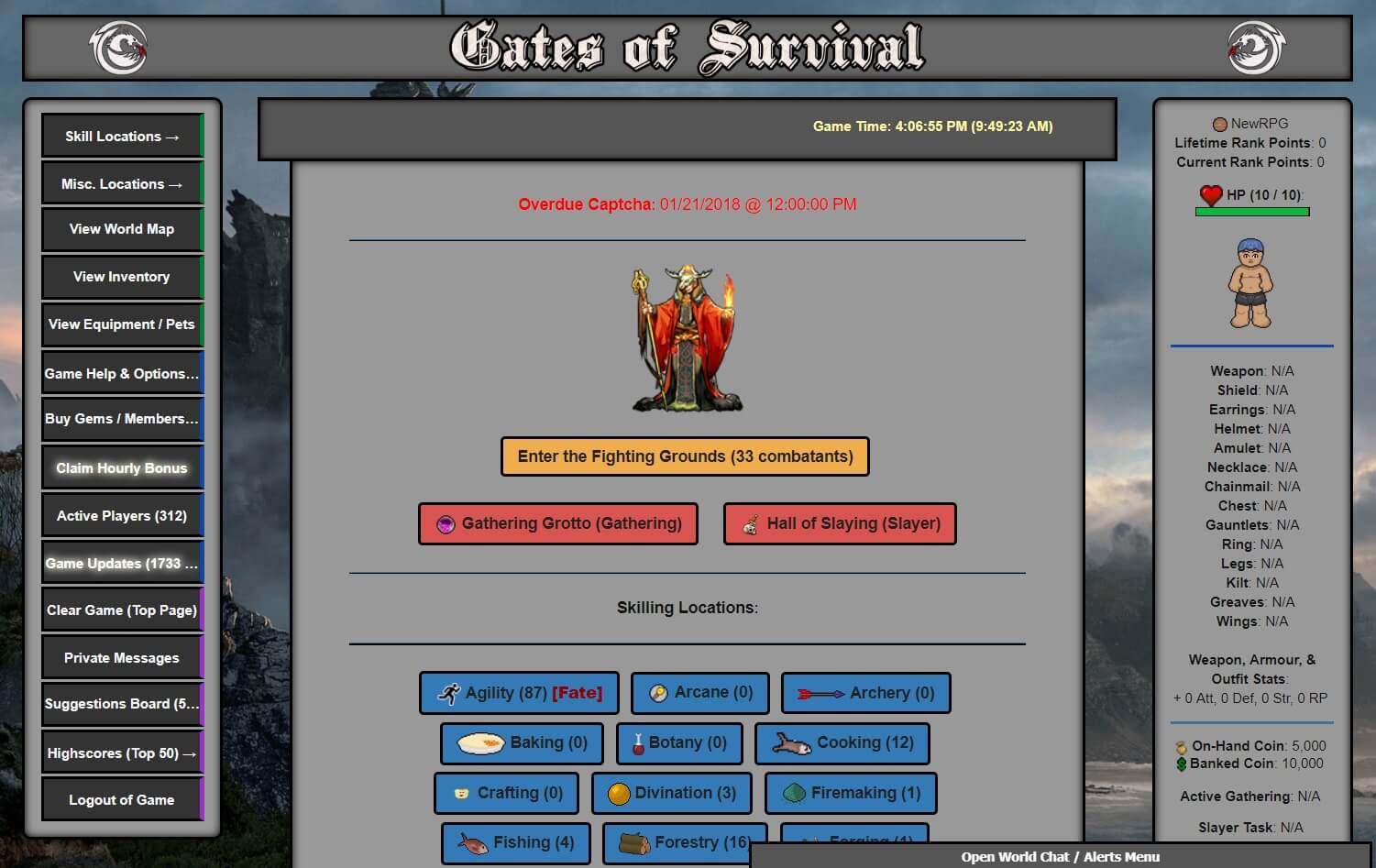 10

comments on

"Gates of Survival"
Mortalites
August 22, 2019 at 05:09 am
I have been playing this game for a few years now and it has been fantastic. The game has come a long way since I first started. Tons of updates, lots of new content, a multitude of skills to train and a great community with a very passionate dev. The game just celebrated it's 5th Anniversary and along with a brand new site theme.

I encourage anyone that enjoys browser based games to give this a try. You won't be disappointed.
Anonymous
April 03, 2016 at 10:41 am
Great concept.
Nerd
August 01, 2015 at 12:46 am
This is one of pay to win games. Why? First of all, There are many skills that is very important such as agility (to get more stamina so you can AFK longer), looting (to get a lot of in-game currency), and many more but can only be trained if you buy a premium membership with real currency. Premium members only need to wait 1.5 seconds to train each action while free players need to wait 3 seconds which is basically double amount. So in other words premium members can get 100% exp more than free players. You can buy pets in this game but they can only be bought with premium currency which sucks because some of them give a lot of advantage. Oh, have I told you that there is also no way to get the premium currency so there is no other choice but to pay? So, don't play this game if you just want to play for free, you will only waste your time.
ghc
February 16, 2017 at 07:15 pm
Amazing game! I started playing last July and have been hooked since. Constant updates from a very active developer means the game is always growing and expanding on the already very full set of available skills.
LegendK1ll3r
August 09, 2015 at 02:17 am
You can actually get Stamina by training any skill, every 10 levels you get gives you +1 Stamina. This was done to off-set members having Agility. You can actually still train 17 / 20 skills as a free player. You CAN also get "Gems" without paying any real-life money, you can openly and freely trade the Gems via the Trading Tent with any player in the game that has them. and is willing to trade them for in-game items or coin.
Ryan
July 30, 2015 at 11:05 pm
Great game for work or everything(since you can idle for periods of times now.) Great features and ideas and constant updates
Morimacil
July 30, 2015 at 11:01 pm
Great community with great admin team. No waiting / downtime to do actions! And mobile version works magically as well! Splendid!
Ryan
July 30, 2015 at 10:56 pm
Great game with a great active developer that takes every suggestion seriously.
Skream
July 30, 2015 at 10:53 pm
This is like a text based browser version of Runescape but level cap is 999 and like 30+ skills to work on :O epic
Natu
July 30, 2015 at 07:44 pm
Oh man i haven't played a game like this since Chains of Fate! So excited to get into it. And it can be played on mobile? GG WORK
Lukas
July 30, 2015 at 06:05 pm
Wow. Been looking for a game like this for a long, long time. No turns, time building/doing actions, no energy. Sign me up. Bookmarked and new favorite game.
Demzon
July 30, 2015 at 05:58 pm
This game is fun, has a great community, and an active developer. If you're ever looking for a text based MMORPG, then I highly suggest this one.