Global Nations Online (OFFLINE)
(Online since

2021

)
Global Nations Online is a nation simulator that allows player to take the role of a ruler of a nation allows them to build their nation. The game updates in 12-hour increments to give all players time to log in and manage their nation. Once players have learned the game mechanics, they can log in and manage their nation in only a few minutes each day, but there is enough depth in the game mechanics that can keep you playing for hours.
The game has open trade and a player driven market to allow players to control the game economy.
The game offers a PvP system that restricts players into groups that keeps players of relative strength together to prevent the large players from hunting the smaller players.
The game features an alliance system that will allow players to work together to achieve common goals. There is an alliance bank, alliance technologies to improve everyone in the alliance, and alliance treaties to show alliance relationships.
We have several pages of documentation to teach new players how to play as well as a questing system that will reward players as they build their nation.
Feel free to try the game out as a guest player prior to sign up and see if the game is right for you.





(10 votes, average: 3 out of 5)
Global Nations Online images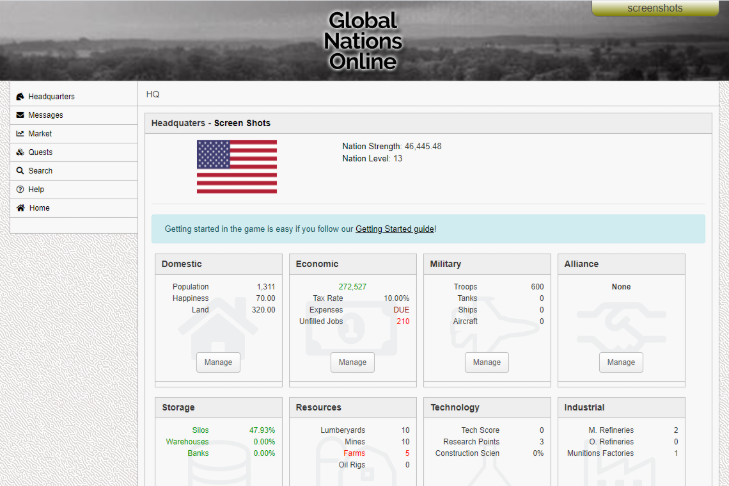 5

comments on

"Global Nations Online"
orangestorm
June 29, 2022 at 11:10 pm
turn it on!
Iressi
February 20, 2021 at 11:07 pm
Absolutely do not bother with this game! the developer just banned a very contributing player and refuses to show why he did. claims that he threatened the game which he did not at all based on the screenshots that has been leaked. the developer then talked about shutting down the game because people was unhappy he didnt even want to justify the ban. so many people have lost hope because of how the dev handles his game and had already left game. i wasted 2 weeks on this garbage
Richard R DeLuca
February 09, 2021 at 12:10 am
Very nice game will enjoy this one
Roosevelt
February 06, 2021 at 08:36 pm
I have played this game for about a week and I would say the game is just fine for what is there. It seems like the game is played both on the website by clicking buttons and in the discord by playing politics. It seems like many people from other nation simulators have joins this game and if you play it, you may find an old friend.

The idea behind the game from what I can tell is that you click a few buttons and watch your numbers go up. With an emphasis on the nation strength being the number that most people look at as a score on how well you are doing in the game.

I would recommend the game to try out, but it may not be for everyone.
Roco
February 02, 2021 at 11:52 pm
Dont bother with this game. So many stupid systems, and what i saw in their discord server, the game owner dont understand what is good for his own game. He only comment with stupid responses.
Find another game to play. There are many in here.