Grand Prix Racing Online
Grand Prix Racing Online is a racing browser game that allows you to build fast cars, race with other opponents and hire the best crew to win. After registering you must stay on the waiting list until the team of Grand Prix Racing Online has approved your account. Make sure to improve your car with stats such as Acceleration, Handling, Power and Balance. These stats are necessary to create a fast car and reach top rankings. Get sponsors, hire a manager or keep an eye on a live race.





(142 votes, average: 4.37 out of 5)
Rate it
Grand Prix Racing Online images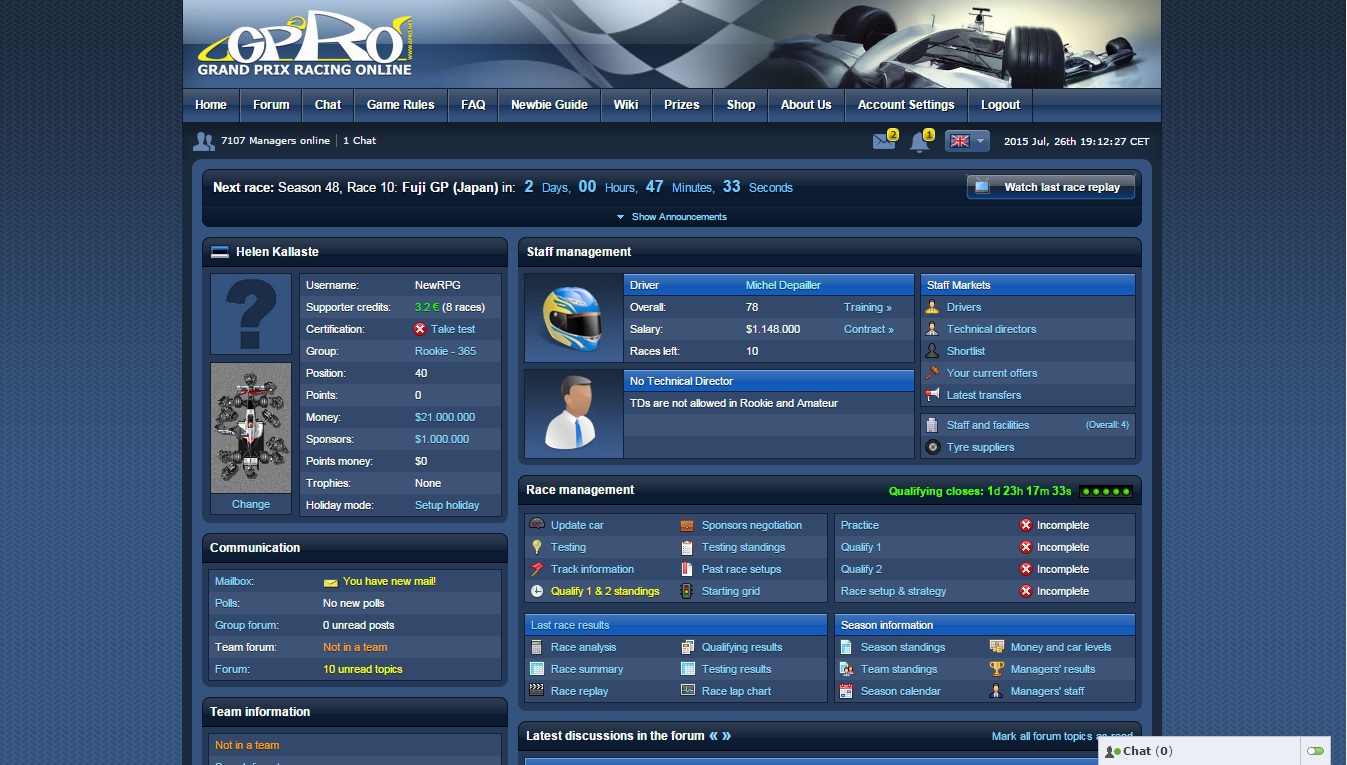 grand-prix-racing-online-two
12

comments on

"Grand Prix Racing Online"
Frosty
April 18, 2021 at 12:19 am
Awesome game and intelligent, mature community. You can invest as much time as you want, from 10 minutes per week to many hours. Just like in real motor sports, you improve your race craft & strategy by collecting data and calculating an array of realistic things.
Paulo Neves
June 05, 2018 at 08:02 pm
I've been playing this game for 7 years now. The game is GREAT and the forum community very frendly. When you start, you can ask for mentor to help you to begin to understand the game. Last year, a new race screen was added which allows you to follow the live race, watching the cars runing on the track as the race unfolds.
Andrej
March 06, 2018 at 08:12 pm
GPRO is a great game, community is great and most people are really freindly.
Ranier
February 25, 2018 at 11:30 pm
This not an easy game. It takes a bit of work and learning. The competition is tough and the pay off is huge FUN! To really give the game a try, consider 1 season, 17 races to feel your way around.

the community is better than most forum communties. Most managers from the bottom Rookie to the Elite lvl are engaged and willing to help and guide new players.

I love this game :)
Marcelo Ascencio
February 24, 2018 at 07:28 pm
I play this game since January 2009, I like this game a lot.. very difficult in the higher leagues and really fun in the lower ones..
Martti
February 22, 2018 at 01:23 pm
Best game ever
Babis
December 13, 2016 at 12:42 pm
Avoid at all costs ! If you wanna progress in higher divisions you need to have a friend in high divisions, that means he knows what is the perfect driver who will give you the boost to climb up. If you have no one to help you out you are cursed in lower divisions. And a bad community that will not share their knowledge on game cause they have something called "find out by your own" wich needs you to pay a lot and for many many many seasons !!!!!
Lucas Lôbo
September 04, 2018 at 05:44 pm
You're absolutely wrong, buddy, sorry.
This game isn't Arcade, really! It has VERY DEEP mechanics and you need to do your share of research to climb the categories. BUT THIS IS THE FUN OF THE GAME!!!!
It's very rewarding to see your progress after your hard work.
You don't need friends in high level to acheiv succes. It's hard to learn on your own, but you'll always find a lot of people willing to help you and there are Tutoring foruns for a lot of languages.
If you work hard, you'll succed.
AND IT ISN'T PAY TO WIN AT ALL. Most Elite managers aren't supporters.
The support feature gives you:
No Ads (that are veeeery discreet and don't bother at all).
Gives you some data saves (that you can colect by yourself every race anyway).
Some adicional car liveries
THE GAME IS AWSOME and very well balanced. You you seek a very nice challenge with Race Manager, go for it!
Marcelo Ascencio
February 25, 2018 at 05:19 pm
The good part of the game is to learn how to play it. It's not Arcade, it needs you to plan and develop strategies to beat your rival. It's a strategy game. Pay or no pay you get the same, maybe you can be able to save the past races, but you can do it anyways if you know how to capture screen, or copy/paste. So far I've been 9 years playing, and will for many more until I can beat everyone in the game!
nikos
March 12, 2016 at 08:05 pm
great game
Alex
September 13, 2015 at 07:01 pm
GPRO is a great game, community is great and most people are really freindly. Come play and support this awesome game :)
Fellix
August 21, 2015 at 11:42 pm
THIS GAME Y A MARBELUS
Dave Grey
August 06, 2015 at 06:23 am
The game is average, tedious to manage. The actual game race engine is great, but you don't play on a race engine. Top teams are database formulas, which tells them which values to put in, so you're reduced to playing database formula against database formula. It reduces the enjoyment and purpose of playing. But the game is too tedious without it.

The actual forum community isn't the most friendly, but if your not interested in the forum, this isn't a major issue.
Mick
July 27, 2015 at 08:54 am
Have been immersed in this game for the past 3 1/2 years. Awesome :D