GTRacer
GTRacer has features like: Lobby system for chatting, club system. Start your own car dealership. You can even wash your car and fill the fuel tank. Different drag races and driving styles to choose from. Always up-to-date and interesting events from time to time. Like all racing games, you must modify your car the best way you can, as light and as fast as possible. Try not to blow up your engine though. Images and design is pretty modern. Very popular online browser-based racing game.





(48 votes, average: 3.04 out of 5)
Rate it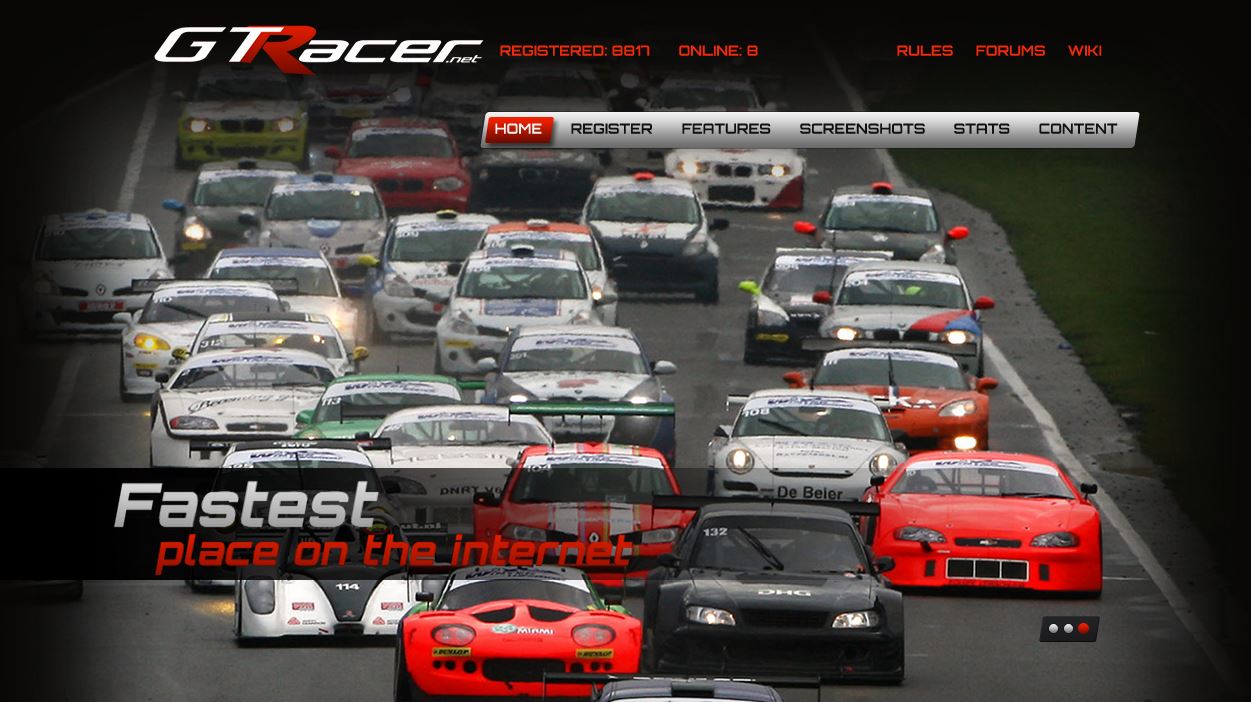 23

comments on

"GTRacer"
TomTom
August 27, 2023 at 06:03 am
I've been playing the game for years and have paid a premium membership for the last few months and then admin decided to delete my premium account because I refused to give my ingame money to another player.
DarkTaker
March 12, 2023 at 12:11 pm
Hi Redstingray,

Pls don't mad at me. I want to say that I'm very sorry for a bad word that I said it.
I want to race, have fun, and enjoy the game. I won't ask you ever again. I will set a racing club Dark Nation Motorsports, Toyota Dealership, and umm, That's it. Thank you, RedStingray.. I had many more fantasy league&Racing, browser, video game, and etc.
I really want to come back to GTRacer and enjoy the race have fun.

Pls, Pls, Pls, Be happy and I know you had hard time.

Thank you
-DarkTaker-
botak
July 13, 2017 at 02:11 pm
best racing game
Pewigg
January 18, 2016 at 09:58 pm
GTRacer has had some really nice updates since the new year. Almost 3700 cars in game now and new cars added most every day. Dealer size increased and car buy limits also.
Come and start your collection and tune some racers and see how they do :)
Mastertune
September 30, 2018 at 12:59 am
Good game, but when I started I was told to remove my VPN-hider. After that, I was banned for 30 mins but the question is.... why was my VPN-Hider a problem? Then, I noticed my email being hacked multiple times from the Netherlands, where GTRacer.net resides. We have to follow your rules while you violate our lives hacking us? Is that the trade-off of playing this game? 21k signed-up but only 7 online everyday? Looks like a dying game to me. Mastertune
StripedZebra (England)
December 05, 2015 at 12:58 am
A friend from South Africa introduced me to this game. Ever since I joined in April , I haven't stopped playing. Its so addictive and fascinating. With over 81 car brands, you can do anything you want, no resets like soccer games! Its endless. You could be anything ; a car collector, car meeting specialist, drag king or king of the circuits. This game meets every criteria I have for a browser-based racing game and in a few years it will be one of the best games of all time. Best game ever, I give it 82 stars out of 5 ;p
yabush1
July 31, 2015 at 02:30 pm
This. Game. Is. Amazing.

I can't believe this game is so good. I didn't think anything could be so good. Although it may take a little bit of time to get into, once you do you can't stop playing. I thoroughly reccomend buying elite because not only does it help pay for server costs, but it also further enhances the game. *****
Jhonnie
July 17, 2015 at 08:18 am
This is absolutely the best racing game online.

A thing I really like is that players from all over the world play this game.
beastofflames2
July 17, 2015 at 02:10 am
amasing game if i could would give it 999999999999 thumbs up and 1900000 stars :D
StickShift
July 15, 2015 at 10:16 am
I love this game. I love the car selection, the attention to detail, the long list of things you can do for modifications, among other things. The attention to detail is what astounds me. Notice a problem with a car's factory specs? Bring it up on the forum and the specs are fixed as soon as possible.

I've played MANY racing games on the web that all left me bitterly disappointed. GTRacer is the only one that has yet to disappoint me and I've been playing for a few years now!
speedy1791
December 22, 2014 at 01:19 am
the best, most friendly online community i've ever known.
not to mention one of the most massive car and parts collections under one www.
RedStingray73
December 18, 2014 at 08:46 pm
This review is coming from 1 of the few female players of this game. GTRacer is different than any other browser racing game. In this game, you can see results and there isn't needless clicking to tune a car. When I was looking for a racing game, I wanted a game where I could race and change the aspects of the car. With this game, you can: Swap Engines, Change Paint Colors, Install a Bodykit, Tune a Car/Engine to over 1000 HP, and participate in Circuit Races, Car shows, and Drag Races. For example, I took a 2002 BMW E46 318Ti Compact and installed a 1974 Maserati Bora 4900 engine; the car now has 620 HP/1019 NM along with a BMW E46 Seibon TA-Style bodykit! Pretty Cool, Huh! Or take your car that you drive every day and make it the way you want. The car base has over 3,000 cars including rare ones so you'll definitely find something you're looking for. The features of the game that I listed are only the main ones, you'll just have to create an account to find out the rest of the Cool Features of this game. My rant is done - Register at GTRacer.net you'll be revving your engine for more, guaranteed!
Jeehaa
December 18, 2014 at 07:49 am
Best game!
ThePhenom
December 16, 2014 at 10:36 pm
GTRacer.net website is a great browser racing better than other browser racing games. I really enjoy race in Circuit Races, Meeting Car, Club Races and Drag Racing. There have Dealership, Wash Car, and many more things to do in GTRacer.net website when you will be register on GTRacer.net and you will love this racing game as GTRacer.net.
Walker
December 16, 2014 at 10:24 pm
Are you still reading this instead of login in GTRacer.net?
COzmynutz
December 16, 2014 at 08:40 pm
want a game that will not bore you?Then this is the game.A friendly community,over 1000 cars,over 1000 parts of cars and tunning,and more more more option.Join and you in this best game and great community,and play fun:)
Joker
December 16, 2014 at 07:50 pm
best social game ever, where it doesn't matter where you come from are who are what you are. Just as long as you love cars and enjoy playing
Frigorieuq
December 16, 2014 at 07:25 pm
One hell off a game, as a player you have the options to join or create a club,
own an part, tune or paint shop, race with another racer and in circuit, or just go to a car meeting with the nicest car
but the best of all is that it's one big clan with all the members. So you definetly have to you GT-Racer. So come and create never ending stories
fjhoekie
December 16, 2014 at 03:40 pm
A really unique game with a lot of options and a very friendly and helpful community.

With over 3000 real cars ready to be tuned and raced there are endless possibilities to create a winner. This also means you'll have a really hard time to ever step away from this game.

Joining is at own risk ;)
Vdubber - Netherlands
December 16, 2014 at 02:59 pm
I'm playin' it for a long time now and cant stop playin'.a Awesome Game! Make your own idea of Tuning and modding a car you like.. There's more than 3000 different brands & types so.. that makes if fun for everyone who loves cars and the things around it :) Go oldskool, Muscle or maybe more jdm... Dragrace or circuit and afterwards a carmeeting.. You're free in what you love& like to do in Game. Im giving it for sure 5 out of 5 stars or more like 100 of 100 stars.. :)
W_S_killer
December 16, 2014 at 10:58 am
The BEST internet racing game with alot of options
like missions
Youth Academy
and other stuff
if you need more info rigister on gtracer.net its 24/7 online with alot of different races a hole day
testdummy
December 16, 2014 at 10:39 am
The BEST racing game on the internet. Never played anything like this, addictive.
Huge car and mod list, with very friendly community.
Come develop the future racers on the Youth Academy, they give karts to everyone.

10/10
Pewigg
December 16, 2014 at 12:48 am
Best game, one of a kind. None better with a great community of players.
p1nt0
December 12, 2014 at 04:30 am
Best racing game on the web

Five stars