Gundam Storm (OFFLINE)
Gundam Storm is a text-based browser game about great wars. While Signing Up you must choose a faction that gives you the certain amount of bonus. War factory is a place where you can purchase soldiers and train them. Attack other players and use searching tool to find specific players. Barracks is a place to store soldiers, equipment and weapons but keep in mind that it has a daily fee. Join a clan, increase your experience and manage your stats. You can also explore space by using fuel.





(4 votes, average: 4.5 out of 5)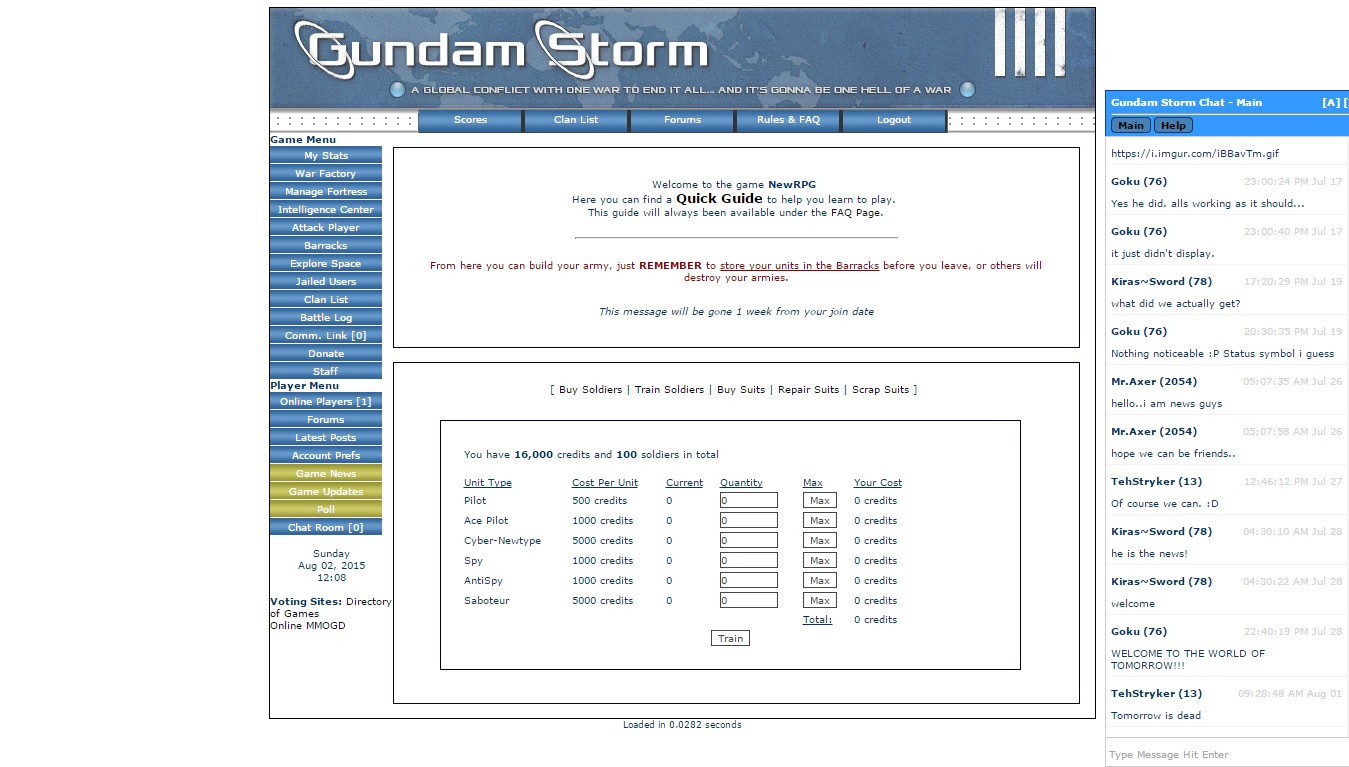 5

comments on

"Gundam Storm"
orangevorm
March 27, 2022 at 07:11 pm
Turn it on again!
Ethan
February 22, 2023 at 07:41 pm
This game was awesome . Miss it
gwac
December 20, 2022 at 10:52 pm
The owner died years ago and it has been for sale by his remaining family for years. If you actually ever went to the game site it had a message saying contact them if you're interested. It seems they let the domain expire since it no longer shows the message.
Ethan
February 22, 2023 at 07:42 pm
How do you know this?
gwac
April 03, 2023 at 10:40 pm
You can use the wayback machine to see the page to see it:

Hello everyone,

Tetsuo's estate has asked me as part of his final wish to pass along GS. If interested, please contact me at capek at gundam-storm.com

Thank You
Calab Michael Dalton
January 26, 2019 at 03:04 am
How much for this
CR
April 03, 2018 at 06:57 am
not for sale
Ethan
May 14, 2021 at 01:18 am
CR, come on. Let's bring this back online and see if anyone would return. There were great friendships started here .
Calab Michael Dalton
January 26, 2019 at 03:03 am
What? Why?
projekt pat
January 12, 2018 at 06:53 am
me too!!! that would be soooooo sick
Calab Michael Dalton
January 26, 2019 at 03:04 am
Where you at
Calab
November 13, 2017 at 11:48 am
I would like to buy the original script of this game and bring it back online. please contact me