Hacker Experience
Hacker Experience is a free online simulation game where you can become a freelancer hacker. You can manage softwares - install, delete, create folders and more. Manage your hardware and buy new servers or upgrade existing ones. You should also buy an external disk and backup your data. Use Internet page to navigate through every IP address and connect to other servers. The Log File is a page that saves all your actions - this is the place where you can find other's IP address and they can find you. That's why you need to delete the logs after you complete an action.





(22 votes, average: 4.5 out of 5)
Rate it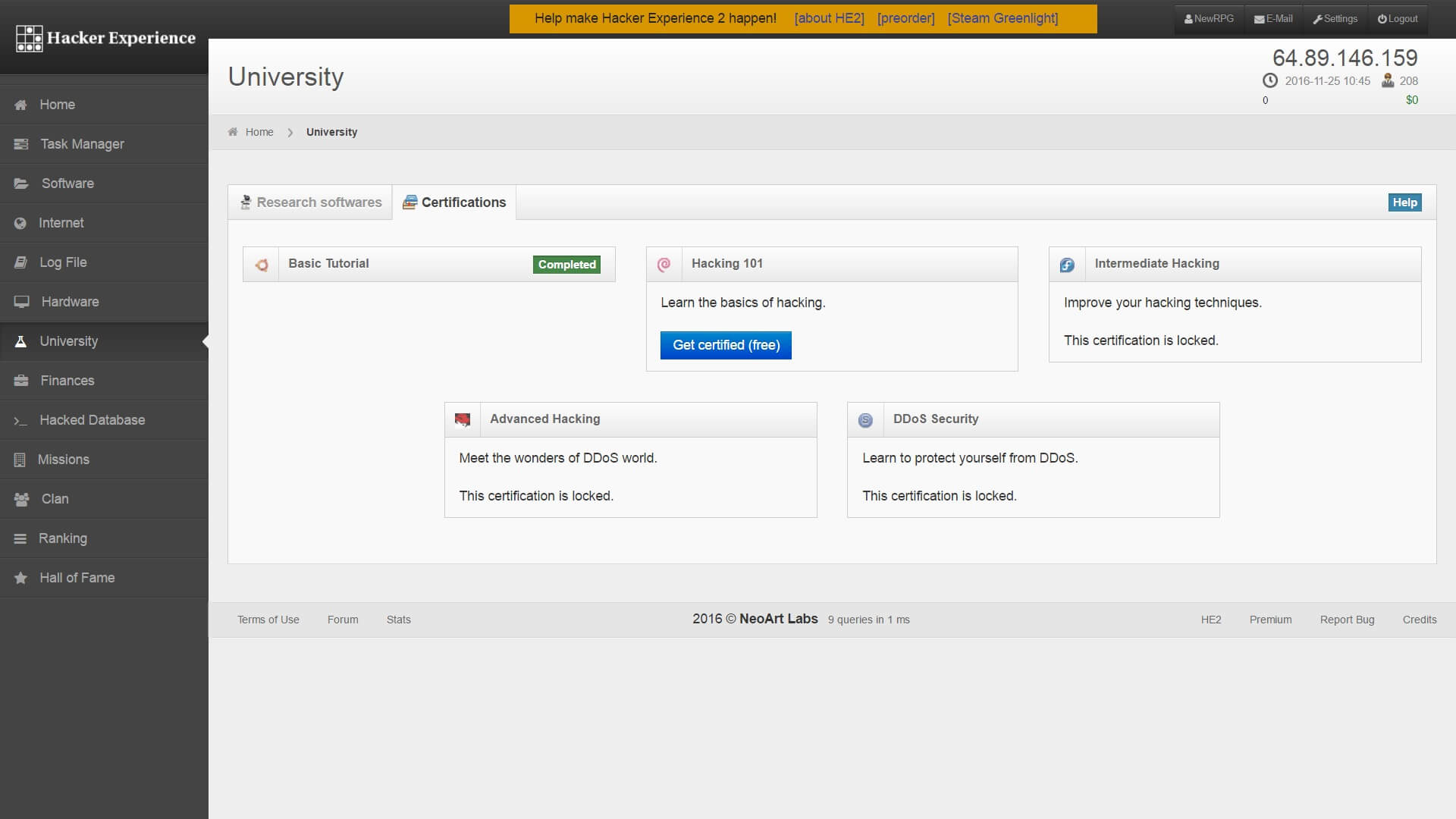 12

comments on

"Hacker Experience"
Phantom_Kilarn
November 26, 2016 at 05:45 am
HE2 (That is, a little sequel being cooped up) would be a better choice in casting your support on. Getting the Steam greenlight is key. You could always start playing the legacy version of HE and integrate later, though.
xinx
November 25, 2016 at 11:30 pm
Awesome game. I've personally been playing for the last two years or so now. It's a game I'd recommend for anyone.
tylersmith98
November 25, 2016 at 10:21 pm
Amazing game, great time waisto whenever you need something to play.
CorruptButter
November 25, 2016 at 09:27 pm
I have spent too many hours on the game. My food supply is running low. Please send help ;-;
MrBurnZZ
November 25, 2016 at 06:41 pm
Fun game.
Sepulchurz
November 25, 2016 at 04:47 pm
This is the best game ever. Few games have ever made watching a loading fill you with both fear and anticipation. Few games have you frantically clicking your refresh button to catch your hacker. And few games ever can keep me entertained for hours. Even games like Watch_Dogs lost it's spark after a couple days. This is the sort of game you can play for days and never get old of!
Rento
November 25, 2016 at 03:29 pm
OMG what are you doing with your life play this game!!!!
Rento
November 25, 2016 at 03:21 pm
Its an awesome go everybody should give it a try!!!!
Enterprize
November 25, 2016 at 02:43 pm
Been playing this game for a couple of years now, highly addictive and competitive game (especially for those who love a grind), one of cleanest "hacker" simulators I've seen around and I highly recommend you come check it out.
Rento
November 25, 2016 at 02:36 pm
It's a great game! Play it!!!!!
dodyspy
November 25, 2016 at 01:15 pm
Best hacker simulator with great comunity
ChopSticks
November 25, 2016 at 01:13 pm
Enterprize makes a killa sanga on a thursde night fellas