HackerForever
HackerForever is an online hacking based TBBG. Community-centered, timer-based, PvP-oriented, free2play BG (premium subscription possible, for comfortable options/customizations only). There are different ways to get XP, Skill and Cash (also non-PvP) where XP/Level fullfil prerequisites; cash mostly buys hard- and software, hardware and skill determine timers and succes-rates.. interesting / 'hard to master' game and fighting mechanics. Community and clan system are key to the game and game play. Additional PvP modes due to 'PvP-games' (inspired by CTF, KotH).





(133 votes, average: 4.46 out of 5)
Rate it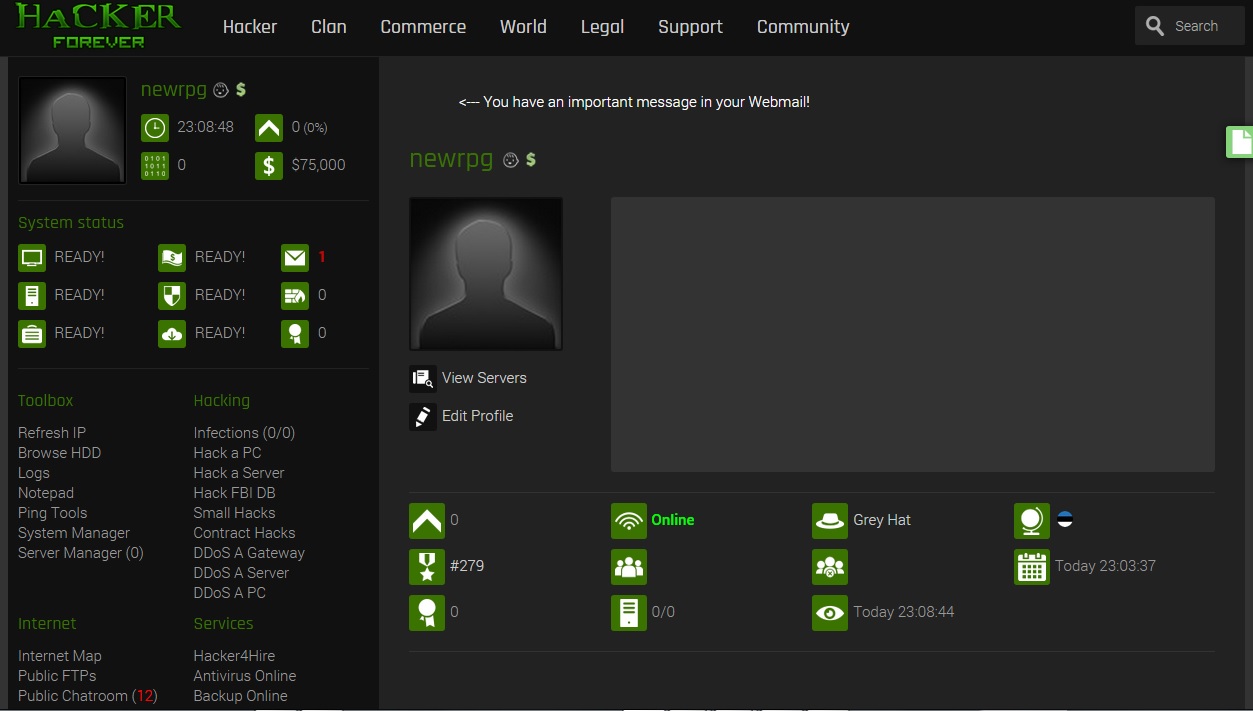 26

comments on

"HackerForever"
Scotch
February 20, 2023 at 02:33 am
Game has been revamped and is currently being improved on. HF is alive again! Come join the fun!
Kimberly Robert
March 25, 2019 at 02:29 pm
Beware of scammers i have been scammed 3 times because i was trying to know if my husband was cheating until i met this hacker named; ([email protected]) who helped me hack into my spouse phone for real this great hacker hacked into my spouse whats-app messages,Facebook messages.text messages,call logs,deleted text messages,bitcoin account and many more i was impressed with his job and he brought me results under 24 hours believe me he is real and his services are cheap and affordable.
Phloh
March 25, 2019 at 10:17 am
It was really good , currently the community is migrating to EndlessHacker, come and join! (it's the same base code + better)
Dayu
February 20, 2018 at 02:32 am
GOs are ***RACISTS***
Edboy
August 26, 2017 at 08:58 am
When it comes down to it, cool to try out for a bit. But pretty mundane. Great community though if you're looking for that.
Solomon
August 18, 2017 at 04:53 am
The game has just entered V10! No other hacking game has such an active and friendly community as this one! Make sure to give it a try. By far one of the best.
MissToshi
March 12, 2017 at 04:50 pm
this is an awesome game. I"m so addicted to it. And the players... wow we are like a big community.
R2Guy
February 10, 2017 at 03:40 pm
You'll spend months on end playing this great game!
Faggamuffin
November 29, 2016 at 09:10 am
It's a good game. Happy hackin
F4N70GRIM
November 28, 2016 at 06:03 am
Great game with easy game play, easy to understand and have a nice UI. I recommend this game for those who are looking for challenge and fun in this hacking simulation game.
AdtClone
October 18, 2016 at 08:28 pm
Love this game, it will continue to improve and community is amazing.
Matteo
September 29, 2016 at 11:34 pm
I love this game.
X_Sploit
September 08, 2016 at 10:11 pm
A unique experience in the eyes of the mysterious hacker. Hack both players and AI, then erase your trace. A friendly competitive community with gameplay focused around hacking while trying to remain anonymous. However counter play is also very interesting because you can never stay 100% anonymous and eventually someone will find you.
fno112
July 20, 2016 at 11:04 pm
Great game. Nice and friendly community as well. Recommend that you take a look in the "Game and support chat"
Tonybob
June 15, 2016 at 04:33 am
Good game they unbanned me because they nice
Anthony
June 13, 2016 at 06:07 am
They fucking banned me when I did nothing wrong.
Christy Parks
November 21, 2016 at 04:52 pm
like i wouldnt have gotten over 300gs from someone not even 4 hours of playing with a message saying " because ur such a nice person, have some cash " if i wasnt nice. so how does nice get banned?!
bs.esc
June 12, 2016 at 08:31 pm
add me as friend
Alex
May 09, 2016 at 09:42 pm
Really nice game. Enjoying it a lot :)
CipheredData
April 15, 2016 at 05:24 pm
Fun game, great community. Isn't a waste of time just dropping in.
Ew0lf
April 08, 2016 at 03:09 pm
Its a great game !
highly recomended !
packmanx45
March 28, 2016 at 10:41 am
i think this is a great game i just love it.
peboeka
March 25, 2016 at 03:37 pm
well,its a great game,it has a awesome community,just a fun game to be part of.
FiryalYay
March 25, 2016 at 12:28 am
Hackerforever is purely click to click game without any hacking experience needed, allowing everyone to play. Another perfect time killer.
ZeroCool
July 27, 2015 at 01:09 pm
Great browser game, that also works very well on my mobile phone. It has the hacker-feel and look and has a great community. Love it to bits.
RoX
June 30, 2015 at 12:53 pm
I was kinda expecting it to be more Hacker-themed. But there is nothing to do with your hacking knowledge in there, just another click-click game.
CroNutz
June 30, 2015 at 11:52 am
As most similar games are all GYM and CRIMES. This one is very unique, both gameplay and the mature friendly players in it. Try it, its worth the time.