heroes
(Online since

2022

)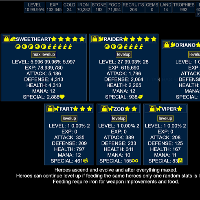 A browser text based heroes game inspired by games like settlers 2, diablo 2, league of legends, empires and puzzles.
Quick start, click Heroes and then click Pets to get 15 free heroes and pets! Play First Signup Later (PFSL) if you like the game you can set a password in settings afterwards.
Heroes is a browser RPG with simple and fast paced gameplay. Collect and level your heroes endlessly. Collect all different elements to have more bonuses to your team.
Features:
No signup just play, Play First Signup Later (PFSL)
Build your Base and get free resources
Heroes unlimited leveling system
Auto fast fighting
Text based bejeweled like puzzle game
Pets to support your heroes
Raid to climb rankings
Explore endless maps
Take a jab at the Titan and gain great rewards
Endless monster levels





(0 votes, average: 0 out of 5)
Rate it