Hustlin Hitmen
Hustlin-Hitman is a mafia based TBBG. You start with 5000 turns and you'll have reserve turns (varies from round to round). Create a family, which allows you to get easy cash via family features. You can buy booze and AK's and other tradable goods. Hire thugs and bodyguards. Later on you can hire hitmen to try to wipe out your competition. You can produce goods yourself as well and sell it in the market or get your hitmen to collect money.





(2 votes, average: 4.5 out of 5)
Rate it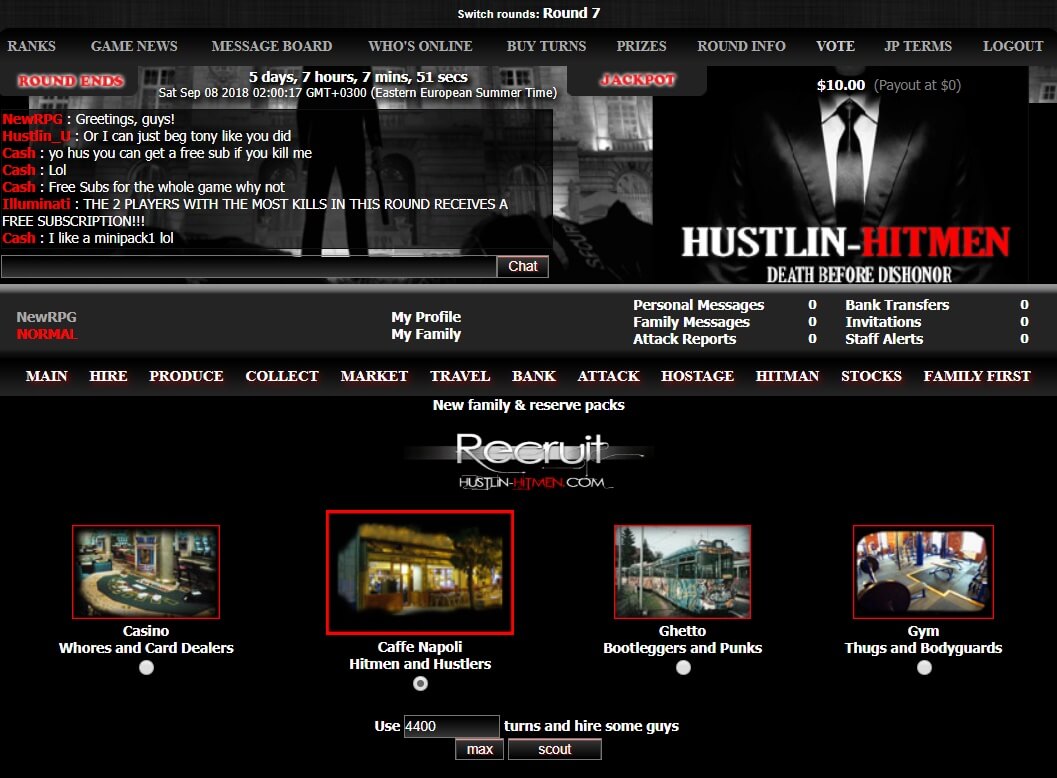 8

comments on

"Hustlin Hitmen"
Stonedstallone
October 06, 2018 at 09:42 pm
I have to admit this game is great! I love this stategy game and its pretty easy to learn.. Admin is active and has good customer service. Looking for fun? This game is the place to be..
John Smiley
October 06, 2018 at 05:08 am
Great game it is hard to find an honest game, but this game is honest.
Crazycarl
October 07, 2018 at 02:14 am
Very honest game
Crazycarl
October 04, 2018 at 12:58 am
Very good game ...i recommend everyone join up
Jack Daniels
October 02, 2018 at 04:55 am
Great Admin and great game to play.
John Smiley
October 02, 2018 at 01:53 am
best game going very honest admin.
Mari Kakavis
October 02, 2018 at 01:36 am
Best mafia game ever with unique features!
Dan
October 02, 2018 at 01:31 am
I personally like the players, even at ten or twenty players the chats stays active. Good bunch of people and I love that hitman feature.
Pete
October 02, 2018 at 01:15 am
This is one awesome game. extremely different from the rest and very addictive. forget mafia wars this is a new game with a honest admin.