Immortal Night
Immortal Night is a vampire based browser game. When you create your character, you can choose between Vampire or Lycan. Game has its own forum and chat room. Get yourself primary weapon, secondary weapon and some armor and go hunting to gain money and levels. Gain stats like strenght, speed, labour, accuracy, defense and IQ. You start with your own propery, a grave, later on you can find yourself in a fancy castle. Game has a lot of more functions so it takes time to discover all the functions it has.





(55 votes, average: 2.15 out of 5)
Rate it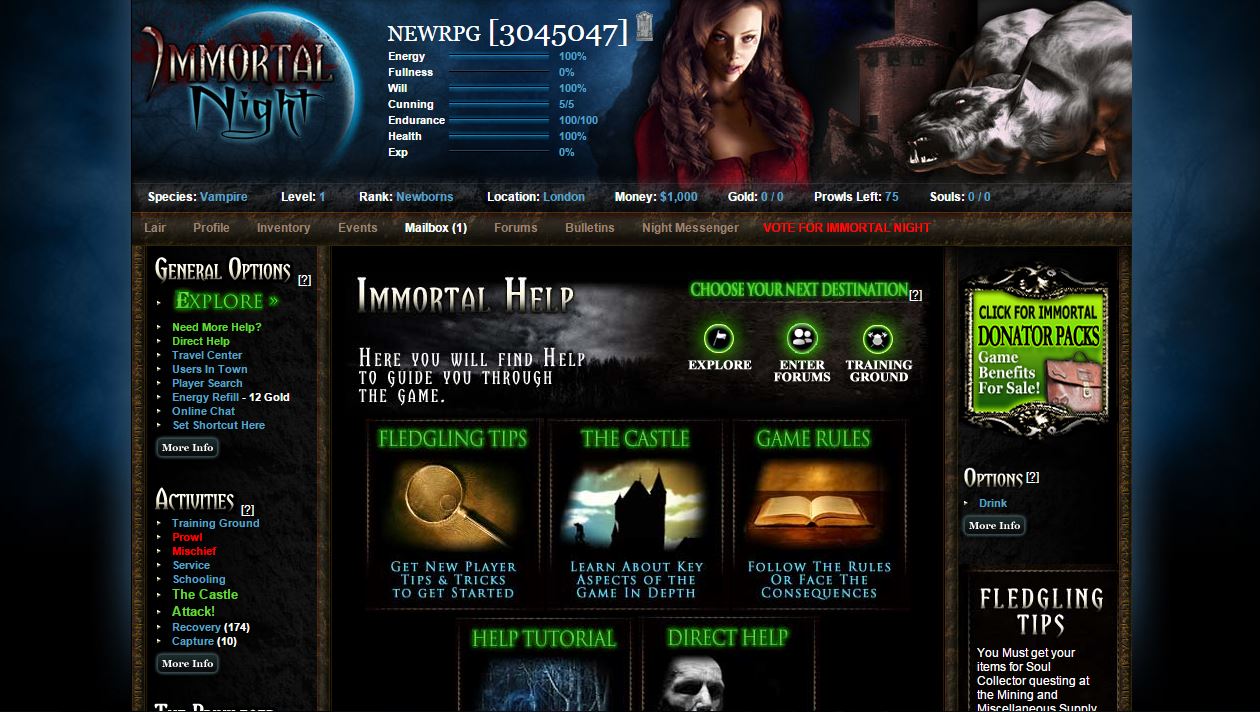 8

comments on

"Immortal Night"
himiko
August 02, 2023 at 04:02 pm
This game is not worth it

No Help

Outdated Formats

The Owner just wants to scam people

Nikita is actually a guy
John
November 04, 2021 at 05:12 pm
The owner is a Middle Aged man who only wants your money- this game is a waste of time and money. He invests nothing in this and the format is copied in his other money makers, immortal day, Trenton made, samauri of legend. He just copies the formatting and uses new graphics. You can see this when you play and he forgets to change a name of something like jail or capture lol
Hailey Colley
July 14, 2020 at 11:05 am
I agree dont play this game if you want a bunch of fucking lag and then have you put in the pit becausr of cybering. Bruh fix ya damn game.
CC
June 05, 2020 at 10:39 am
DO NOT PLAY THIS GAME I REPEAT DO NOT PLAY THIS GAME the owner Nikita is extremely rude and unhelpful I know a few people that are pursuing legal actions against the site because of personal information getting out and Nikita not doing anything
a name
January 18, 2020 at 10:56 am
the main staff member is highly rude and patronizing
Kityre
March 11, 2019 at 02:46 am
Highly against playing this game. Staff are unhelpful, verbally attack you in messages. Took the time to start a genuine relationship with one, sexted multiple times with each other. Had a single fight, divorced, she reported me for sexting and only i got banned. Game is strongly in favor of female players, and staff will quickly take any females side in any argument.
Obie
March 31, 2019 at 11:01 am
Lol - we banned you cos you're a f*cking idiot :-D
zefferblack
May 04, 2021 at 02:06 am
damn that was f*cking mean b!tch
a name
January 18, 2020 at 12:58 pm
would not shock me if you are really Nikita you both are trashy
Anon
April 21, 2017 at 08:16 pm
As most reviewers on many other review sites will say this games staff are very unhelpful and will take your money yet will make no effort to fix their broken game and
Will either ignore you or ban your account if you dare to complain.
Nunyas
March 29, 2017 at 02:13 am
This game could have potential, but the customer service is terrible. From what I been told the owners of the game do the customer service. I am unsure why people would want to play a game that in your time of need it is met with rude responses.