Infamous Wars (OFFLINE)
Infamous Wars is a hacking based online browser game, keeping a classy text based feel without fancy effects or images. While making an account, the game's system will choose your account type between "Hackers" and "Police" side. As a new player you are rewarded with a Welcome Pack that contains money, gold, points, prison keys and even 15 days of donator status. If you've played crime based text games then you know the drill, get experience via crimes, attacks etc and watch our for your Health and Energy. Get achievements, climb the rankings and earn wealth in this online hacking based RPG.





(41 votes, average: 4.68 out of 5)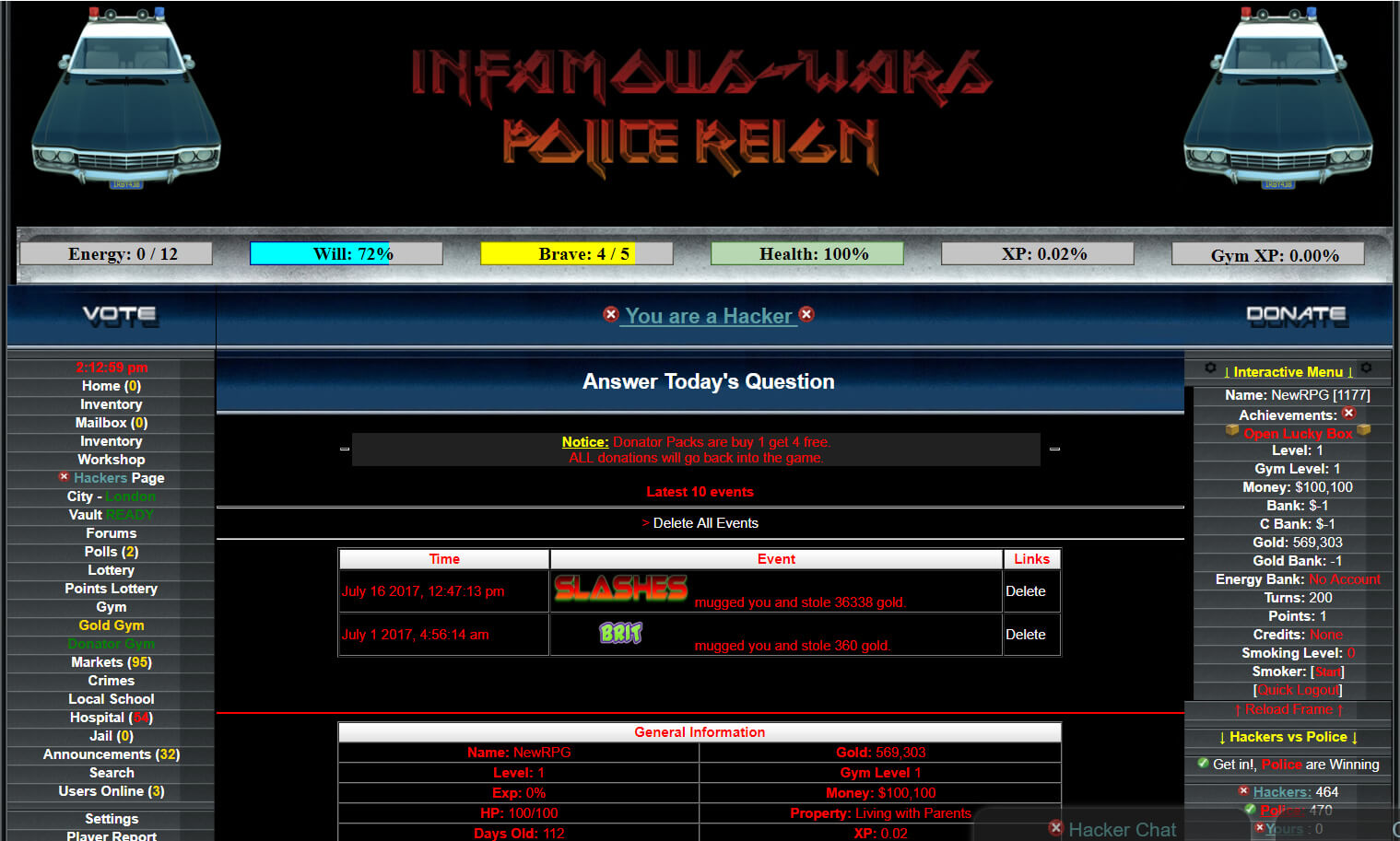 3

comments on

"Infamous Wars"
James
August 02, 2017 at 11:04 pm
Great Game to play, lots of things to do.
Hackers RULEZ lol.
slashes
July 14, 2017 at 07:15 pm
I've played online text based games a long time (9 years in fact), and if there is one thing this game has, that I don't see other games has... Is the variety of things to do to help level, get cash, or even collect gold! I've been on here for 3 hours now, and I'm still finding exciting things to do! I'm lv. 292 and I've got one of the better houses in the game! It's a very unique and addicting game to get into.
Torugas
July 08, 2017 at 12:00 pm
A very unique game for its genre with a dedicated, passionate site owner and a decent DevTeam. Infamous Wars never stops growing and it keeps me coming back for more with every day that passes. It has features I've never seen in other games and that, for me, sets it as number #1 in my books
Lord Kernow
July 13, 2017 at 06:50 am
Thanks for the nice comment Torugas.