Initium
Initium is a free role-playing game where you can explore new areas and kill monsters. You can rest and recover your health in the Inn. Earn money to be able to purchase a house to store your equipment. Increase your strength as one strength point gives you +2 hitpoints. Combat improves your dexterity and strength, but research and invention increase your intelligence. Players can party with up to three other players. You could also become a party leader to have the full control and make the most important decisions. After you die, a new character with new stats will be created.





(98 votes, average: 4.56 out of 5)
Rate it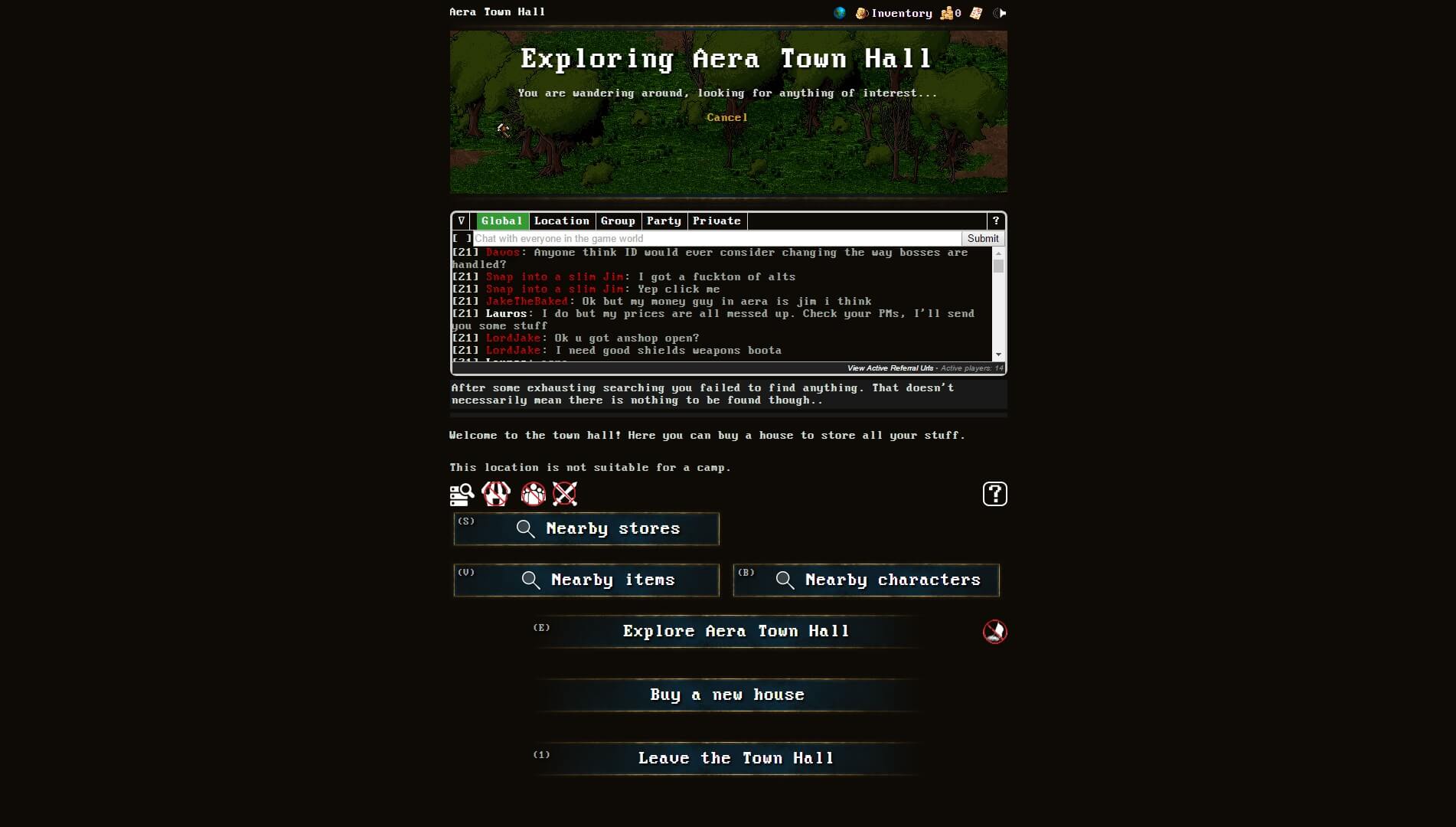 15

comments on

"Initium"
Fozzy
November 20, 2019 at 08:02 am
It's fun, most certinaly not for everyone, but do give it a try, I feel like the description really doesn't give it justice.
deep dark
November 29, 2017 at 11:16 am
Although it can be good for the occasional silent hours in-between, Initium lacks any real depth beyond acquiring items, dynamic leveling based on applying weapon types and the ever-popular "rogue-like" mechanics.

After about four hours of playing, then dying to a boss I didn't even know about, I'd lost about 6000 gold and my strongest character. This is by far one of the most annoying aspects of the game, however, they do offer a player home to counteract the loss of items and gold. Although, with that said, actually recovering the gold lost upon death and the items you've worked tirelessly to find after countless hours of sifting for specific stat inclinations, you are only able to retrieve these without problem if a premium account is purchased or if some friend/stranger/saint comes along to recover your body.

If there were more depth to the game as well as the combat mechanics and bland player state, this review would have been bursting with love. Unfortunately, I just feel ashamed for wasting my time.

Did I mention that weapons and armor can only be repaired by contacting developers and paying real money?
Yee
June 29, 2016 at 04:33 pm
Repetitive game, tiny community, dominated by players with no life. No real point to starting playing, unless you want to be frustrated.
Runda
June 28, 2016 at 10:51 pm
Great game, to play at work and school :)
NinjaKrill
June 27, 2016 at 04:42 am
Chatbox with RPG elements. :)
Vriess
June 24, 2016 at 04:40 am
Lots of fun and a great community! Constant updates and good people make this a must-play game!
Lewiscb
June 23, 2016 at 09:20 pm
INITIUM. IS. A. HIGHLY. ENJOYABLE. TEXT. BASED. GAME. THIS. DESCRIPTION. DOESN'T. DO. IT. JUSTICE. PLAY. IT.
Whackojack
June 23, 2016 at 09:18 pm
This game is better than secks and there are a lot of different Jim's with different professions. Just what I was looking for!
Digital332006
June 24, 2016 at 04:55 pm
lol
Travis
June 23, 2016 at 06:46 pm
Yes!
Kritty Krat
June 17, 2016 at 04:01 pm
GR8EST MMO EVAR ERMAHGERD WOULD PLE AGEN ANI TAAIM OF DA WEEK
salt
June 25, 2016 at 03:16 pm
KRATT U FEKIN KUNT PLS LERN TU SPELL UR NEEM
Digital332006
June 17, 2016 at 03:27 pm
It's like Diablo had a lovechild with Dark Souls, a MUD and D&D. Nice little browser rpg game, they even have an android app.
Marcus
June 17, 2016 at 01:23 am
Gave this game a shot a long time ago - amazing how much new content and features have been added since I joined. Really looking forward to seeing what comes next, always something fun to do.
watergate
June 17, 2016 at 01:22 am
might be an acquired taste for some, but nonetheless still a very enjoyable game.
Jim
June 16, 2016 at 02:04 pm
What a dank game
salt
June 16, 2016 at 12:05 pm
10/10 would initium again!