Itsagoal
(Online since

2001

)
If you are looking for a browser based football management game that is both well designed and challenging, as well as free to play, then have a good look at Itsagoal.
If you play Itsagoal, you take the role of a football manager. You are given a ready-made club so that you can get going straight away. That's just as well, as there is a lot to learn, and some of it is complex.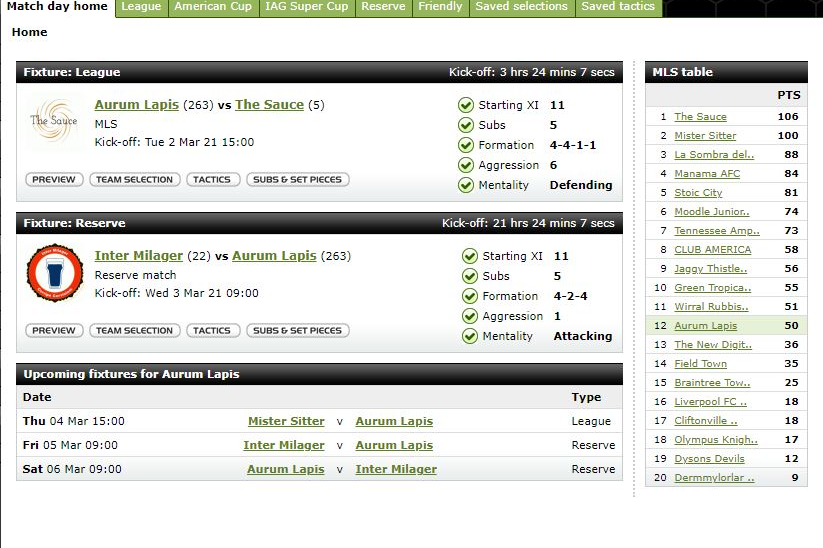 Probably the first aspect to deal with is playing matches. You will start with a squad of 23 players with ages between 16 and 40. Each one has an ability rating from 0 to 99. Players will have a preferred foot or even be both-footed. Their individual strengths are shown, with a wide variety of best positions apparent within the squad.
To play a match, you choose your preferred formation from a comprehensive list, and select your players, including five substitutes. You then state your intentions regarding when your subs will come on, and which players will be replaced.
Matches are played at various times during the day, and each one has a live feed that updates itself minute by minute
Each club is in a division of 20 teams, and there are five divisions in each of ten leagues. The leagues are named after well known football playing countries. League matches are played on five days each week, with the other two reserved for cup matches. Each league has its own cup competition, and the Super Cup involves all teams in Itsagoal. A third cup, the Inter Cup, is for the top finishers in each division across the leagues.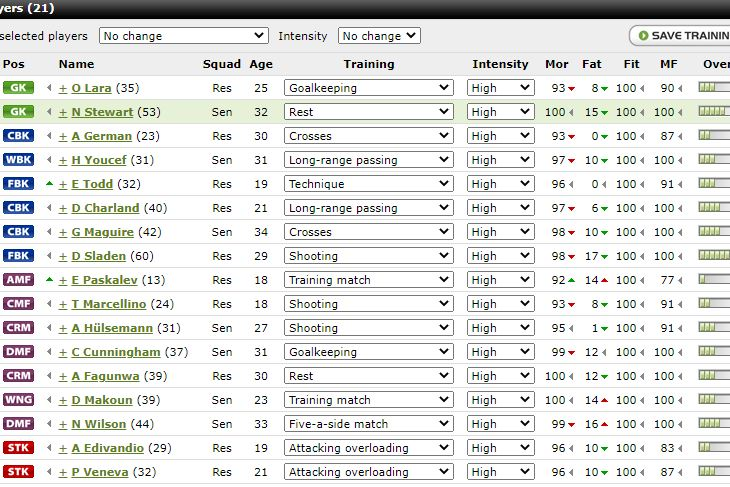 Players need training, so there is a separate page for that, giving a wide range of choices for each player.
You can measure players' progress as their skills develop. Some will do better than others! Injuries, fatigue and suspensions are also part of the game, so another management skill is building the squad to cope with such adversities. It is possible to purchase insurance to cover the payment of fees to injured players. It is also possible to arrange reserve matches to give all squad members some match practice.
Players age, of course. Each season lasts for eight weeks, during which time an Itsagoal year has passed. The squad can be renewed through transfers from other clubs or through promotions from the youth academy. All managers can put players on the transfer list. Managers can view such players and bid for them in a closed auction. Terms have to be agreed, including the wage package, as indeed is the case for all squad members. Managers will find that some players drive a harder deal than others, but also that there are many links in the chain that can make up a contract proposal. Contracts can last for up to five seasons.
Statistics are provided for virtually every conceivable aspect of players' performance, as well as the overall performance of your club, and of other clubs in the game.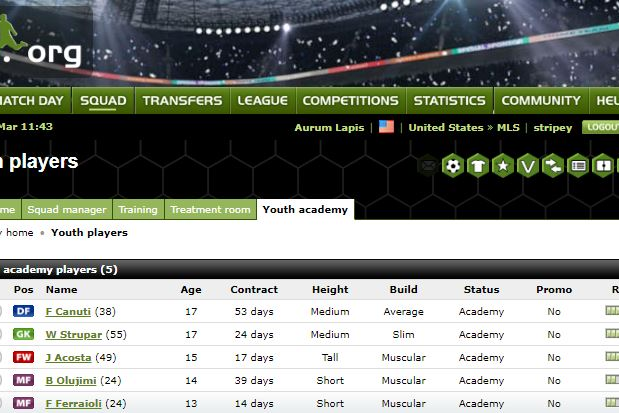 Scouts can be employed to help find players on the transfer list and also youths who could join the academy, but the manager has the final decision in both cases. Youths can join the academy from 11 years old, and stay there until their 18th birthday. Managers have to learn which youths are likely to develop well, as there are costs involved with running the academy.
Similar procedures are followed when employing staff to help run the club, many of whom are selected and employed on behalf of the club Board by the manager after placing advertisements. A further consideration here is that the quality of staff that can be attracted by the advertisements is related to how well your club is doing overall, shown in the Club Rating figure.
An important part of the club finances is the income derived from ticket sales at matches. Managers have to control the ticket price. Set it too high and the fans will not come — too low and there's not enough income. It is also possible to increase the size of the stadium by building more stands and seats, but at the same time, there will be an increase in maintenance costs. There is also income from league and cup prize money, and other sources not directly controlled by the manager such as TV rights and advertising.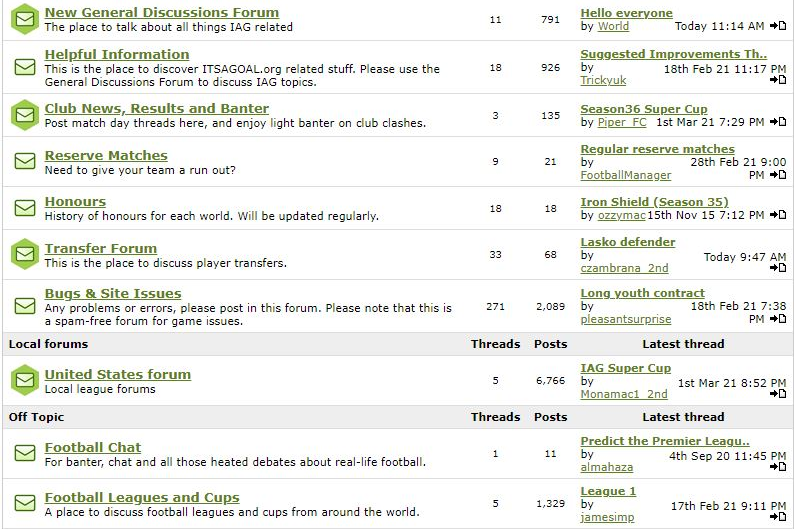 One of the most important areas of Itsagoal is the discussion forum. This is subdivided into multiple sections — some for discussing the intricacies of Itsagoal, some to talk about football in the real world, and even an area where anything under the sun can be the subject. From time to time, word games or quizzes are introduced. There is a system for managers to send private messages to one another. This might be used to enquire further about a player for sale on the transfer market or to discuss details of reserve matches, for example. The messaging system is also used by Itsagoal to convey messages from each club's Board, such as reminders about contracts, information about medical fees after a player's serious injury, or a warning if the squad size is getting too small.
It's also possible to apply to manage a different club if you feel like a different challenge in the game. Your application will be considered by the club in question along with any others, and you will hear the outcome at the next morning update.
It's not at all an easy game to master. Although it might seem so at first, that is because everything is set up for you at the beginning. Thereafter, you have to learn what works for your club — how to nurture it and make it grow — and how to beat other managers who are also trying to do the best for theirs. It's so intricately constructed that it can take quite a time to start making real progress, but the process is both fascinating and rewarding. other managers are always ready to give help and advice, possibly a unique feature of this game. And it doesn't cost anything to join Itsagoal or to play!





(1 votes, average: 1 out of 5)
Rate it