Kickass-warriors
Kickass-warriors is a free browser-based text game that allows you to get involved with criminal life. Apply for a job by looking at the required level and daily income. Take a look at the crime list where you can see how much nerve each crime requires and how much experience and money you earn. By committing truly difficult crimes you can also receive points. In casino you can play dice, 5050 cash, 5050 points, ticket lottery, slots and points slots.





(472 votes, average: 2.02 out of 5)
Rate it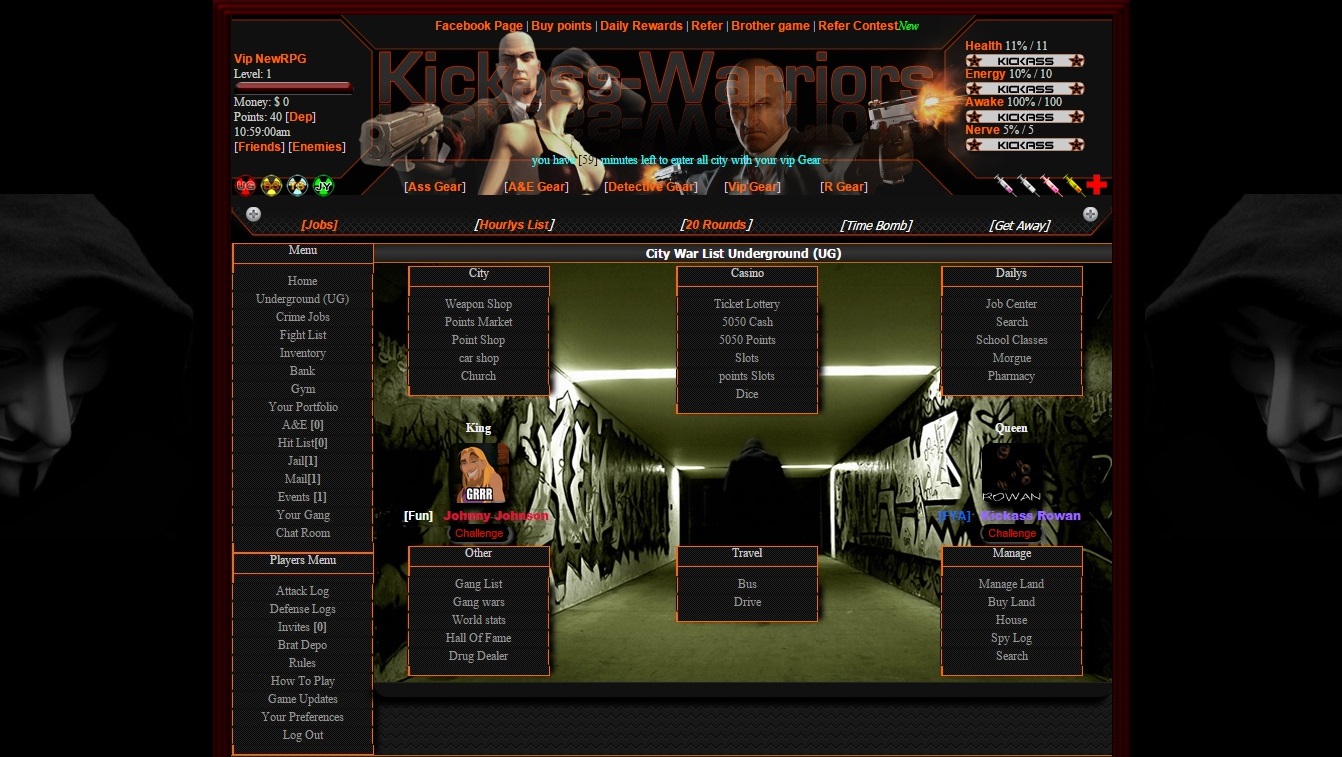 38

comments on

"Kickass-warriors"
Laughing at the losers
July 23, 2023 at 12:51 am
And now it's basically 5 ppl playing with themselves and thinking they are all badasses lol. They must be shut ins who live off the government and think they are sooo cool running everyone else off the game.
Mack
September 27, 2022 at 09:55 pm
Nice little diversion , lot's of things to do and Admins are constantly adding to and improving the game . Like any of these games you get out of it what you put in . Disregard some of the haters and give us a visit.
GG
September 24, 2022 at 11:47 am
Been playing since 2015....still here! I've seen lots come and go..love the people , most are really great. So much to do , admins are awesome. It is a fighting game, so gang up and let the wars begin!
Infamous BC
September 22, 2022 at 01:55 am
This game is awesome, I've been addicted since day 1, there's so much to do and it can be time consuming. It's constantly updating and we have admins on stand-by if we need. There's not a lot of warring involved, but it can get pretty competitive on other tasks. You don't have to spend money to get ahead as the game pays out plenty of points, you just have to work for it and "Play". - Oh and BEAT Foxy! LOL #ThatsAll
get a life you stoopid kunt
March 23, 2023 at 01:06 am
yeah you have no life and lots of accts you pathetic waste of skin
HD
September 22, 2022 at 12:46 am
There's so much to do on this game it's impossible to become bored. Admin gives great pay-outs for achievements, not to mention holiday gifts. I love playing.
Tiff
September 21, 2022 at 07:26 pm
I love Kickass Warriors. It is the only game I will play and invest my time to. For a mob game there really isn't a lot of fighting, but so many things you can do on the game it can keep you busy for hours a day. Anubis (the owner) is a sweet guy and him and Offthe Wall try to do all they can to keep the game fair.
Anonymous
May 06, 2020 at 09:59 pm
It's just another MafiaMofo Know Since L i ls Anthony baby cakes aka tazzi canttouchdis baby girls aka miss u itzbudz kunty aka hunty aka huntress ziggy Mr.Heck aka Scotty gtown ect the site was great until they showed up know it's just another mafiamofo drama site and Anubis And OffTheWall don't even enforce the rules the site is in fair to new players you half to buy gym stats with rl money if not then I'll get left behind the game totally just gone down hill it's not worth even playing anymore.
Done with the Game
March 10, 2023 at 12:41 am
You are correct. Not worth playing anymore
FEDUP
July 15, 2017 at 03:42 am
10 REASONS WHY THIS GAME HAS NOT GROWN IN PLAYERS
10- ANUBIS PLAYING FAVORITES WITH BLACK WIDOW (CONSTANTLY PUTTING OTHERS ON NOTICE FOR HIS INABILITY TO NIP THE REIGN OF TERROR BY BLACKWIDOW)
09- ANUBIS AND BLACK WIDOW ( INABILITY OF ADMIN IN CHARGE TO USE HIS BRAIN AND NOTE ACTIVITY FROM BLACKWIDOW ACCOUNT AND TWP)
08- ANUBIS- WORRIES ABOUT THE ACTUAL HONEST PLAYERS VENTING MORE THAN THE CHEATING BY BLACKWIDOW AND TWP.
07- BLACK WIDOW BITCH JUST DOES NOT GIVE A DAMN ABOUT GAME OR THE GROWTH OF IT.
06-BLACKWIDOW INABILITY TO PLAY THE GAME WITHOUT THE AID OF CHEATS
05-BLACKWIDOW - BUYS HER WAY OUT OF ALL
04-ANUBIS - LOVES BRIBES
03-BLACK WIDOW - INABILITY PLAY WELL WITH OTHERS
02-BLACKWIDOW- JUST ACCEPT HER ON SKYPE AND GET NAKED
01-BLACKWIDOW- NO ONE WANTS TO PLAY DUE TO (WAIT FOR IT)
YES INDEED YOU GUESSED IT "BLACK WIDOW"
THIS GAME WOULD BE GREAT IF ANUBIS WOULD GET OFF HIS ASS AND GET RID OF THE CHEATER!!!!!!!!!!!
jeffrey bats
July 04, 2017 at 04:21 pm
lmao at everyone complaining about everything on who is a cheater and who isnt not once have i ever cheated FACT i did have people who wasnt interested in the game move me points from there accnt to mine but it isnt nothing that others did not do themselves but anibus is funny telling me he will vote on me coming back i agree once banned you are banned for good but being banned unfairly does give the game a serious bad name anibus or amish whatever you wanna call yourself keep your game sir you have maybe 25 players that actually play and as for people complaining about the people who spend real money think about this as a game owner myself its those people who keeps the games going cause if they didnt spend money to play the game would have died along time ago cause who wants to run a game and always pay out there own pocket so everyone can play lol some of you are blind to that but i love when people said i cheat anyone who knows me knows im dumber then a box of rocks when it comes to puters this game here is a bad fail the game needs a new owner here not a hall monitor or a big baby and yes anibus im calling you a big baby
Widow Worshipper
June 09, 2017 at 09:08 pm
This is by far the most greatly improved and enjoyable game out there that I have come across, does it have issues, yes of course as is normal in a game. There will always be people who complain, I think from what I have seen the main complaint is that 1 particular account has superhuman abilities. Its not equipment superiority it is the ability to get away with the manipulations they are perpetrating, just play the game for the enjoyment, avoid the pitfall of joining TWP there are players and families that will assist and help you grow. The one thing you cannot get on here will be the trophys but you can get the rewards for gaining you missions, There are trophy hogs on the game and to be honest once you get 5 you dont get points, You need points to play not trophys. They should probably reset them like baseball and football season and give everyone a chance to have one .
Kickass Warriors Player
April 13, 2017 at 07:47 am
This game had a lot of variety for players of all levels and abilities. It has been greatly improved, and continues to improve. Lots of opportunities to earn points and medals. Definitely worth checking out if you are looking for a fun mob game with a few different twists!
Adult Player
April 05, 2017 at 10:06 pm
I love all the missions and hourly awards in this game. I'd like to thank the owners for allowing adults to have something to do in our spare time. I've been reading the other comments and see many complaining because they can't do what others are doing. Put in the time and work in and you'll be part of the best. Everyone shines when in a family who works together. I hope to see others do the same. Complaining is for children, have fun at what you do! Thank You again for the great game, love it!
Just Me
April 05, 2017 at 03:58 pm
I have played Several different games since the Old Myspace Mobsters was shut down, and I must say Kick Ass Warriors has become my Favorite (2nd to Myspace Mobsters Of course) Anubis and OffTheWall have done an amazing job, they both seem to care and willing to listen to everyone. They stay active in the game with the players and are very quick to resolve issues. Best mind set ever when running a game is to be active and listen to your players and they have that down pat. now when people just spew hate trying to get one in trouble because there game play is better then others, of course they wont just go punish the person without proof. I am not a person who spends a lot of real life money on a game after my big money loss when Mobsters shut down and I surely do not kiss anyone's ass including the Owner/Admins of any game, But I still enjoy Kick ass Warriors and have fun. You ave to be willing to put in the work to accomplish goals on the game, that is the fun part!
Anonymous
April 05, 2017 at 06:04 am
This is a very well thought out game. Kudos to the owners. And to the ones complaining about cheaters - perhaps you should play fashion wars.
BOTTOM_LINE
April 04, 2017 at 11:22 pm
Please pay close attention to what some of these ex player's are saying...then ask yourself why? The game has improved by a 1000% an yet they still gripe. They rather us pay nothing and the whole game be free....doesn't make sense does it? How are they suppose to pay for the game? It cost a lot of money to run these games but they have issues with that too. If someone other then ANUBIS offthewall an calipso pay for it then by all means go for it...?
omnipotent 1
April 03, 2017 at 11:06 pm
If Anubis had a brain he would realize that Bounty made old emails available to the cheaters on his game, they are accessing it through these accounts. They have the blueprint to the game and continue to cheat. If you cheat on one why on earth would you assume they would respect you?
Grow a set of balls already and do something to fix the issues. Prove you are not partial to TWP and maybe the game players would support the game.
ariosto rodriguez
April 04, 2017 at 09:30 pm
The Wolf Pack is the Family you want to be in....we have some of the best gamers playing....Kickass-warriors is an amazing game time experience. Some will say this an some say that but in fact it's the one's who don't even try to be the best they can be....come try us if not try out another family but TWP will teach you step by step how to play....
HogsRUs
March 21, 2017 at 07:42 pm
ANUBIS AND WIDOW ARE OBVIOUSLY AN "ITEM". EVERYONE CAN COMPLAIN TILL THEY ARE BLUE IN THE FACE HE WILL ALWAYS STICK UP FOR HIS SUGAR MAMA!!! OFFTHEWALL IS AMAZING AND DESERVES BETTER TREATMENT FROM ANUBIS. THE PLAYERS DESERVE MORE RESPECT FOR THEIR FEELINGS BUT IT WILL NOT HAPPEN AS LONG AS ANUBIS IS UP SADIES ASS. SADIE HAS BEEN BANNED FROM SO MANY OTHER GAMES AND YET HERE SHE GOES NON STOP, I OWN TOP OF THE LINE EQUIPMENT AND HAVE GREAT INTERNET SO PLEASE BLOW SMOKE UP SOMEONE ELSE'S ASS ANUBIS. YOU TRULY SUCK AS ADMIN AND HAVE ADDED TO THE DEMISE OF THE GAME. IF THE WIDOW DOESN'T CHASE PEOPLE OFF THE GAME YOU DO BY REPRIMANDING PEOPLE FOR VOICING THEIR OPINIONS.
DO NOT RECOMMEND THIS GAME IF YOU EXPECT FAIR PLAY.
No one cares
July 07, 2017 at 07:07 pm
This game is a rip off avoid it. Sadie can hug a root for I care.
Missy Mae
March 03, 2017 at 02:52 am
The game has heavy support and they do a really awesome job, no matter what they do to try and better the game nobody will ever be happy because there will always be somebody to complain to, Reply back if you want to fck
Da Sweetest
February 25, 2017 at 08:06 pm
I thought this game was amazing when I first started playing but now I see this game plays favorites...I've sat back and watched every last detail. If your not willing to put in the work of kissing the administrators ass (you won't get far in this game) I see a bunch of people complaining in comments about certain people in the game but I've also saw that if you complain enough... have more crybabies promoting drama.. then their able to get their way. It's crazy that adults would act like that but (I understand it sucks when you can't play as well as those who put in the work) Not to mention put the money into the game as much as the ones that are most hated in this game. Just because your internet isn't as fast as some, doesn't mean people are cheating (duh) To think most are parents and acting like this? #rollseyes How about play the game, enjoy the company of others from all over and act like a adult. Stop playing favoritism, just because you run the game doesn't mean everyone gets their way. Keep the game fair & to those complaining about scripts and cheating... stop being cheap & step up your internet speed!! I can kidnap 900 brats a hour and I'm still using windows xp (ya'll look ridiculous)
EYES WIDE OPEN
February 25, 2017 at 10:59 pm
900 is a reasonable amount hell most can, but 3000+ plus 800 mugs, 1000 wars and fists, 285 a & e etc all in an hour, pleaseeeeee not possible by hand with whatever speed.
Game Reviewer
February 15, 2017 at 02:21 am
First things first, this game has so much potential due to the work done by OfftheWall, Second Anubis may have days when he is a bit overwhelmed by the bullshit one can only imagine he has to deal with on a daily basis. The only drawback to the game is the users, Everyone who plays these games knows that money keeps them going so someone will always spend more than others. Finally the game is offering items within the game for points and have a much more affordable purchase option for points. Unfortunately they still keep players within the game from getting the new gear unless they spend money. Great game play improvements over the last few months. The drawbacks are the usual, they have a mission system offering trophies, but new players will never attain them. A handful of players dominate and squash anyone attempting to achieve the trophy. Perhaps down the line, they should look into a resetting of missions on a seasonal basis so others stood the chance. I have seen pages with multiple trophies. As the game grows other users will want the opportunity to gain them. The rewards for the weekly and hourlies are a bonus on this game, however the leaderboard should have been reset when it was pointed out that Black Widow was using the cheats to accomplish the outlandish amounts. She is not the only one, just look at the leaderboards it speaks for itself. There are quite a handful who use the cheats, they are just less noticeable than Jones, Widow, etc. I highly recommend this game, just take some chill pills as there will always be a Widow lurking , this particular person does the same thing on numerous games. It is also so much quieter and nice to play without the mouth of Jeffrey Bats. He also does the same thing on numerous games, everyone he brings to a game has usually been banned due to cheating. Keep up the good work Anubis, Calypso, and OffthWall. I will gladly put your talents to work in the event this game ever closes its doors.
Scarlet
January 30, 2017 at 12:57 am
Most these people complaining are pure cowards and they dont have the balls to post who they're ,always pointing fingers and complaining about everyone , if you dont like the game stay off of it , seems to me the same Jerk complaining is making multiple accounts logging from Mcdonald leaving bad reviews , You are a sad lil man and have no sack whatsoever, The game is great , all these lil beaches mad cause they like to complain about everything lmao , bunch of hairless touchy sensitive pussays
Jeff bats
January 28, 2017 at 03:25 pm
Let's just say this anibus one of the game owners can ban anyone at any given time I was banned on the game cause blue bought my gear I have no control over who bought my gear I was not even online when he bought my gear anibus accused me of exploiting his game this is not true then when anibus unbanned me like two weeks later he was in my email saying not so nice things to me so I told him to stay out of my emails that if I needed an admin for anything I would email offthewall or calypso with in seconds I was banned once again I give two thumbs down to this game anything I did on the game was with in game rules I never once broke the rules of the game not cool not cool at all anibus is the guy that he can say whatever but don't talk back to him cause you will get chat banned game suspended or even banned
FED UP
January 27, 2017 at 07:01 pm
Lets just state the obvious, ANUBIS is a complete and utter idiot. What kind of fool makes double experience first on crimes allowing his benefactor to run all over everyone on the game, then allows her to do outrageous amounts of things in an hour, that are not humanly possible without cheating on a daily and hourly basis. Toss in the next fiasco, he makes the double experience on tasks that do not have enough accounts to accomodate the few regular players, NO ONE CAN EVER TOUCH FOXY ON BURNS OR JAMA AKA WHATEVER THE F!!! SHE WANTS TO CALL HERSELF THIS WEEK. WIDOW RULES ON ROBBERIES NO ONE CAN EVER FIND AN OPEN ONE ON DBL DAY. MUCH LESS TOUCH NAPPING. HELL WHEN YOU DO 4000 IN 20 MIN YOU RULE. ANYONE EVER NOTICE THAT SIN HAS 3 PEOPLE WHO USE THE SAME CHEATS WIDOW DOES JUST NOT AS OFTEN OR AS HIGH A COUNT BUT EXPLAIN HOW SOMEONE WHO NEVER KIDNAPS BRATS GOES TO SUDDENLY DOING 2000 OR MORE AN HOUR JUST FOR DOUBLE ARRESTS. JUST STATING FACTS HERE. NEXT LETS TOUCH ON BATS, FIRST HE CHEATS, THEN HE IS SUSPENDED HE SIGNS ON NUMEROUS ACCOUNTS TO BITCH ABOUT HIS POOR TREATMENT AND IS BANNED THEN VOILA HE IS BACK. ALONG WITH THE NEW ONES HE MADE. DOES ANYONE REMEMBER THE STATEMENT THAT IF YOU ARE BANNED YOU ARE BANNED? HMM MUST BE JUST WORDS BECAUSE ANUBIS DOES NOT KEEP ANY OF HIS PROMISES.
IF YOU SIGN UP FOR THIS GAME DO SO WITH YOUR EYES WIDEOPEN TO THESE SIMPLE FACTS 1 WIDOW RULES THE GAME, ITS HER WAY OR THE HIGH WAY. 2 NO POINT COMPLAINING NO ONE IS LISTENING 3 CHEATING IS ACCEPTED AND REWARDED 4 OPEN THAT WALLET OR POCKETBOOK AND START SPENDING 5 TALK SHIT WHENEVER YOU WANT 6 OFFTHEWALL CANNOT FIX ANYTHING EXCEPT THE ACTUAL GAME PLAY HE HAS NO SAY ON MATTERS CONCERNING PLAYERS. ANUBIS IS THE PLAYER GOD. EXPECT ONLY THE WIDOW TO WIN ANY AND ALL CONTROVERSY, 7 DO NOT EXPECT ANYTHING EXCEPT AN OUTSTANDING JOB ON THE SCRIPTING FOR THE GAME. 8 LESS HEADACHES ON X BOX OR PLAYSTATION
Jeff bats
February 23, 2017 at 09:07 pm
First off I'm bats yes I come back as a new different player to complain cause anibus is such an ass you wanna say I cheat how exactly did I cheat people came up to me saying they was quitting the game so I sold my gear they bought it how exactly is that cheating we was aloud to sell gear secondly according to anibus the game is cheat free I help test that by bringing in people who know how to cheat and they could not find a way to cheat I say this with all my heart anibus was a player on these games he has lost touch with that and he has lost touch on what the players like and want he turned into a hall monitor and would ban you or suspend you if you said something he did not like he needs to find his thick skin I have not made a fake account in over a month I told anibus I was gonna do a charge back if he did not give me back my account which actually he called me on my bluff cause I guess he knows I would never do that offthewall is one of the best game developers I've seen I am never gonna ask anibus for my account back in fact I invite him to play my new game I'm building right now it will take a few more months but it is gonna be more like old school mobsters and what you don't get about people like widow and foxy they are up there in levels they can do more then anyone but also if you have a touch screen computer you can do a lot more plus using book marks now I truly hope you all have a nice day but as long as anibus is running the show over there this game kickass warriors is gonna go down hill fast might as well change the name to the titanic cause you guys are playing a sinking ship
Watchher
January 19, 2017 at 11:18 pm
I have never seen such bullshit as this game has, they finally make the gear on the game available on the game and fix the points to buy at a reasonable price, then turn right around and offer new gear that will offer new achievements only through purchase. Totally defeats the point of selling points reasonably . Please note however that their favorite money spender purchased asap new gear, and anyone playing during said time would have noted that Anubis conveniently drops 60 bots to 100 bots for Widow to grab . If you can stand to watch the continued favoritism for the biggest cheater and financial backer of the game then try it. Offthewall has done a great job improving the gamplay with tbe coding. However do not expect your complaints about cheating to be dealt with. It's all about widow as long as she continues to line alumnus and calypsos pockets.
Sassy
December 30, 2016 at 05:46 am
LET'S STATE THE OBVIOUS, WIDOW CHEATS ALONG WITH OTHERS IN HER FAMILY AND SIN . ITS NOT THE VARIOUS HOURLIES THAT POINT THIS OUT IT IS THE AMOUNT OF ACTIONS DONE IN EACH CATEGORY. ANUBIS, CAN TELL US TILL HE IS BLUE IN THE FACE THAT ITS INFERIOR EQUIPMENT IN ALL OF OUR HOMES, AND THAT SADIE HAS BETTER . NOT TRUE, YOU CAN TIME HER ON ALL THE THINGS AND WATCH THE GEAR CHANGES, ETC. AS USUAL ON THE GAMES SADIE, JEFF, ROCKS, JONES THE CHEATING IS THE ONLY WAY THEY FEEL SUPERIOR. WAKE THE HELL UP , ANUBIS BEFORE YOU HAVE NOTHING LEFT
Billy Badd Azz
December 22, 2016 at 07:27 pm
I was recruited by Jeffrey Bats to come join this game, upon my initial signup, I noted some things, No one except Bats likes Bats. He is complete jerk and shows how ignorant he is by insisting on chatting. As a long time player of true fighting games, I had to laugh when comparing my messages about this being a fighting game. MOBSTERS was a fighting game you dumb azz, This is an experience game and from the looks of it, a who wants to pay the most game. Sadie as usual has to flex her wallet, I am out of here. As for you please lose my number, my email, and my fb Jeffrey you have not changed, when you leave the game maybe we will return .
JEFF BATS
January 22, 2017 at 03:37 pm
FIRST OFF YOU ARE POSTING UP FAKE STUFF I DONT KNOW WHO YOU ARE FOR YOU TO SAY I RECRUITED YOU TO THE GAME AND NOONE LIKE ME BUT ME IS ALSO A VERY FALSE STATEMENT IF YOU YOURSELF DO NOT LIKE ME IM OK WITH THAT I CANT MAKE EVERYONE HAPPY YOU LEFT THE GAME CAUSE OF ME OK GO BACK TO THE GAME IM GONE I WONT BE BACK ON THERE AND HALF THE GAME IS LEAVING HERE SOON WITHIN THE NEXT TWO MONTHS LOL SO YOU WILL BE PLAYING WITH A HANDFUL OF PEOPLE
Banned.com
December 11, 2016 at 01:32 am
This game was fun, before certain elements joined and it went downhill, Offthewall and Anubis, have done a great job on improving the game compared to what it was. It is not so much that the cheating is an issue its that everyone knows its going on and no matter what cheat proofing is implemented the ones who are guilty work around them, Yes, no one can do multiple things but that doesnt keep Sadie and Jones from utilizing their scripts or imacros, or whatever, You cannot do the amounts that were done by hand. Anubis can continue to excuse the issue no one blames him really I mean we all know it takes money to improve the game, but hell maybe he should send Sadie to all the families so they earn the outstanding experience accumulated with the cheats, or at least offer to sell them on the game, I mean they need money to keep it going. As for Bats well lets face it he is what he has always been a loudmouth with no real thoughts of his own. This game belongs to TWP The Widow Posse , We stay because we believe in offthwall and the game and hope one day the ones destroying the fun on this game will get caught or just leave.
Nobody Special
December 11, 2016 at 12:22 am
Some of you may think that because I don't play this game that I don't have the right to put in my 2 cents. I have played the creators other games so I do know a bit about them. I can also tell by the way you are all speaking of Black Widow that I know who she is. First of all, you are jealous of her,.She does spend ALOT of money playing but this is a "Pay to Play" game,Duh! She always has and she always will spend money so get used to it. Second, she is not and never has been a cheater. She don't have to cheat but people have been accusing her of that since she first showed up in games. She is also a good person, so you should take the time to get to know her before you judge her and if she does get nasty with you, then you probably deserved it. Now, to those of you who either don't or can't spend money on the game, find other ways to strengthen your account and STOP the bitching. If this doesn't sound reasonable to you, then maybe it's time for you to take your toys and GO HOME. People like you are a part of why I quit playing!!!!!!!
anonymous
December 06, 2016 at 07:53 pm
this game is a good game to play but when TWP has admin access, its endless as long as your in that crew...cheaters at its best
Sandy Mercury
December 01, 2016 at 11:49 pm
kickass-warriors.com website is a great mafia based rpg game, The people are great and its really fun, they have all kinds of things to do like events, referral awards where both players earn an addtional 5,000 points after the referred player reaches level 150, and other challanges that give you points, game cash, and other game related items. The game staff is amazing , I've played many games and they are always there to help and reply right away, they also have gotten rid of all the cheaters, Not sure why anyone would leave a bad review on this game, cause they try so hard and work with everyone to make it better. Take the time out and come play and support this wonderful game, meet new friends and try something new, its all about family and your crew, come have some fun with us.
Janice West
December 01, 2016 at 01:09 am
I really enjoy kickass-warriors.com, they really care for their players unlike any other games
The Boss
December 01, 2016 at 12:38 am
people are going to cheat in any browser game you ppl need to just ignore them as far as the game goes itself i personaly think that anubis and offthewall are doing a great job with fixing the game i bitch and moan alot but its just that as im sure all of you do also if you admit it or not stop bashing the game its a great game if ya dont like it ya dont like it and thats your chiose why not just leave the game instead of causeing more drama some ppl smgdh
anonymous
December 05, 2016 at 07:38 pm
WELL SAID BOSS NOW GO HEAL ON THE GAME LMAO THE GAME IS A GREAT GAME AND I AGREE WITH THE BOSS HERE IF YOU DONT LIKE THE GAME THATS YOUR CHOICE
Mike landowski
November 30, 2016 at 11:46 pm
Great game! The new owners have put so much time and energy into stopping cheaters that the old owners still had in the game. Regardless of what you may hear this game does not allow cheaters and is actually a proven fact you can't cheat on the game!!! All in all I recommend this game as it's fun and does have competition which is always good for the sole!!! Come play all.
Crystal
November 30, 2016 at 11:36 pm
I have found the game to be pleasant. The staff are approachable, and there to help players with questions. I like the fact that they take players' suggestions into consideration when making improvements, and adding new features.
anonymous
November 30, 2016 at 10:29 pm
i personally love the game and as for bats and widow being cheats thats pretty funny since the game is cheat proff i had a known person try to find ways to cheat on the game and he could not find a way i think aniibus offthewall and calypso have done a great job with the game thus far the game is cheat proof it is true people spend real money on the game it happens i have not spent that much im ok with that there are alot of people stronger then me on the game i think people are just mad when other people can do more then that person haters are always gonna hate but as for the game it gets 5 stars from me
The Boss
December 01, 2016 at 09:27 pm
are you stuck on stupid no web browser game is cheat proof
John Gaudiosinin
November 11, 2016 at 02:14 am
Jeffrey Bats, Anubis, Black Widow, and Mr. Jones have brought their cheating asses to the game, and it now belongs to them. The man behind the game Offthewall has done a truly great improvements on the original game. Unfortunately his good work has gone for naught due to the presence of the afore mentioned cheaters. The really bad part is that Anubis is the so called admin on the game. Too bad the owner Calypso is either unaware of the antics of Anubis and his buddies, or she just doesn't care. When Widow stops putting money in their pockets maybe they will wake up , of course by then what had been loyal and honest players will be soured on the game. I hope Offthewall will look elsewhere for work on a more promising game that doesn't cater to cheaters. It is a sad day when the persons dominating your game have been banned from numerous other games.
anonymous
December 05, 2016 at 07:36 pm
LMAO EVERYONE ACCUSING BATS OF BEING A CHEATER THATS FUNNY THE GAME IS CHEAT PROOF SEEMS TO ME THAT YOU ARE BUTT HURT CAUSE WHY MAYBE BATS BEAT ON YOU WITH HIS STINKY ACCNT HE ISNT STRONG AT ALL BUT HE IS PERSISTANT IN HIS FIGHTS MAYBE YOU JUST CANT HANDLE THAT SOUNDS LIKE YOU JUST A JELLY PERSON THE GAME IS AN AWESOME GAME OFFTHEWALL AND ANIBUS AND CALYPSO BUSTED THERE ASSES TO MAKE A CHEAT PROOF GAME AS FOR WIDOW AND MR JONES JUST CAUSE THEY ARE BETTER THEN YOU AT THE GAME THEY MUST BE CHEATERS RIGHT COME ON MAN JUST GET BETTER AT YOUR GAME PLAY AND YOU TOO CAN COMPETE WITH THEM
Cry babies hate
November 30, 2016 at 11:51 pm
Ppl only cry on here when they aren't the fast ones anymore. Don't cry and accuse ppl of cheating when you have no proof. Crying is an ugly color on the haters of an awesome game.
SirJackOff
November 30, 2016 at 10:40 pm
Wow all i see is people crying on this game all the do is whine like lil kids how bout you crybaby asses go back too your bottle and diapers cause really knw one really wants to hear it other then that the game is alrite i guess needs alot more work but great game!!!
Widow Bats
November 09, 2016 at 08:33 pm
Don't bother with this game unless you want to spend a fortune to catch widow as she is the sole player anubis caters to on the game. TWP The Widow Pack is in total control. No wonder new players avoid this game.
anonymous
December 05, 2016 at 07:33 pm
SO YOU WANNA SAY BAD THINGS ON WIDOW DUE TO THE FACT SHE SPENT MONEY TO IMPROVE HER ACCNT AND NOW YOU WANNA SAY BATS IS A CHEATER HOW IS BATS A CHEATER HIS ACCNT STINKS HE ISNT THAT STRONG AND HE DOESNT DO ALOT OF ANYTHING BUT FIGHT HIS FIGHTS IT IS A WARRING GAME ISNT IT I UNDERSTAND THAT IS ALSO A EXP GAME BUT THE NAME OF THE GAME IS KICKASS WARRIORS NOT KICK ASS EXP NOW I SUGGEST IF YOU WANNA CALL SOMEONE A CHEATER CAUSE THEY ARE WILLING TO SPEND MONEY THAT DOES NOT SAY MUCH ABOUT YOUR CHARACTOR AND IF YOU DO NOT LIKE BATS GO WAR AGAINST HIM IM PRETTY POSITIVE HE WONT RUN FROM A FIGHT
Swamp Devil
November 06, 2016 at 06:54 am
This game was fun and has greatly improved, I would not recommend it anymore though, due to the fact that it is now dominated by a handful of people who enjoy cheating, The admin ignores all issues as long as money is being spent.