Land of Nevard
Land of Nevard is a RPG that has a medieval setting. Class selection includes Warrior and Wizard. Various elements contain Fire, Ice, Water, Lightning and Earth. Fight with other players, take part in battles of the Gladiators or add players to blacklist. Wilderness is a place where you can defeat monsters, but try not to get killed. Necropolis is the main center where you can find blacksmith, shops, dungeons and colosseum. Withdraw or deposit your money in Necropolis Treasury.





(320 votes, average: 4.73 out of 5)
Rate it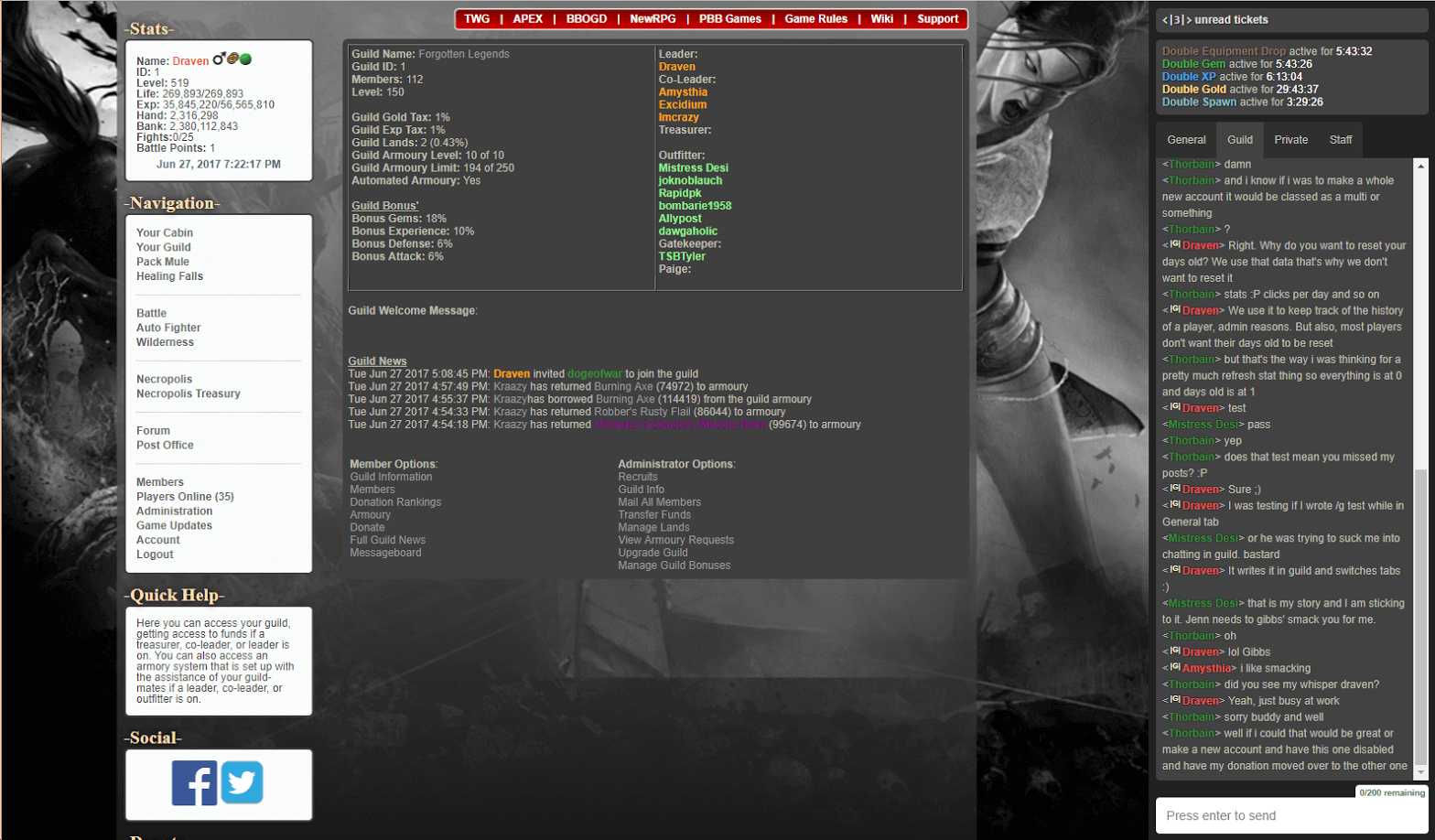 14

comments on

"Land of Nevard"
Draven
August 17, 2020 at 07:36 pm
anon 2.0 (OsirisKing),

Stop trolling man. The game is not abandoned. Games change, that's normal. You used to be able to activate double spawn and gold. Spawn was too powerful, and gold was useless so I removed them. You can still activate double XP, equipment drop, equipment effect, chest, and gem bonuses. And bonuses used to last 24 hours but cost 4 donation points ($2), now it's $1 for 1 hour. Again, this had to be modified for balance which is normal.

I did not make any changes to how guilds level in years so I don't know what you're talking about there.

And yes, if you complain about the game, you will get the response "If you don't like it, make a suggestion on how to make it better, or find another game". This is not said in a mean way, it's just not the game for you so let's be constructive, or move on. No drama needed.
anon 2.0
August 03, 2020 at 12:57 am
Decent game. but save your time, the owner has abandon the game but gladly takes donations. has someone else coding for him but cant bring himself to add it to the server. Had the donations set super high at first so $1 was 12 hours of double XP and double Spawn, took that away now its like a dollar an hour. changed stuff with guilds so the top guild is like almost 500 but now the grind to level guilds is 10x harder. if you ask about updates all you get is "the game is what it is and if you dont like it you can find something else" its a shame the game had really good features, just a really bad owner.
micah
April 16, 2020 at 06:26 pm
i can't verify my code
rishi
June 15, 2019 at 06:35 pm
Nice game
Sandwhich
June 28, 2017 at 02:03 am
Game just got a big update and is really improving. I'm excited about it, and it has a very strong core community that has stuck around years and years. Management actively listens to you including hearing your suggestions for the game and providing feedback to all players. Check it out.
Gleamy
June 27, 2017 at 10:24 pm
Love Land of Nevard, I spend most of my awake hours on there. Play for free if you want, great bunch of people to talk with, feels like a big family. Love you guys and gals
Anon
June 15, 2017 at 01:00 am
lol this game is pretty shitty, the owner hasn't updated anything since 2004 and takes donations hand over fist no questions asked. Claims to be proficient in like 15 diff languages, yet can't even seem to develop a game that requires any further knowledge than the basics. Literally ANYONE could duplicate this game no problem at all.
Draven
June 26, 2017 at 07:39 am
Keep trolling "mana"
Gary (DDD)
October 27, 2016 at 02:09 am
I have been here since the game basically started. It can be very addictive, and now with the advent of auto fight being available gives more time for chat. Come on down and give it a whirl. Or just come and try and take me out :P
Glen
September 17, 2015 at 10:48 pm
Even though I have never played this game until now. Looks great, setup still needs a bit more organized spacing for convience but other than that, looks like it's headed on the right path.
Marcus (Kirito)
September 08, 2015 at 03:52 pm
I have been a player since the has been open. The very start was amazing. It has been open since 2004 and since then, I have been addicted ever since. I have never loved a game like this since then, and would love to meet new people. I am a co-leader of the guild called "The Guardian's" andwould love YOU to join our family.
Dan (AngelicStar)
September 07, 2015 at 10:32 pm
Ive been testing most of the system out. And I am really enjoying every aspect of the game. A must play if your a long term style player. Nothing comes easy in LoN
Jennifer
August 04, 2015 at 08:30 pm
I've been playing this game for almost a decade now. I've met wonderful people through it. I like that it isn't turn based so when i have spare time i can play all i want. I highly recommend this game. Come give it a try :)
Tyler (shockwave)
August 03, 2015 at 02:55 pm
A bit dated, but with extremely active management and a unique level of addictiveness that is hard to find in a lot of modern games that tend to focus more on looking cool than providing a solid game experience. I love any game that lets you go at your own pace with no dependence on energy/stamina/turns etc. LoN has no limiting factors other than how fast you can click or how long you plan to sit in your chair for on any given day. An autofighter has been implemented that allows for more casual gameplay as well
Tyler (Lanex)
August 02, 2015 at 06:55 pm
Land Of Nevard is the type of game I love. It fits perfectly into the text based mmorpg niche and provides several of the aspects that I look for in these games. There is the option to fight endlessly which is very rare in text based mmorpgs, guilds are well formed, the battle system is very well structured, and there is no crazy high advantage of donating to the game so there isn't a pay-to-win feel about it. Overall I like this game quite a bit and would recommend it to many of my gaming friends.