Lords
Lords is a medieval strategy game. You can attack others and steal gold from them. Trade with others or send out gifts. Increase your army size to be more powerful. Gain glory by battles against other players. Different technologies and buildings available, make sure to upgrade them whenever possible. Upgrades buildings and technologies will give you many bonuses in-game. Factions are formed of active players who are united and work together for becoming the best lords.





(14 votes, average: 4.5 out of 5)
Rate it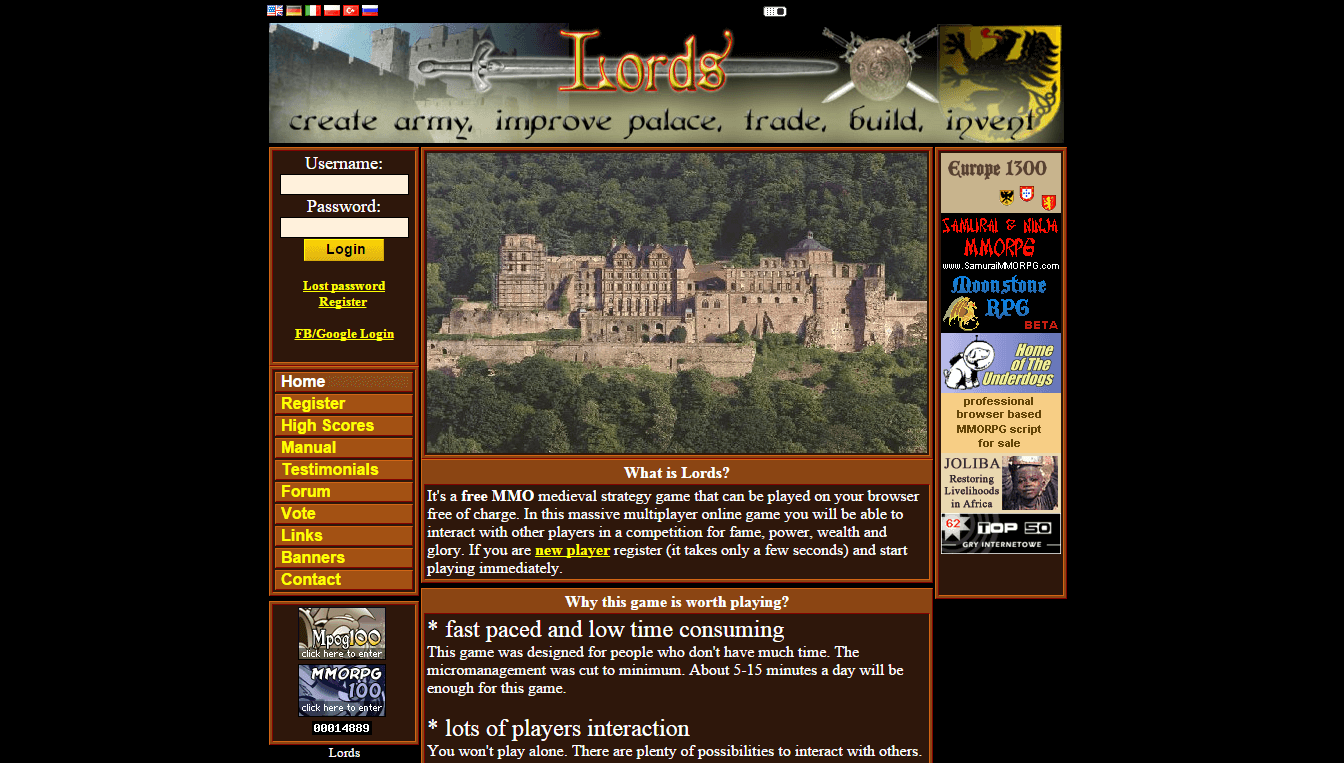 5

comments on

"Lords"
Link
May 19, 2017 at 10:21 am
I've played a lot of browser-based games over the years (before Farmville was ever conceived) and Lords is by far the best for people like me who want a deep experience but don't have a lot of time to spend each day. On top of being an excellent game, the community is outstanding, with many of the "Old Guard" still around.

The strategy is easy to learn and full of deep and divergent methods to success that can suit all types of players. Part of its genius is the opportunity to put your own spin on what it means to be a Lord, with emergent competition and storytelling driven by the players and factions.

Easy to play on computer or mobile device. Highly recommended!
Syne
May 18, 2017 at 04:52 am
Lords is a brilliant game. Simple and elegant, and good for both people with little time to spare, and people with all the time in the world. It's definitely worth giving a try, because if you find it's in your taste, it'll be an increasingly gratifying experience for years to come. Take the offensive and compete for first place, play casually and socialize in the Inn, or join in on the grand storytelling and contribute to the community's Grand Library, and the lore of the Realm! This game has something for everyone who is willing to give it the time of day enough to find it.
Strat
January 21, 2017 at 11:02 pm
A brilliant browser text based strategy game that you can even play from your phone. Takes time to master but gratifying when you do.
MrRed
June 19, 2016 at 01:33 pm
The best thing about Lords is that you can make it however complex you want it to be. It is simple to learn but difficult to master - and that makes for fun!
JohnC
March 29, 2016 at 10:28 pm
This is a fun, retro feeling text based strategy game that has been a part of my life for 7 years. Lords is the most fun game I have ever played, and I have made friends there that I would consider real friends, not just internet friends. The game can be as simple or as complex as your strategy to play it and if you like you can play it for minutes a day or log in for hours a day and still be effective. I love this game and you will, too.
Syne
May 18, 2017 at 04:48 am
I could not agree more!