Made Man Mafia
(Online since

2021

)
Build your strength and destroy your enemies in this Mafia themed role playing game. Wind back the clock and enjoy some sweet Mafia nostalgia running on modern systems. Step into your Mafioso shoes, suit up, and grab your gun!
Made Man Mafia give opportunities for players, old and new, to win prizes every week. Several fast-paced, adrenaline filled events throughout the week allow you to win prizes for your account, and boost your performance in our Main event rounds ending at the weekend.
Prizes are designed to reward all aspects of gameplay. Whether you focus on building your criminal empire, or laying waste to the efforts of other players, there's a reward for excelling in your role.
Made Man Mafia is the latest release from Anarchy Web Design. We've built a new script from the ground up for 2021 release, and Made Man Mafia is where it all starts! AWD has 11 years experience building brand new features for browser games, and we know how to make it fun.
Gaming has come a long way since browser based Mafia games first became popular. Many have come and gone, and most have failed to move with the times. Made Man Mafia has been built to deliver the classic feeling in a modern fashion. Our site is designed for an optimized mobile experience and we've also enhanced the desktop version.
We've rejected many of the mobile gaming cliches that only reward heavy spenders. The game is designed to be fun for everybody, and fun will always be the number 1 factor in future development. No ridiculous timers, no Gacha, no childish graphics, no money pit for worthless collections.
We will be developing new features and improving the game with a long term plan. Get in early and have your say about how the game develops. Our administrators love reading player suggestions.





(19 votes, average: 4.37 out of 5)
Rate it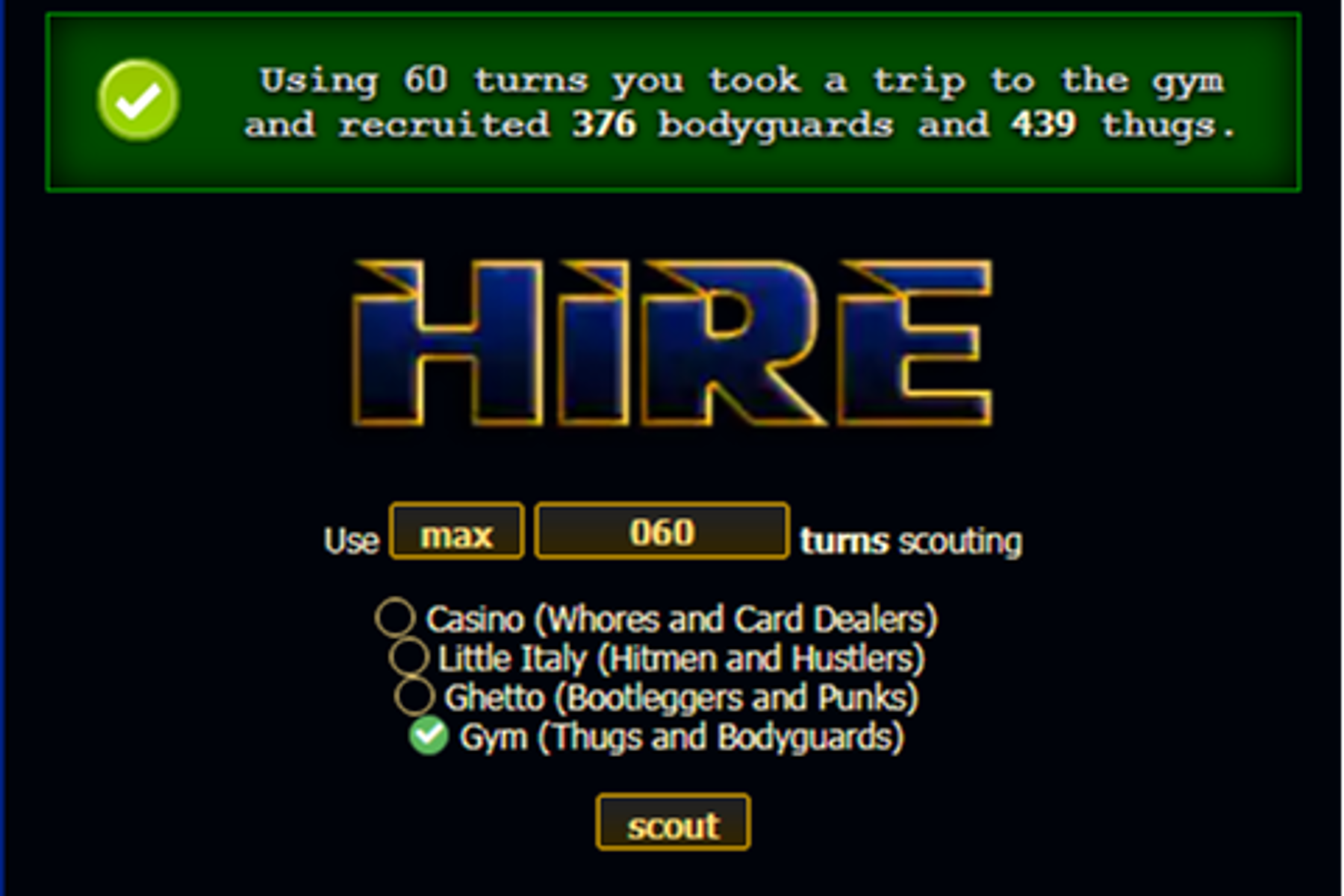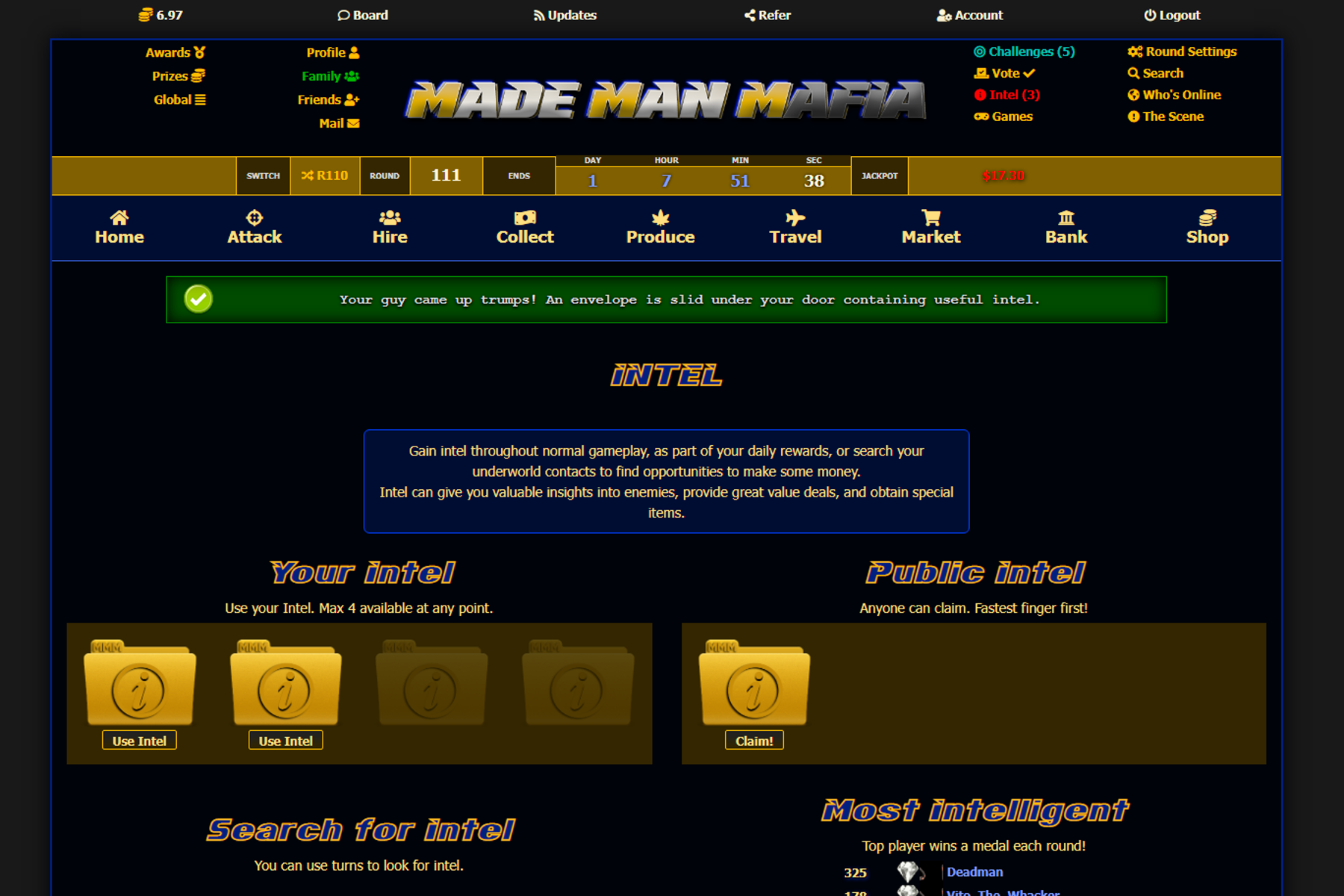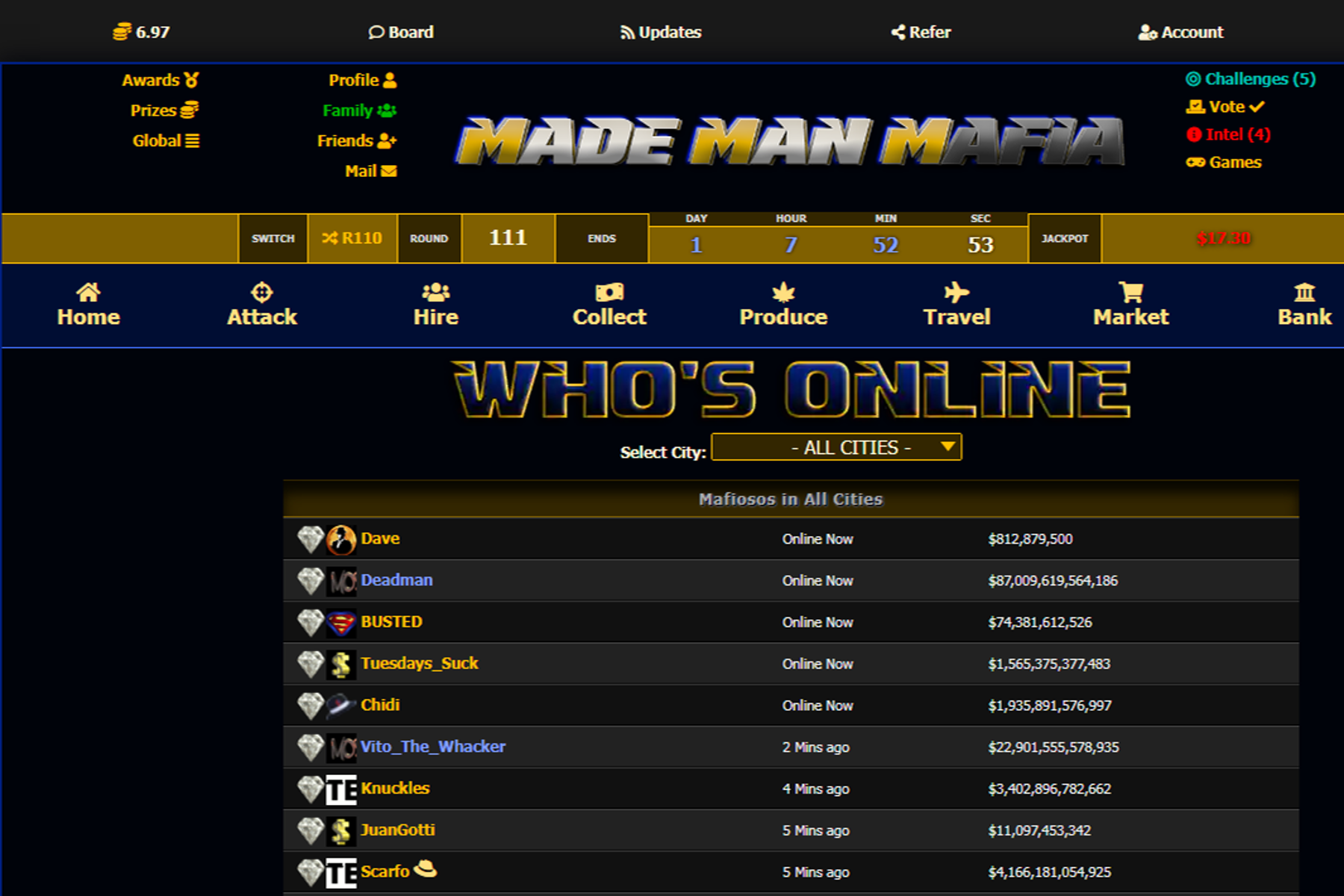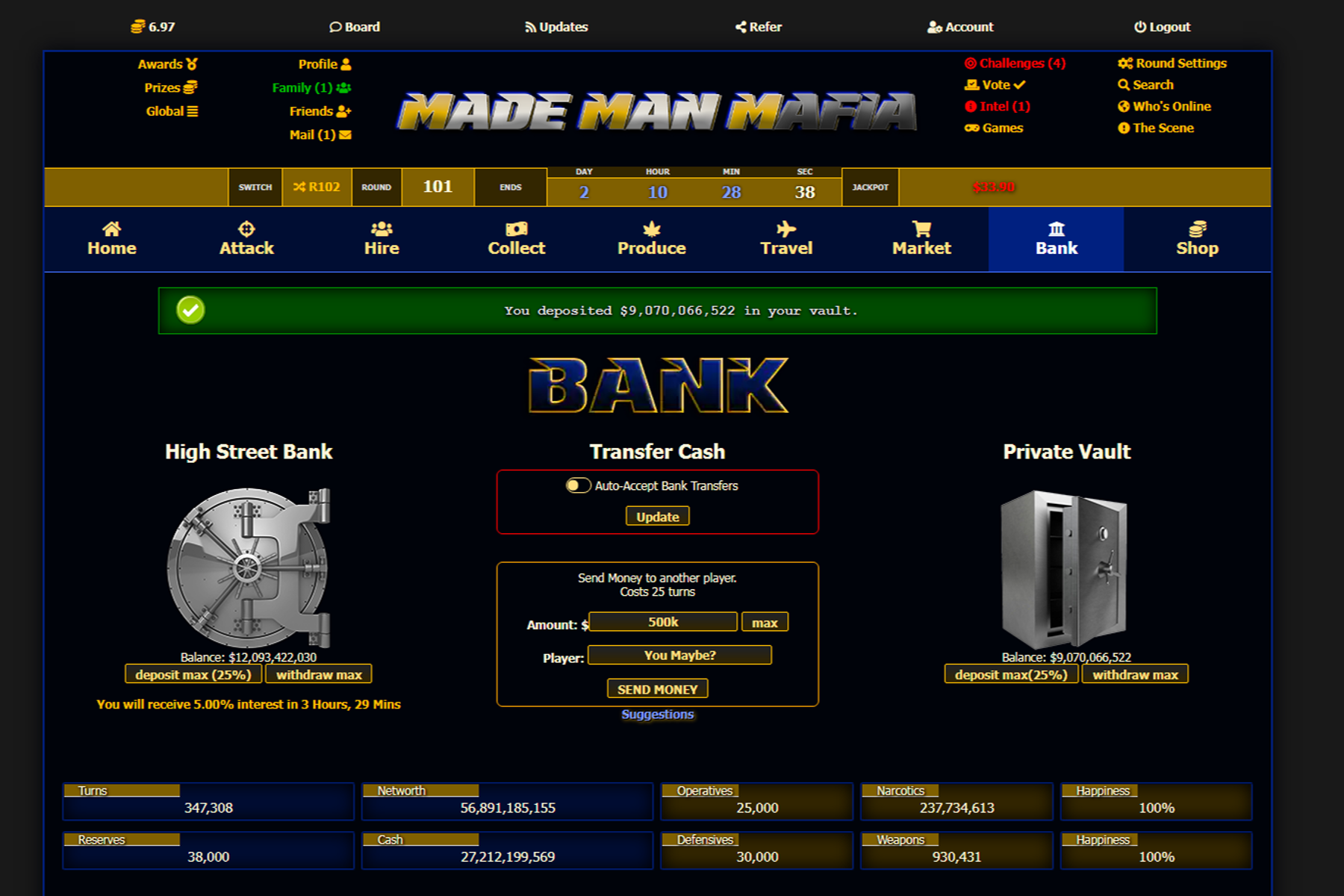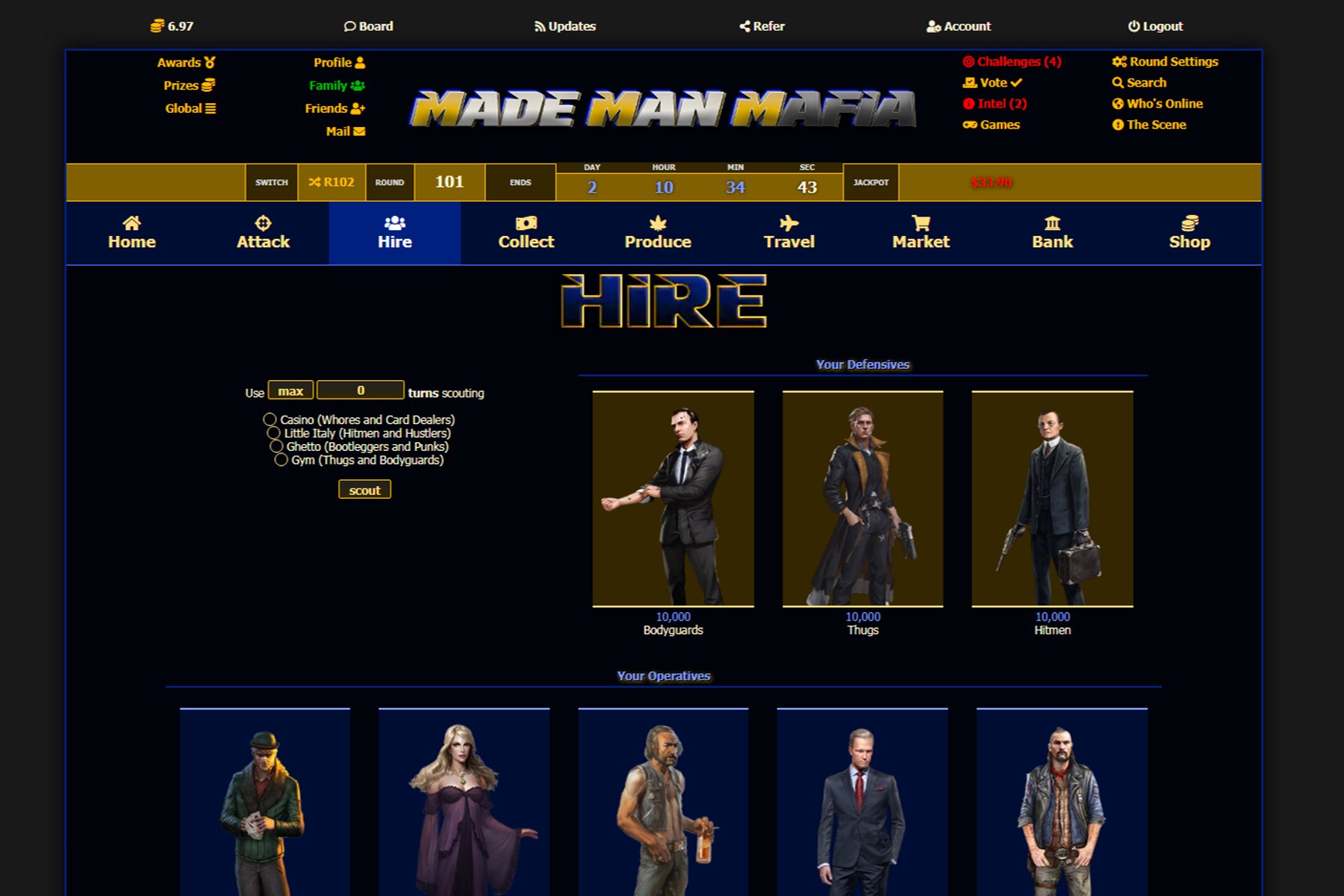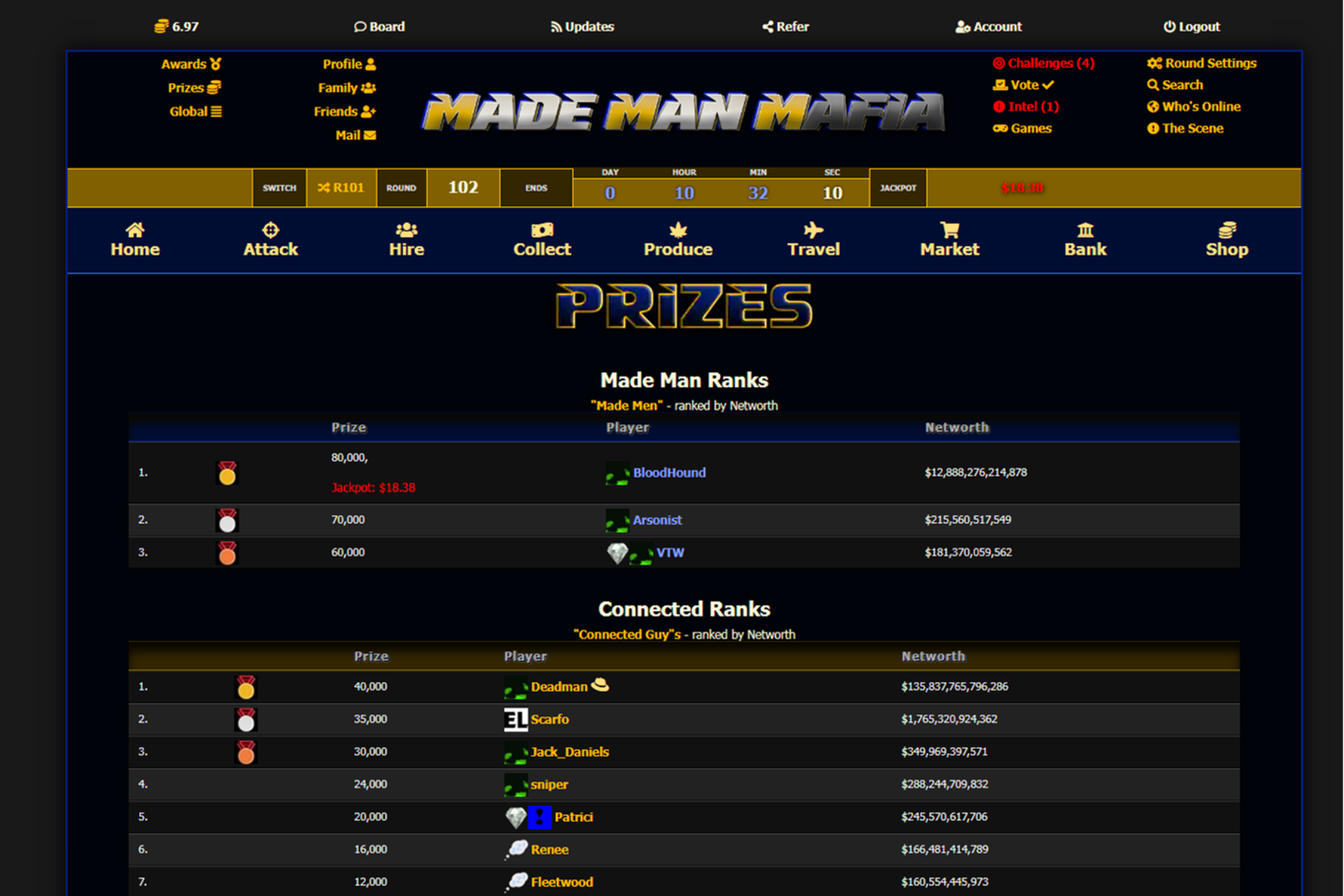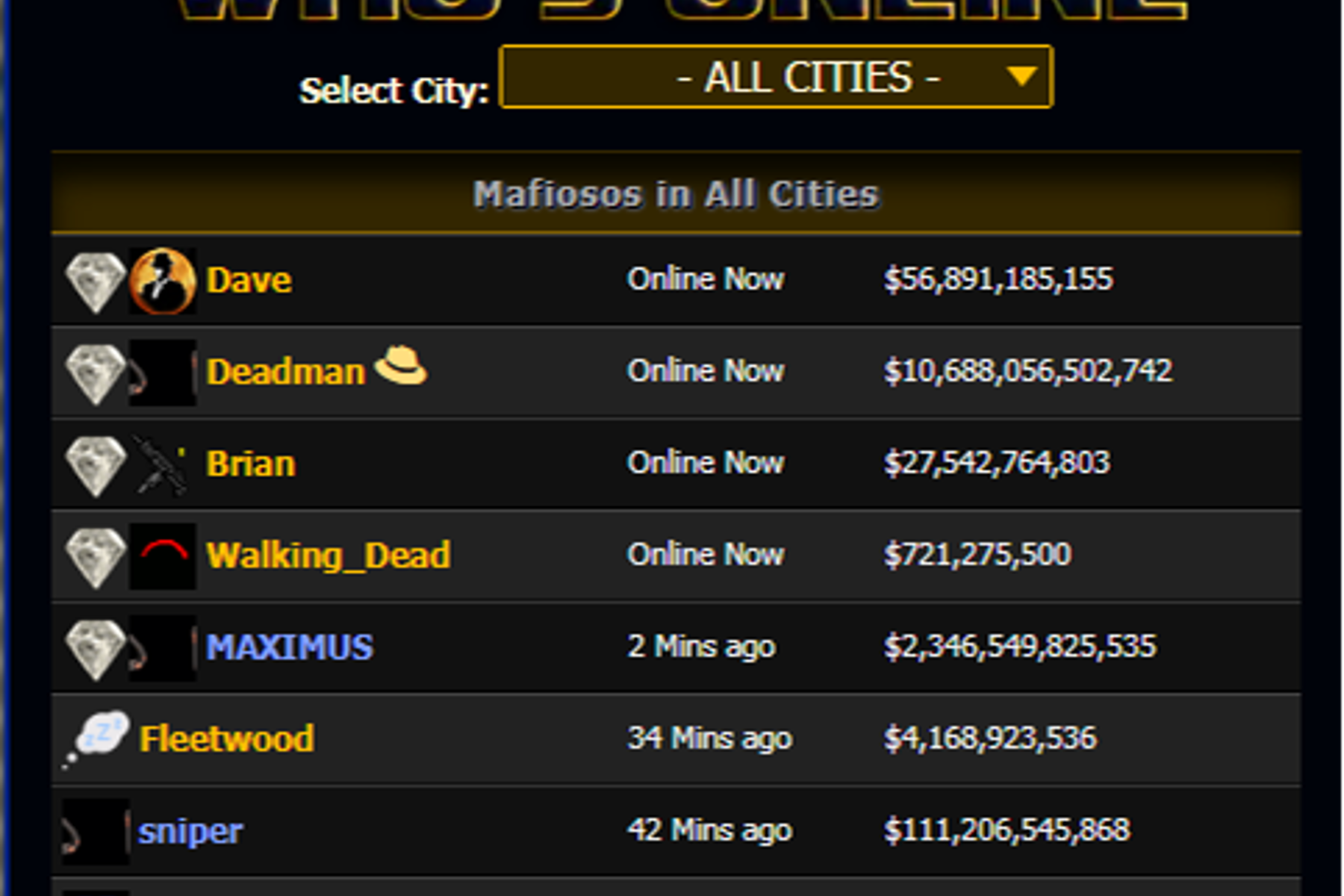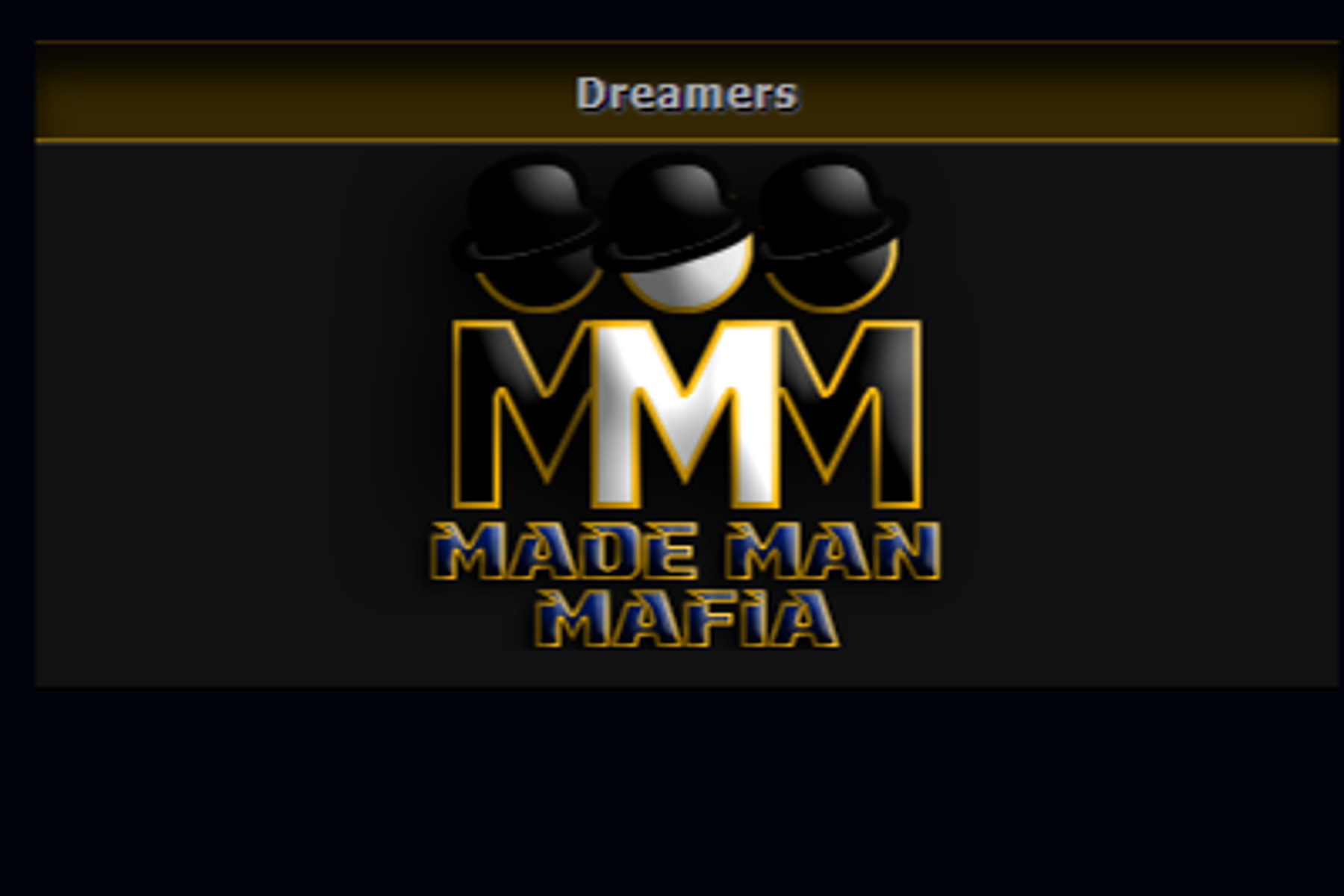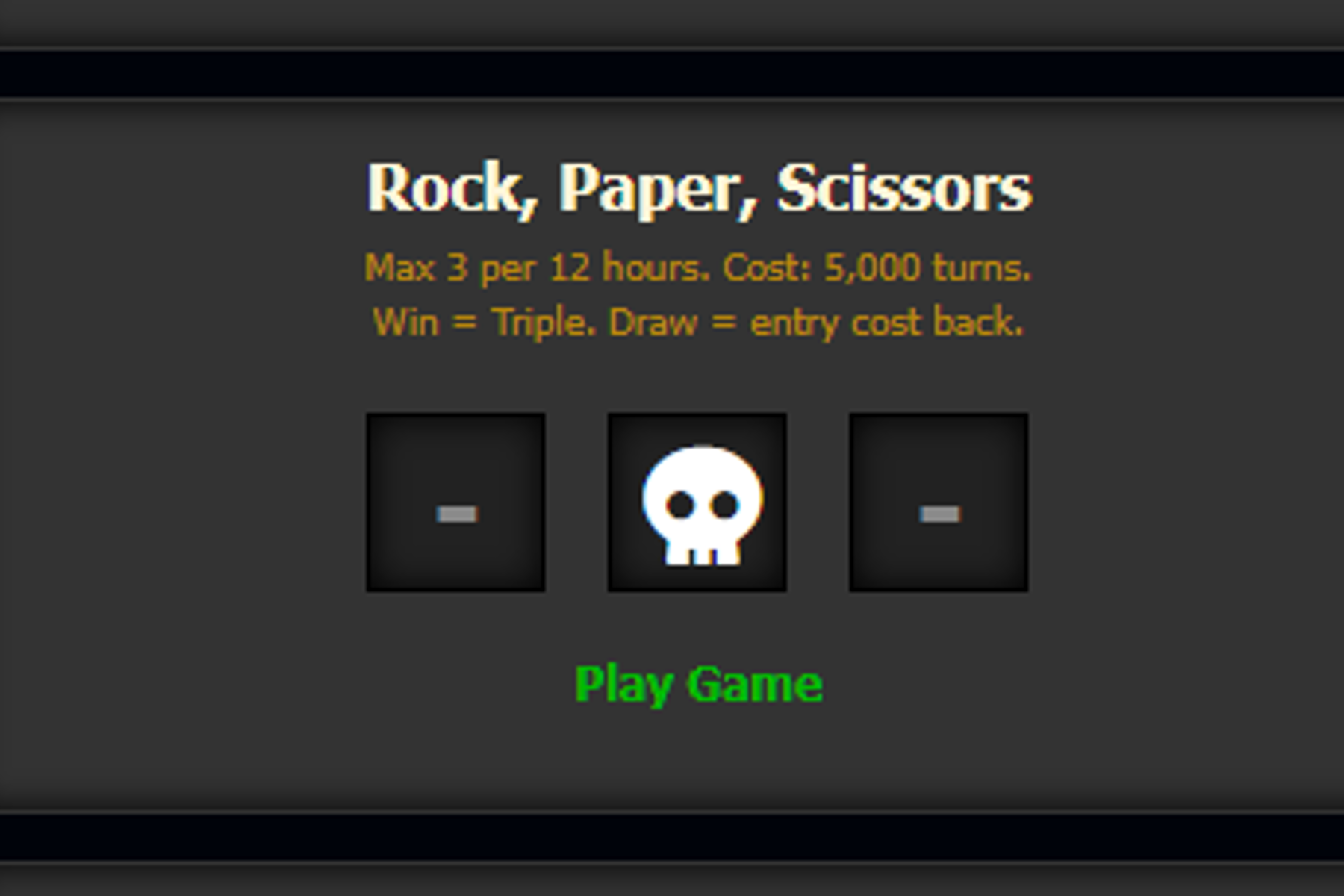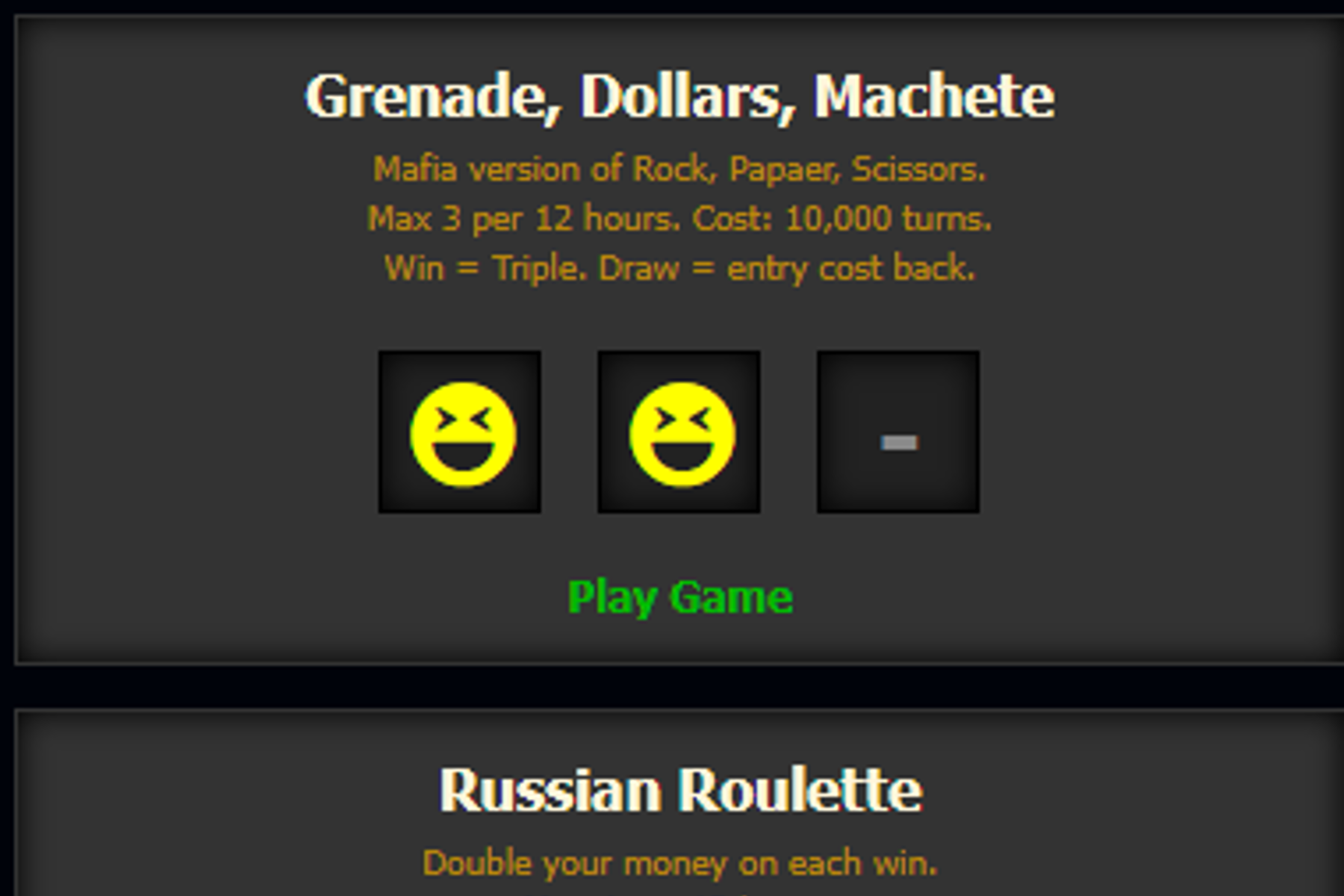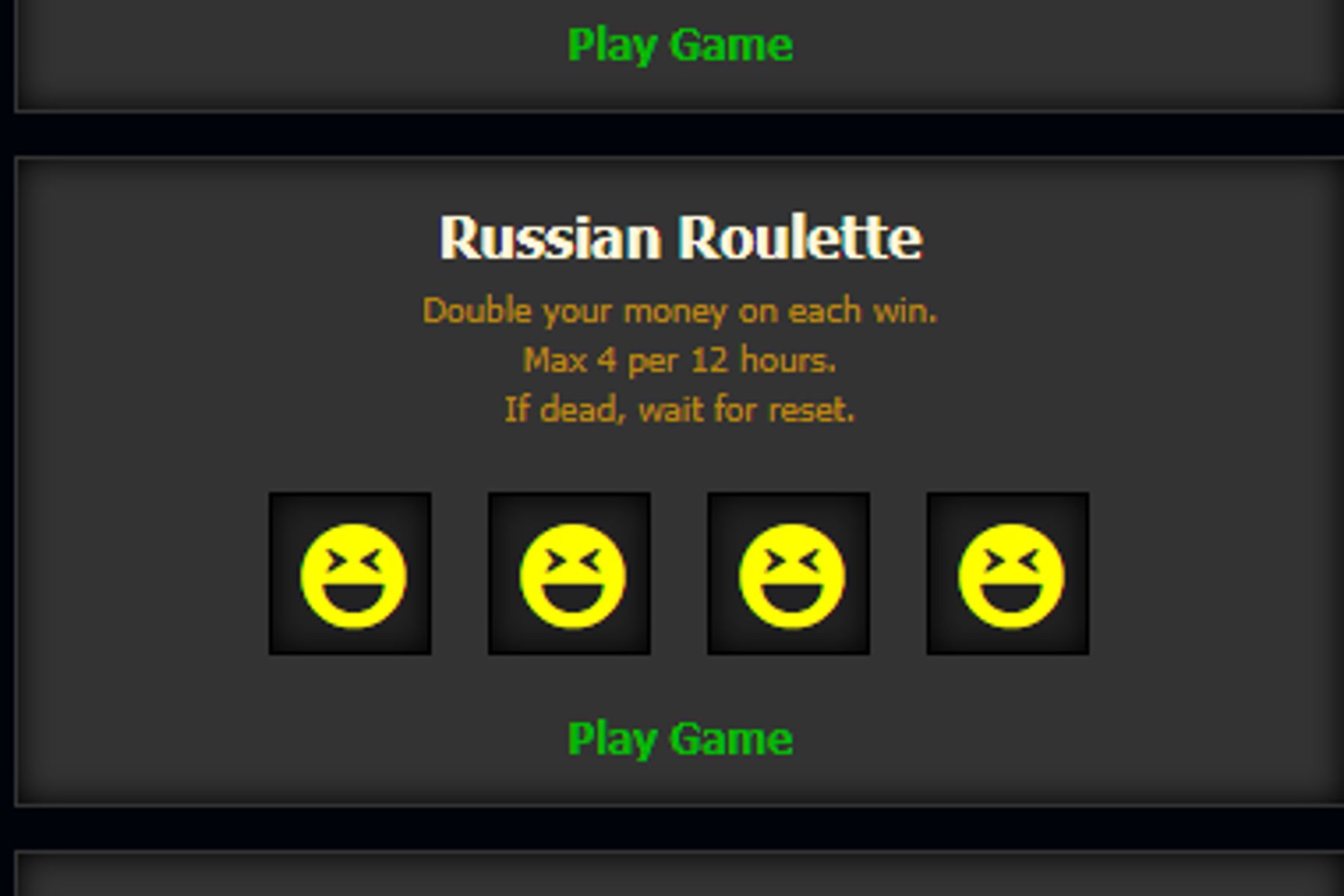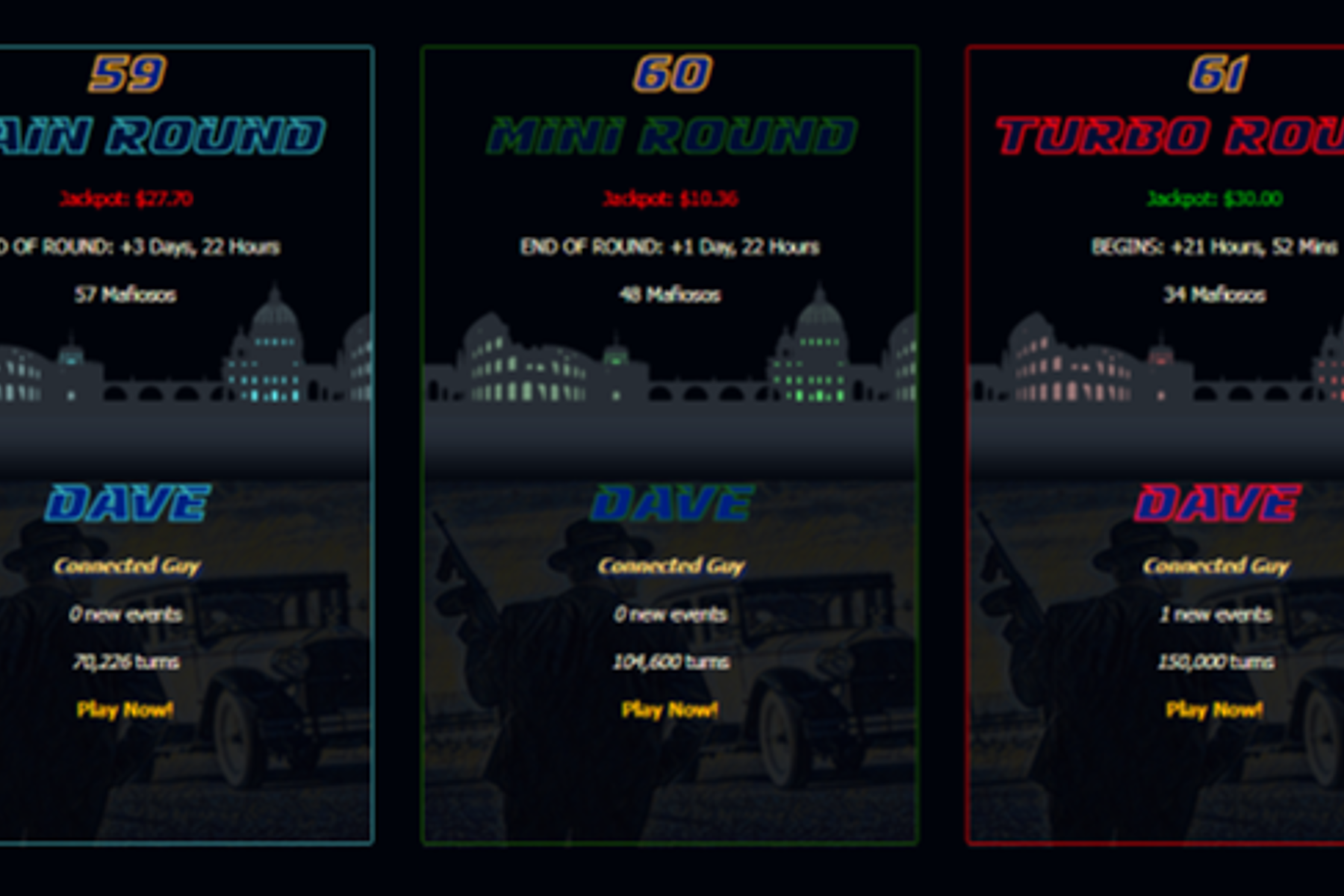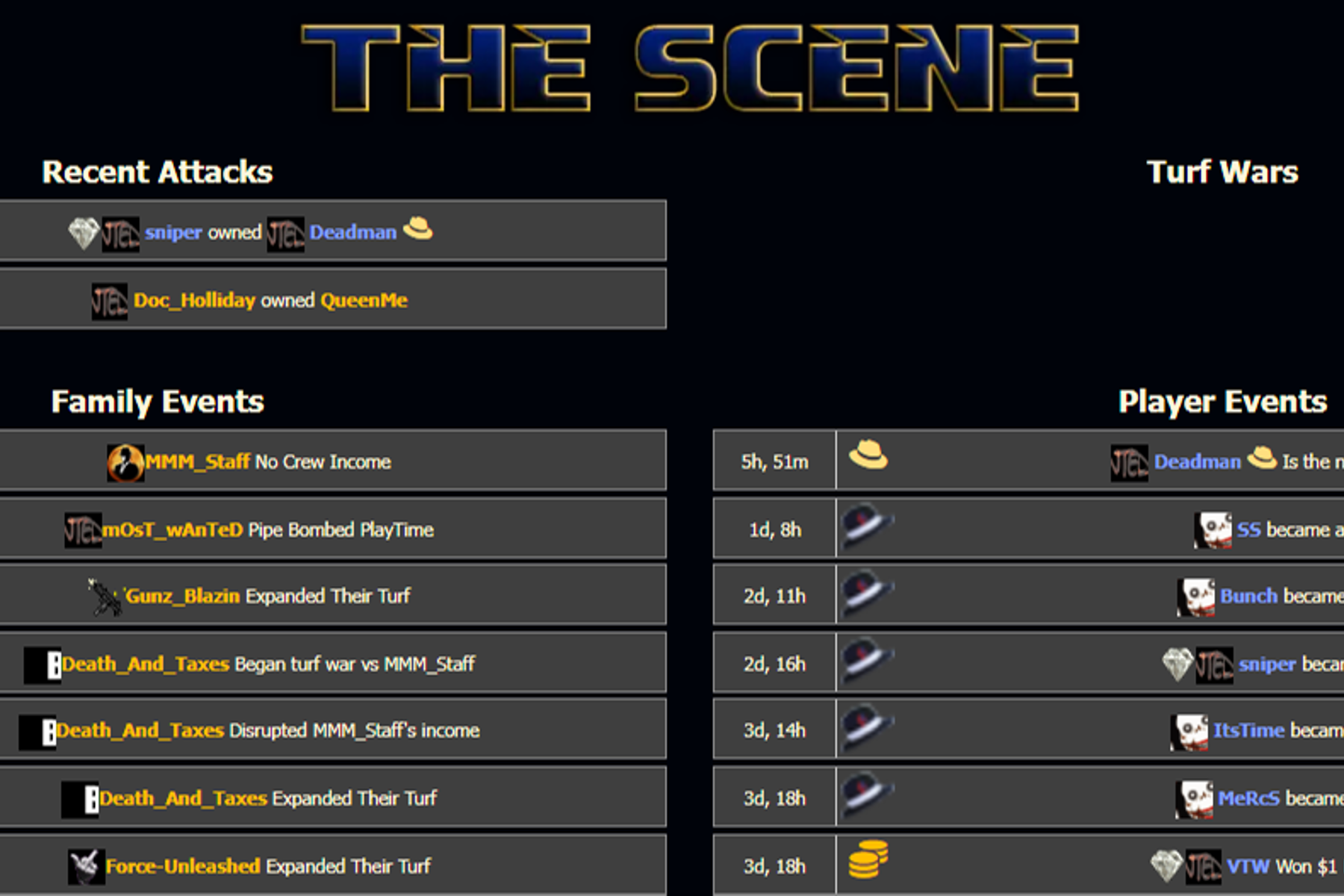 14

comments on

"Made Man Mafia"
Dave
January 10, 2023 at 08:54 pm
A few of the things we've added this year...

Daily Login Bonus
Intel with rewards
Kevlar bonus for your guys
Fight for the Capo di Tutti Capi title
Complete Challenges
Family Stats
New game UI
Strategic Family ranks
New Medals
New referral program
Turbo Round
New Homepage
Turf Wars and Family income disruption
Mini games with shareable results
Early Bird upgrade
New Memberships
Join the Commission
Seasonal Salesman Challenges
Build your network for exclusive rewards
Use your enemies to your advantage

If you want to join a game that's regularly updated with responsive and fair admins, come check out Made Man Mafia and get 7 days of faster turns to get you started!
Ayska Lynn
December 08, 2022 at 09:52 am
Nice game!
Rousseau
November 22, 2022 at 03:07 am
Great Game, good community
Looter king
November 07, 2022 at 02:07 pm
Great game should really check this out..
Dave
November 09, 2022 at 12:58 pm
Great to have you playing LK. Thanks for the review!
Gingerbreadman
November 03, 2022 at 08:12 am
Great game, reminds me of old school fb games
MBE
October 13, 2022 at 09:51 am
Solid game with some different features you wouldn't find on any other it's a worth checking it out yourself.
willsta
October 12, 2022 at 02:09 am
Just started playing but its looking the goods
Dave
September 15, 2022 at 01:11 pm
Get in early to grab your place on The Commission. Master the family ranks to be promoted to run the Mafia.
Be rewarded with extra turns and increased influence over gameplay for all players.
Coming soon...

See you in game!
Scarfo
August 23, 2022 at 08:15 pm
MMM is the best new game around. It has a great, hands on owner/creator that always goes the extra mile to improve the game and help the players. The game has great features, a very intense Turbo Round, Mini Games, and tons of other classic and brand new features that separates it from the others. And most importantly it has the community that most new games lack, with a great group of players that will help you learn and challenge you. Great cash prizes, too !
*****
Arsonist
August 23, 2022 at 03:16 pm
Game is great. The owner is always adding in more and better features for the game. Easy to play and figure things out. Easy to win free 💰. Make new friends or enemy's. It's a must see.
VTW
August 23, 2022 at 02:47 pm
One of the better games online. Easy to figure out and plenty of things to keep you busy including the new mini games. A Trusted site!! If you have Any questions or issues admin is always there to help
MMM
August 16, 2022 at 11:33 am
The game layout was updated a couple of weeks ago. Got used to the changes pretty quickly, makes much more sense now, and don't have to scroll as much.
SouthSider
August 16, 2022 at 11:30 am
I like the new mini games. Nearly got all wins yesterday
Dave
August 07, 2022 at 08:29 pm
MMM has been going 10 months now, and has had hundreds of improvements to the original.
Here you can win prizes for being the best killer, looter or money maker in the game 3 times weekly.
We regularly add MMM Cash prizes as an added bonus which can be used as in-game currency or withdrawn to PayPal.
New features are carefully designed and added at a decent rate.
The game is currently growing, and there are lots of opportunities to challenge the status quo.
Check out the game, and look for Dave if you need any help!