Mafia Cities 2015 (OFFLINE)
Enter the brutal mafia life while playing Mafia Cities 2015. Once in a while you could take a look at players who are in prison and help others to escape. An interesting approach to training because instead of training various stats you can play different sports to increase strength. In addition, in the boxing club you have been given an opportunity to train your boxing skills. Fly to another country, join a family, shop for good weapons, complete missions and commit crimes.





(139 votes, average: 4.65 out of 5)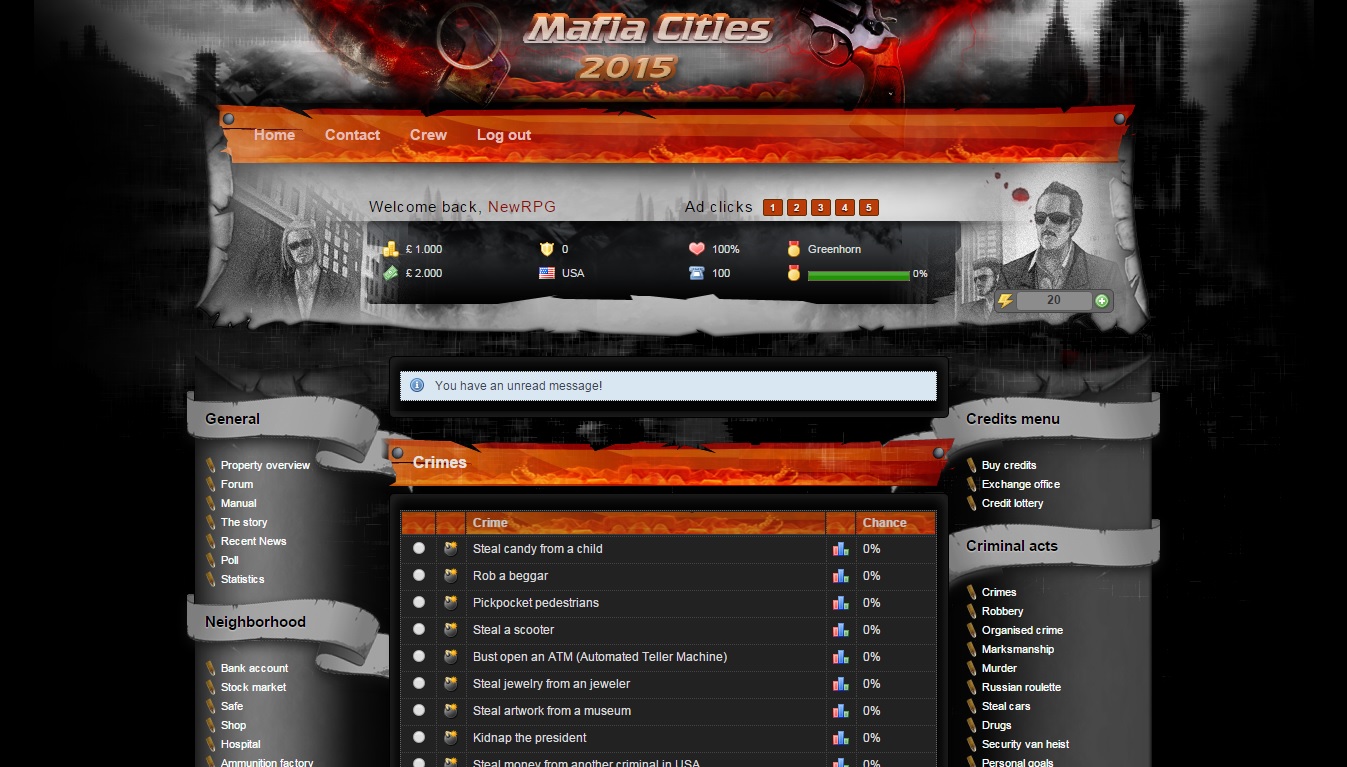 40

comments on

"Mafia Cities 2015"
Antwan Prybylski
July 19, 2016 at 01:49 pm
Can I simply say what a relief to discover someone that actually knows what they are discussing on the internet. You actually understand how to bring a problem to light and make it important. More and more people have to look at this and understand this side of the story. I was surprised you're not more popular given that you most certainly possess the gift.. You expressed this very well.
Bugs
January 05, 2018 at 06:38 pm
This game seems to be dead. When I played it there was a flaw I exploited to get to top 10 in a few months and almost, if I had bided my time, just about took over. That said, once the land is taken and ppl are at the top, they stay there hogging the resources that keep anyone on the bottom always on the bottom. To be really good there needs to be a more random way of destroying a structure and turning over a big family.
georgr456
March 13, 2016 at 09:58 am
joris you are right i am playing mafiabattle like mafiacitieslegends and i forget that game and i am playing this game all day
jack
March 01, 2016 at 04:18 pm
Awesome Game,Loads to do never gets boring
akion
December 18, 2015 at 12:27 pm
A nice game and no killing and losing in there :D
AsunaYuuki
December 14, 2015 at 12:06 am
Amazing mafia game, love it ;)
Rhinoceros
December 14, 2015 at 03:09 am
Surprising game
Highest vote within a few month lol..too perfect
Dutton
December 13, 2015 at 10:57 pm
The Best Mafia game ive played
DILLIGAF
December 13, 2015 at 10:06 pm
GREAT GAME! Good communication within game too
Ungorn
December 13, 2015 at 09:56 pm
A good ame for us not yet ready to let go of the text based browsergame.
Nathan
December 13, 2015 at 09:31 pm
Great game has lots of features for all ages & has a wide range of helpful players
Bravefoot
November 24, 2015 at 08:12 pm
This game is actually AMAZING! It has sooo many cool features and activities you can do and the chat is pretty much always active. I will be playing this for a long time ;D
MIMIC
November 16, 2015 at 09:56 pm
Joined this game a few weeks ago via a voting site. Glad i did. great game.
james195
November 17, 2015 at 09:55 pm
I hope all people like the game
play and enjoy the best mafia game
Martijn
November 02, 2015 at 01:28 pm
Awesome game, one of the best mafia games ever
Rhinoceros
November 02, 2015 at 06:19 am
Come on men ...just test...you will enjoy this game
Jason
October 26, 2015 at 02:26 pm
A very different type of rpg game that is a little tricky to get your head round at first,but once you get the idea you will be captivated and addicted to playing it.
Loads of great features and good interaction.10/10
Dogs Bollox
October 20, 2015 at 07:35 pm
Only started playing today but the game seems very well structured and seems like it could be a lot of fun
james195
October 22, 2015 at 04:19 pm
really a awesome game with amazing players
Rhinoceros
October 20, 2015 at 08:02 pm
Trust me it was totally a good game
stretchy
October 20, 2015 at 07:25 pm
great game everyone is helpful and its a growing new game and its easy fun and has a kick to it
Dejaa P
October 18, 2015 at 08:05 pm
Bob it is not hard to figure out who would post such a nasty untrue comment. Best be careful of this petty war. You do not play this game and have no clue what the code it or who the coder is. You are just being petty and angry over ancient feud. The New Mafia Cities 15 is fun and very different from the game you are talking about. Give it a rest none of us want to see this petty BS any more.
Jamie
October 13, 2015 at 08:31 pm
Very fun game. Its a bit overwhelming when you first start out, but there are always people to help out in the chat and once you get into it, you'll really get into it.
Spaq
October 03, 2015 at 09:52 pm
really fun game and nice members :)
james195
October 05, 2015 at 07:30 pm
best of the mafia games i played it for weeks and days i like it and i love it im enjoying it so much hope everyone who play it like it too
yess
September 28, 2015 at 12:48 am
Yep cool ting fam
Hana
September 22, 2015 at 09:39 am
This game is the most fun I've ever had with a browser game, and i've played them all. The dev is constatly adding new updates, mini games, and over all improvements, and is nearly always in chat talking to members. Most dedicated dev i've ever seen, and I will keep playing this game for a long time .
Davis
September 19, 2015 at 07:22 am
This game has it all Fighting, Stealing, Pimping, Car & Horse Racing Every Casino game you can think of and still theres more to the game It just keeps getting better everytime you log in .
Well done to the Developers of this game I will be playing this for a long time.
Crystal
September 17, 2015 at 05:39 pm
I've played a lot of text type games. Mafia Cities has always been by far my favorite and most addicting. The developer is in chat most of the game. This is great if you have questions and want a fast response. Unlike other games where you pray you get a response back through e-mails. It has a lot to offer and many hours of enjoyment. With enough people I know the fun we can have in this game. Wars between family. Banter. All around good fun. So, if you're in the market for a new game I urge you to give this one a try. Give it a bit to get used to it, but there are tons of players who have followed these games for years. They will be more than happy to help you with any questions you may have as you play the game. Also, join family Virus. Because yeah :D
David
September 17, 2015 at 12:56 pm
Extremely fun game highly addictive have to even play via my phone before i sleep and after i wake
colby hatfield
September 17, 2015 at 12:41 pm
good game, could be addicting. i like it so far
Duke
September 17, 2015 at 10:46 am
Really good game 100% addictive. Come Join Us all really friendly chat and very helpful players.
Clint
September 17, 2015 at 04:28 am
Good game Lots to learn Lots of help from other players,
Try it out
Josh
September 16, 2015 at 05:45 pm
Little tricky to find your way around but well worth sticking with because as you spend 20 mins playing your hooked.Well thought out and Fun to play
Harry
September 16, 2015 at 11:02 am
Totally addictive and really fun !!
Regular updates & new features added .
Top Game try it Out
stephen
September 15, 2015 at 10:03 pm
very cool game lots to learn you need to play this new game
BenMurrells
September 14, 2015 at 05:50 pm
LOVE THIS GAME
Mark T
September 13, 2015 at 09:39 pm
Been playing this game a few weeks and have to say its now my favorite RPG played most of the mafia games and this is the best of them all.

Don't take my word for it come check for yourselves
Gary
September 13, 2015 at 06:41 pm
Really love this game very different from all the other mafia games.
Very well thought out and the big up is the fact you dont need to pay real cash to compete its fair to all players Loads of interesting features and totally addictive
chad
September 13, 2015 at 05:45 pm
have only been playing a few days but have to say , its addictive
joris
September 13, 2015 at 01:07 pm
once u play this game,
u will forget any game u played before
Tony
September 13, 2015 at 01:03 pm
Cool game, intresting challenges too. Good ideas went into this game!
Great work!
Dejaa P
September 13, 2015 at 01:00 pm
wonderful game, great player interaction, challenges, and lots to do.
Mary J
September 13, 2015 at 07:11 am
Totally awesome game !!!! Good competitions easy to get in game credits.
Family aspect is really good and the missions are totally addictive.
Deb
September 13, 2015 at 07:09 am
Excellent game, lots of strategy and thinking needed :)
Jessica
September 13, 2015 at 07:02 am
A Really fun game with loads of great features give it a try .
Really is one of the best Mafia games out there.
Rhinoceros
October 20, 2015 at 08:01 pm
Totally a good game