Mafia Cities Legends
Mafia Cities Legends is a mafia-themed browser game. Money Press produces cash, so collect it. The more you upgrade the Money Press, the more money it can produce. Successful crimes ensure you with experience and cash. Gain mafia power to perform better. Ammunition is required to attack opponents. Produce ammunition in an ammunition factory. The tutorial offers you basic challenges to understand the game. Attack another player, purchase troops, take a look at rankings and more. Family is necessary to start a meth business or take part in wars. Upgrade the hospital to gain more health and become a resistant.





(19 votes, average: 3.89 out of 5)
Rate it
Mafia Cities Legends images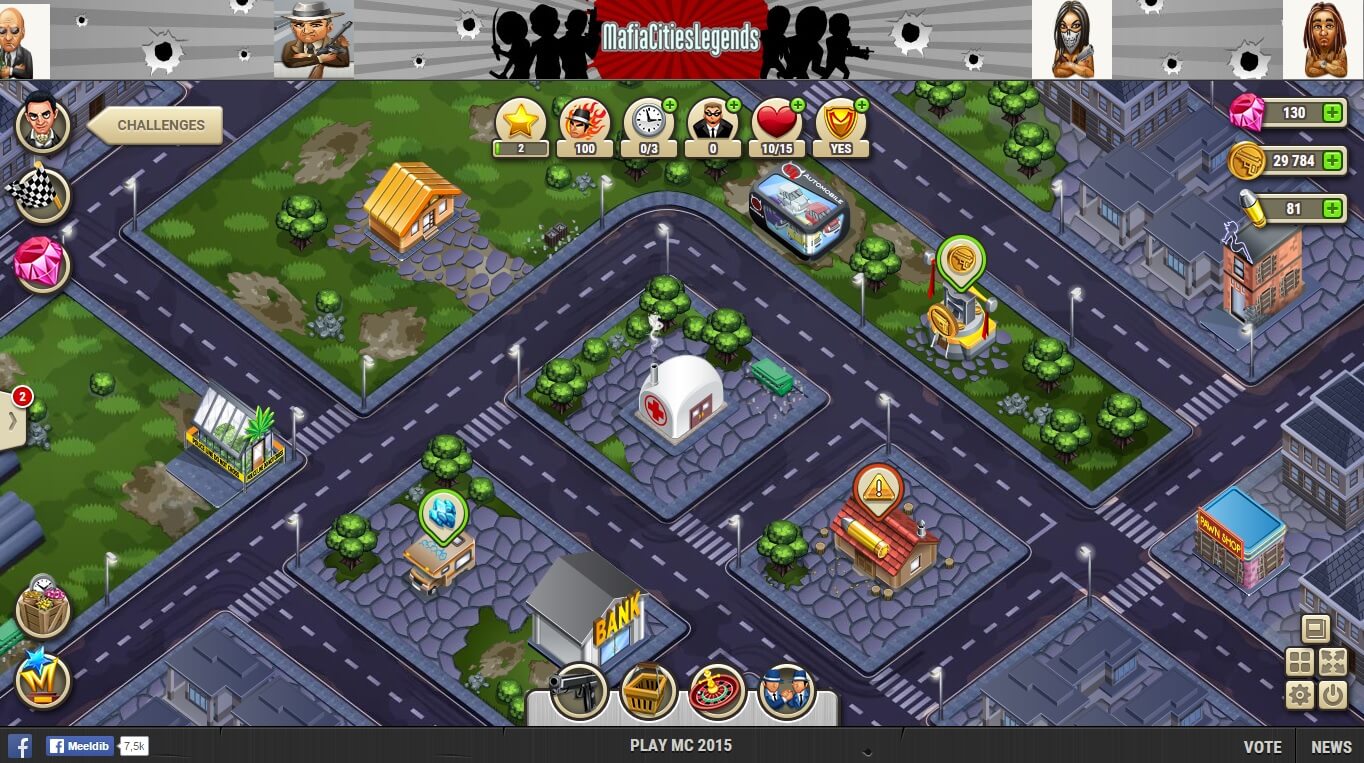 10

comments on

"Mafia Cities Legends"
Crystal
January 08, 2016 at 06:50 pm
I waited a few weeks to write my review of the game. There are so many features to the game that I wanted to make sure I understood them fully enough to write about it. There is a lot to learn about the game and how to best strategize your game plan. The great part of this game is the community. I've played online games with a lot of the members for almost 8 years. Everyone is more than willing to help you along the way as you feel out the mechanisms of the game. The game is constantly giving you something to keep you playing and interested in the game. There are competitions and events that change a couple times a week. This allows you to play and to work toward something different to keep the game fresh and keep it from becoming repetitive. Pvp has yet to go live, but I look forward to this new addition to be released soon. The game takes some patience in the beginning. You need to raise a success % in each crime, but the more you attempt a crime the higher your chances of succeeding next time are. I highly recommend everyone give this game a shot. Once you do join a family. Get involved. The best way to make this game the best for you is to get to know everyone. They can be your greatest resource as you figure out the game.
joris
January 09, 2016 at 12:04 pm
once u play this game,
u cant leave.
many interesting features such as make own recipe for meth, growing weed, various crime acts, etc.
Mimic
January 06, 2016 at 11:49 am
Into the game a few week s now, and it still hold interest. Looking forward to more of the same. Sign up, you wont regret it.
Simikins
December 24, 2015 at 07:44 pm
Awesome game, very enjoyable. Cell phone ready for easy access on the go.
Goldcoastmat
December 23, 2015 at 12:43 am
Great game, at least off to a very good start as it's very new. Even though the gameplay rocks what keeps me interested in games like this is the other people, and the people here are great. Join a Family it's the heart of the game for me, and you'll have a great time with great people.
Voodoo
December 21, 2015 at 04:01 pm
I have played many mafia games. This one here has to be one of the best thought of one so far. Lots of options to use in the game. I like the fight option and the blowing up the money truck.
EddieL
December 21, 2015 at 12:45 am
After playing a lot of mafia games out there this one is by far the best and most innovative game of its type. This new kid on the block is growing and developing new features and ways to keep the player coming back for more. The dev's are keen to listen to the players ideas and solve problems they may have quickly to minimize the disruption to the enjoyment and game play.
In this game you can build up your troops to gain power to attack others and steal their riches wile you watch and wait for your own businesses grow. You can collect your income and commit a whole range of crimes in many zones on your path to becoming the king of organised crime.
Joining family is a must if you want to test your might against others in turf wars. Earn badges for your victories to show your the master in each area of the game. what more can i say but i love it and can't stop playing, when i do i can't wait to return to continue growing my empire.
Nathaniel
December 20, 2015 at 11:51 pm
Farmville for Mafia Folk
Mimic
December 20, 2015 at 11:07 pm
Lovin this game. its one of those games you try to leave, for lunch or dinner but are always checking it , just in case you missed something cool ( or funny ) iv re-heated my dinner because it went cold whilst immersed Mastering the Ghetto section hahahaha You can play as a solo criminal or team up and go multiplayer with heists, family's and wars. Build a showroom for all those cars you stole, tweak you recipie for the most leathal meth ever Lots to do and peeps to chat. killer game, will stay a while, come join us.
Dejaa P
December 20, 2015 at 10:44 pm
Very addictive game. Lots of new adventures being added, very enjoyable.
alcapone
December 20, 2015 at 10:42 pm
Only started playing today but is a lot of fun the fighting is good,and it seems like I will be playing this for a long time to come.