Mafia Hustle (OFFLINE)
Mafia Hustle is a mobster themed online RPG. Doing crimes, hitting the gym and creating your gang, these are only the few aspects of the game. Bust people out of jails or kill them for bounty - the choice is yours. Level up, compete against other people in rankings ans show no mercy. Gain enough money to get yourself an armor to protect yourself as well as primary and secondary weapons to defeat your enemies mercilessly.





(25 votes, average: 4.76 out of 5)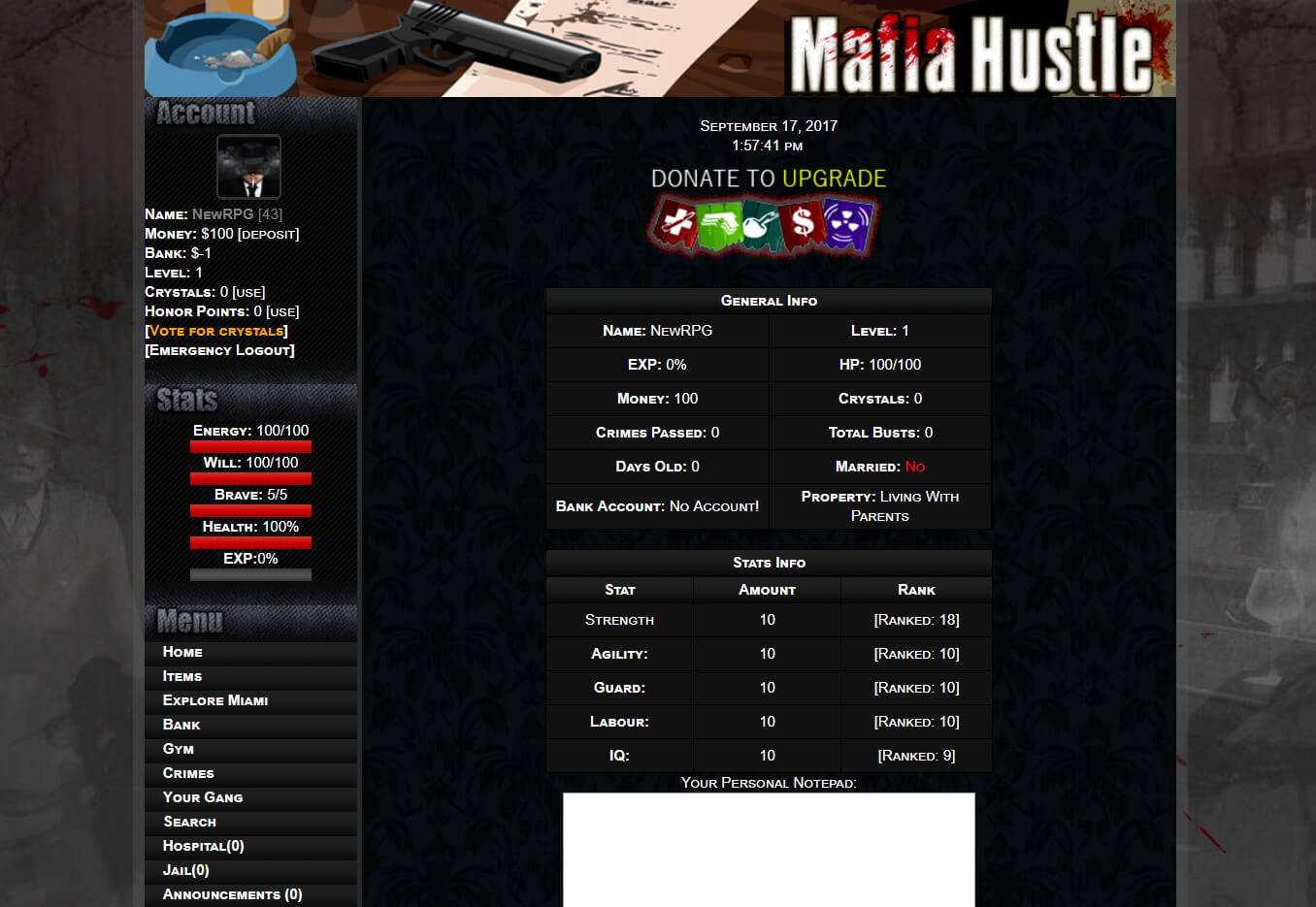 23

comments on

"Mafia Hustle"
Odyssey
April 03, 2018 at 05:29 pm
good game join now
player1110
March 25, 2018 at 12:47 pm
AWESOME game you should definitely try it
XceX
February 17, 2018 at 07:30 pm
good game
Earl Borden
February 11, 2018 at 04:19 am
Great gamr
jasper
January 28, 2018 at 11:59 pm
great game
Dro
January 24, 2018 at 05:00 am
Good game
Big C
December 16, 2017 at 03:24 pm
looks like a good game
MR. DIABLO
December 24, 2017 at 07:18 pm
looks good so far
Denis
December 15, 2017 at 04:58 pm
I like it
CB
December 15, 2017 at 08:32 am
Good game
fonzo
December 15, 2017 at 12:35 am
join in the fun
Jordan
December 14, 2017 at 05:12 pm
Very good rates 5 star
MafiaJoe
December 13, 2017 at 11:50 pm
Terrible game, do not play. It is pay to win and full of cheaters.
Druid
December 13, 2017 at 05:07 pm
Great game
Diamond Girl
December 13, 2017 at 12:12 pm
Just started seems like it might be fun
Frank Lazard
December 13, 2017 at 09:55 am
This game is awesome! Our whole family plaus it quite frequently.
Sam Smith
December 13, 2017 at 04:31 am
Owner still has not made the game fair. This game will never get off the ground because all the owner cares about is money. He demolished all people had worked for then wants you to donate? He is the cheater!
AllDie
December 12, 2017 at 08:24 pm
awesome game
keith
December 12, 2017 at 05:28 pm
good game
Druid
December 12, 2017 at 05:17 pm
A great Mafia-type game that is constantly updated by an excellent admin
Dadsmad
January 26, 2018 at 10:19 pm
Looking for help in game
Kate Fisher
December 12, 2017 at 03:32 pm
Good game. I enjoy the updates because it looks like they are making the game better.
TwiZted
December 12, 2017 at 06:30 am
looking forward to seeing what its about
Sam Smith
December 12, 2017 at 05:39 am
Do not play this game if you want a fair and fun game. Cheaters were found and the whole game, not the individual (s) punished. Owner does not care that it is a new game and he has already unfairly treated people.
all
December 12, 2017 at 04:54 am
great game