Mafia MMO
An Old School Mafia MMORPG with many new elements. You can train, crime and fight your way to the top. Join a gang that will help you get to the top and provide protection and many boosts. Buy and upgrade cars in order to pull of heists and race other players. Come and enjoy a true Mafia experience. If you are a true text based browser game fan then you are going to love Mafia MMO!





(17 votes, average: 4.71 out of 5)
Rate it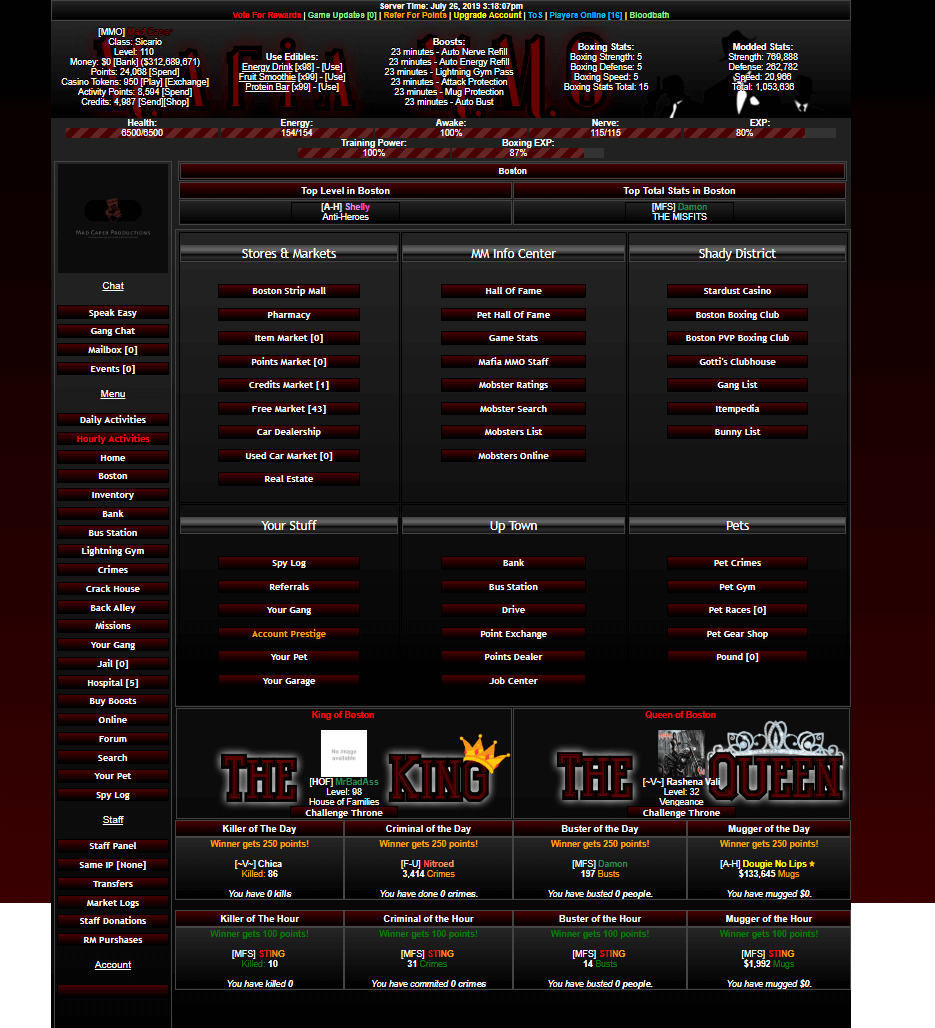 8

comments on

"Mafia MMO"
Damon
July 27, 2019 at 11:08 pm
Great game one of the best, plenty to do and more added on a regular basis and no lag. Keep up the good work MC & K
sunshine
July 27, 2019 at 07:41 am
great game. plenty of things to do to keep you busy.
sting
July 27, 2019 at 07:09 am
fun new mafia game come check it out
NinjaSlay
July 27, 2019 at 07:03 am
Great game!! Owners/coders genuinely care about the players
john crossley
July 27, 2019 at 06:58 am
great game. i've been really enjoying all parts of it. the players and staff have been fantastic and it even has an active discord site that makes it even easier to get in touch with them :)
Latrell D Wilkes
July 27, 2019 at 06:56 am
It's a great game to play. I like how they stay on top of fixing issues. Gives you a lot to do. I would recommend it to a friend.
Chica
July 27, 2019 at 06:54 am
I am thoroughly enjoying this game. Come try it! :)
BrahRillaKong
July 27, 2019 at 06:53 am
Great game, plenty tasks to keep you entertained, and a fun community.