Mafia Omerta
Mafia Omerta is an online mafia game. Visit the black market to buy guns, drugs, explosives, vehicles and scrap items. In the store you can purchase beat weapons such as shovel, brass knuckles, lead pipe, steel chain, sledgehammer and baseball bat. In the store you can also spend Omerta points to buy punching bag, dictionary, business plan, law degree, and so forth. Take a look at the job list and do different jobs to increase your strength and earn money. You can choose between smaller and bigger jobs. You get one Omerta point by completing every small job. In casino you can buy chips and play blackjack.





(419 votes, average: 4.87 out of 5)
Rate it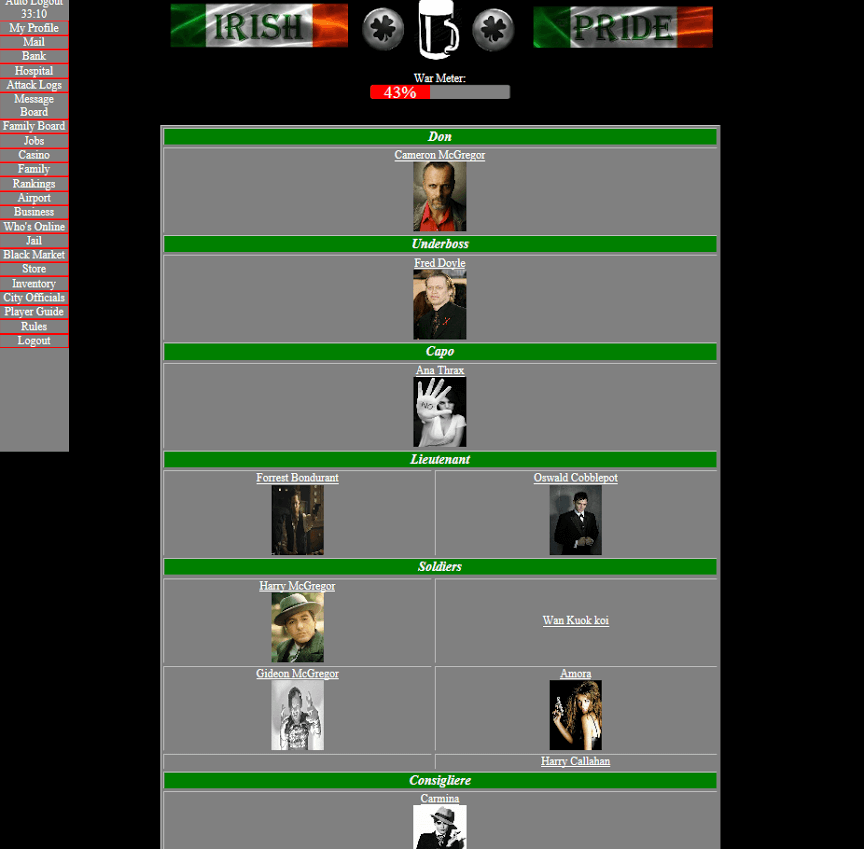 mafia-omerta-browser-game
36

comments on

"Mafia Omerta"
Malakai
November 07, 2023 at 06:37 pm
Awful game. Although cheating is allowed.
Malakai
October 20, 2023 at 07:47 pm
Fantastic game.
Kyle
July 17, 2023 at 10:34 pm
Can't even login. Fix it please.
Michael Gamero
May 05, 2022 at 03:29 pm
Great game! Been playing it for a while now. If you decide to check it out and play it, drop Michael Gamero a message if you need any help!
Howard
April 24, 2022 at 06:05 pm
the game does not look or operate like any lets say "professional" game i have played. The game looks like it was thrown together by someone who was not trying.
Coochie
February 08, 2021 at 09:04 pm
This Valentine's Day Massacre is a fun break in the game and I look forward to other "specials" that are done monthly or bi-monthly. Thank you!!!
Sneaker
December 13, 2020 at 08:36 pm
This is an interesting game. You don't need money to play and have the same capabilities as other players. You build your character according to what you want it to be . I just started playing this about 2 months ago and was accepted by the family I chose immediately. Whatever you do, don't give up! Ask questions or read the player guide. You will catch on fast!

Just as any other game, there is one peculiar character who doesn't make much sense. I've found it best to ignore him/her/it.

Whether you are new or old, everyone has the ability to start their own family . You can stay in the safe zone of the streets and build while you learn. There are lots of fun, positive things for this game. Come join us!
Jen
January 27, 2021 at 12:40 am
Shame you were suspended. You were an asset.
lewis harvey
October 29, 2020 at 08:56 pm
This is a great game to get involved with. it is addictive and fun. I played several years ago and have came back to play again. Jermaine Catone and the family I am on are all very helpful. Come and join a family or create your own.
Bluit Kid
October 22, 2020 at 08:21 am
The game is up and running again. Looking forward to more additions which are promised sometime in the future. It is good now to see many playing here as well as many families up and running. First war between two families has begun obviously there has to be a winner and a loser. Yet there never appears to be a complete loser in war which is a good thing.
Surprised to see all the same people with only a few new people joining. I am hoping that there will be others to follow for the more the merrier.
To Jermain Catone the owner keep the good work up. I am the one and only Bluit Kid but also incognito within the game although I would suspect I cannot keep my alias unknown forever.
ONE WAITS!!!!! Laffs:
Chris
December 12, 2020 at 08:55 pm
Built blew it again. Unfortunately this game need players. With the likes of Sol around (Bluit) that is going to chase people away. If you join, look to whack him and you will be our hero
5 stars for Jermaine's efforts though.
Ronald Moore
December 22, 2020 at 03:52 am
LOLOL!!! There has to be a player one loves to hate - just like the New York Yankees or Dallas overrated Cowboys :P
Collista Patton
October 21, 2020 at 06:31 am
Have been playing since beginning of Beta rounds!!! Very, very addictive....the best mafia game I've played to date....
Sharon Joseph
October 18, 2020 at 06:16 am
We try our best to assist new players. Not one member of omerta will lead you astray to take advantage of you!
Ryche
October 17, 2020 at 09:07 pm
I am new to the game. Enjoy playing it. Some players are helpful in the game. I gave it a 5 star rating.
Kitty
July 19, 2018 at 07:48 pm
Here it is 2 yrs later still playing loving this game. Still addicting.
TwiZted Nightmare
December 15, 2017 at 06:37 am
Good addictive game. Love it!!!
Coochie
June 06, 2017 at 10:17 pm
new round has started with nice changes! weeeee and the Coochie is back!
Pupetta Maresca
May 27, 2017 at 08:39 am
Another awesome Round BOB!!! Thank you and see you in a week!
Coochie
February 26, 2017 at 12:04 am
Another round complete and thank you for allowing me into your game site. Congratulations to Kitty for winning the Omerta Survivor series!
LuLu LacaLoco
January 12, 2017 at 11:09 pm
vote vote vote
Coochie
January 03, 2017 at 06:10 am
Great Game indeed and I too have been playing since the Beta Version. Each round gets better and better.
TraceyLee
March 19, 2016 at 04:16 am
I was absolutely clueless when I came about. Everyone reached out and offered support, answered any questions... It's a true community and while yes I'm still slightly clueless (lol) I'm blessed to be apart of it.
Vito Gizmo
March 19, 2016 at 03:25 am
Very addictive. I love the game and it is a lot of fun!
Cameron McGregor
March 18, 2016 at 08:18 pm
My first RP based and Mafia Game... Needless to say I am hooked! As a former "sports game guy" and "call of duty guys", this game is arguably More addicting. Give it a try, get in a family, and see for yourself!

Go Kings ;)
Pat
March 18, 2016 at 06:18 pm
Great game - changes every round so you have new things to work on and it won't get stale.
cepter
March 18, 2016 at 06:05 pm
love the game, been playing a short while
Kakia
March 16, 2016 at 07:48 pm
Fun game with great people!
mike
March 16, 2016 at 01:31 am
Great game, ever expanding, good way to kill time.
Wendy
March 16, 2016 at 01:07 am
Very addictive. I love the game and it is a lot of fun!
Slammer Moore
March 15, 2016 at 11:45 pm
very addicting i love playing and great way to blow off steam without going to a real jail
Jimmy Todd/ Coco Joe
March 15, 2016 at 11:12 pm
Addicting and fun game! Once you get the hang of it and become part of the community it is such a blast to play!
Ronald Moore
March 15, 2016 at 06:08 pm
5 stars
Ronald Moore
March 15, 2016 at 05:59 pm
I am a long time player and the game has evolved greatly since the beginning. I have played a Don of a powerful family, Soldier, Consigliere, and other positions. All have unique facets associated with the position and are fun to play. The game has a community message board to create your mobster role play, or join in someone else's story. There is also a family board to share info you want to keep inside to help your crew!

Make your own story by taking your character and go out there and earn for your family and Don! Turf raid to beat, rob, and extort your way to increased power and respect among your peers!!! Do the same on neutral ground by catching that family rival collecting their businesses, or lend support to a family family member on sending a message to that rival!

The Consigliere can buy off city officials, or order them whacked if they prove to be difficult to deal with by sending a soldier to express the family viewpoint :). No other game I have played has this feature, which really helps a family to keep the heat off from the cops!

The admin has also evolved the game to make it run by itself! This is the most neutral game out there, so all players have a level playing field. Provisions can be made if two family members want to play, and also if you want to play more than one character to have a fuller gaming experience.

I have made many friends on this site and it is fun to form raiding parties. Players have also formed relationships for those you love to hate, which adds to the excitement when making that hit! Be careful though, If a family captures all of the subdivisions of a city they control that turf. This means you can be shot at while raiding their turf but fear not! You can earn Omerta Point upgrades to use such as a bulletproof vest. You can heal quickly if hit and you have the skills :)

Use added strength or accuracy, and other enhancements earned through family and personal activity Omerta Points to improve the effectiveness of your character. Do your daily jobs to gain a stat for your position, and other small and big jobs to get that cash for beat weapons or to use in the black market. Buy that business to get arms, cash, explosives, or vehicles to help you to earn!!! Buy housing to add protection against raiders on your home turf, or really piss off the rivals by buying a house on their turf! There are many things you can do and skills you can acquire to help your family grow in power and also use in a mob war!!

If you want to play a Mafia based role play game this is it!! Sign up, show your stuff on the streets and get invited to a family. Then show what it takes to gain power and respect in this thing of ours!
Maryaha
March 15, 2016 at 05:46 pm
Love the game!
Vincent Earle
March 15, 2016 at 05:02 pm
Great Game. More things are being built therefore expanding all the time.
Come and join in the fun.
If you say you are new then just approach anyone and you will be surprised how they will help you.
So join now.
Kitty
March 15, 2016 at 04:50 pm
Mafia Omerta is such a fun game.Each family works to get a turf which we call home.You get to raid other family's turf's and hoping you don't get caught meaning shot or beat or robbed.
Anthony
March 15, 2016 at 04:32 pm
Addicting and fun game! Once you get the hang of it and become part of the community it is such a blast to play!
Judy
March 15, 2016 at 04:31 pm
Love this Game! Been playing since Beta Version !