Mafia.org
While playing Mafia.org you have a chance to enter a cruel underworld of gangsters and godfathers. Create a character and start committing crimes such as mugging and petty crimes. Once in a while you can take a look at players who are in jail and help them. The game offers you a variety of games where you can either win or lose your money. You can hire bodyguards, travel to other locations, use bank services, apply for a business license and start running your own company.





(70 votes, average: 4.47 out of 5)
Rate it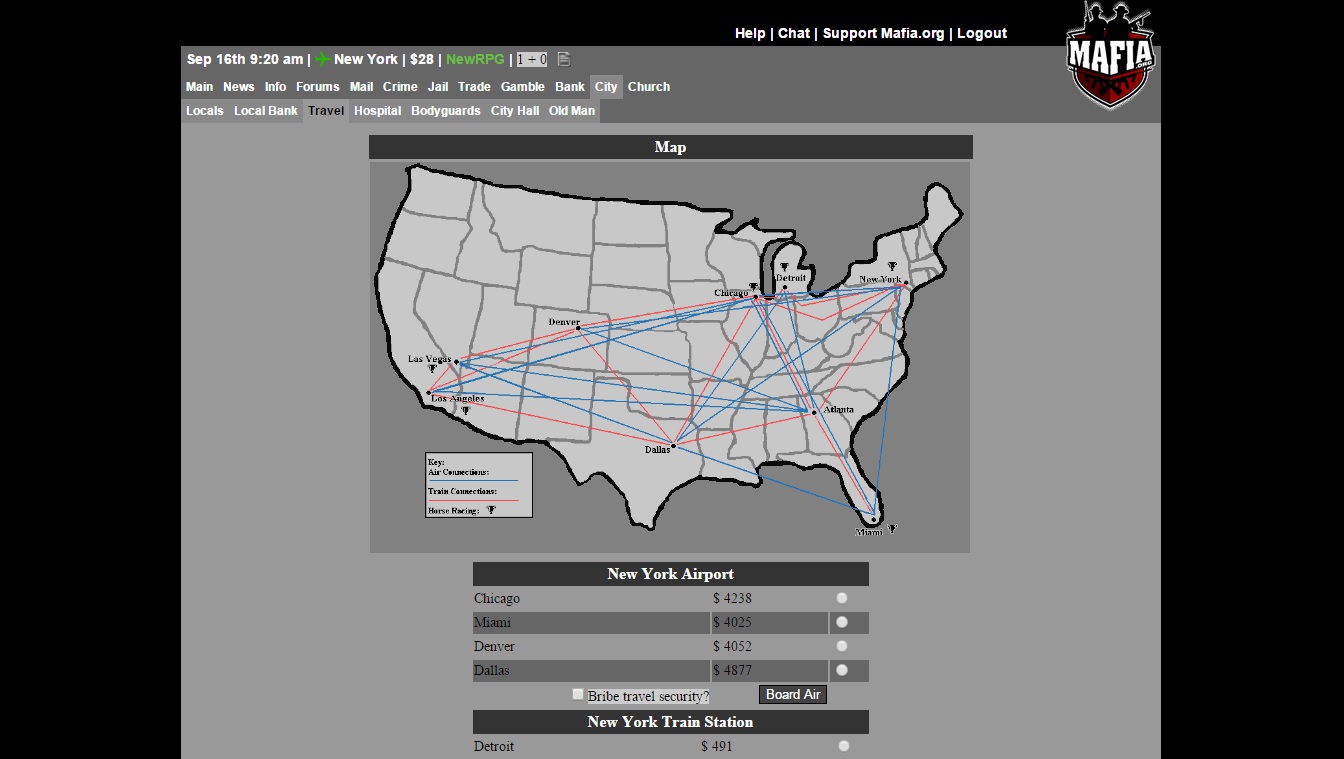 37

comments on

"Mafia.org"
Barkz
November 16, 2022 at 02:37 am
Honestly been playing this game on and off for years, its not amazing, but its fun. The community makes it, once you get past the rough edges.


13 when started, 30 now.
Jay Calo
January 27, 2021 at 05:18 pm
Trying to register but not getting past the birthdate box, telling me the format is wrong but its not? help
Wex
January 03, 2021 at 12:48 pm
Been playing this game since I was 22. Now I'm 41 LOL
Constantin
May 01, 2018 at 01:04 am
Ive been playing this game for years since I was 15 and now I am 30.

You meet alot of interested people.

Most interesting story is I met my husband on here :p
Dinty
September 07, 2017 at 03:55 pm
I wouldn't usually play RP games but this one I've been playing for a long time. Like all other comments - takes a little time to get it but once you do you'll love it.
dave
May 11, 2017 at 10:14 pm
Help me get on the game it's missing for me
Rich
May 20, 2017 at 01:24 pm
Game has been broken since vday tonyb or carcass will not respond to nobody. The game is gone for good
dave
May 11, 2017 at 10:13 pm
Guys and girls help me out its dave g or onedeaddon as the most remembered char I had help me get back on the site
Potzy
October 15, 2015 at 11:16 pm
This is by far the best mafia text based game I have ever played. I just love what they are doing with the game by adding all kinds of new and fun things to do.
player
September 25, 2015 at 09:36 pm
I read the comments here and I have to admit I cant stop playing it for a few days now! And there are going to be many more additions to the game very soon. That is really promising!
AbelMoretti
September 20, 2015 at 12:36 am
I've been playing this game since 2006, and I can't get enough of it. Easily the one game I will always keep going back to. Incredible community, nice learning curve, and great fun.
Republic
September 18, 2015 at 10:30 pm
Great game, and even better community , well worth your time.
Gangsta
September 18, 2015 at 01:02 pm
The Best Game I have played. Highly addictive and fun to play. Make friends, enemies, Go to war, Rank up and Love it.
Rupert
September 18, 2015 at 06:39 am
Make friends, make enemies. Betray your friends and work with your enemies. Welcome to the Mafia. A highly addictive text based game that is definitely worth a visit.
Garry
September 18, 2015 at 06:31 am
Played for over a decade. Once you get used to the way the game works it is super addictive. For a text based game it has the perfect recipe for all your needs without complicating to much like all the other mafia games. It is the only mafia game I play out there because of this reason.
Glade
September 17, 2015 at 11:05 pm
Well I've played this for years and it's pretty freaking awesome. I've spent a load of money on other games but none come close to matching the fun I've had on mafia.org. I know once you'll join and give it a chance you'll love it.
TheShowman
September 17, 2015 at 10:22 pm
Very very addictive game. Once you get involved you will find yourself thinking about it constantly. Once you start to build relationships and a persona the gameplay and roleplay are unmatched.
Jest
September 17, 2015 at 04:16 pm
Oh lord... mafia.org! For years now I have been around. The game has changed over the years, but the feel of it has always remained the same. with an easy to learn ranking system, as well as a fighting system that will get your heart racing and blood pumping, this game is a must play. I've played other text based mafia RPGs, but this is MY game. The one I've always played and always will play. GIVE IT A GO! You won't regret it!
Mazz
September 17, 2015 at 03:37 pm
Been playing org for over 10 years, met some great people from all over the world on this game. The game at first will probably not be up your street, but believe me, stick the journey and you will be like all of us that play..... Hooked. I have seen changes whilst playing and now the admin are really taking it to the next level with introducing some great things. If you find yourself joining, come and say hi. Mazz.
Socrates
September 16, 2015 at 10:38 pm
Fun text based game that the admins have been consistently releasing new updates for for around a year now. The best part of this game without a doubt is that the admins listen to the player community about possible improvements and things that are not hitting the mark as intended. It takes a little bit to get the full understanding of the game so do not simply try it for a day and walk away. Does not take any money whatsoever to play or become the top individual(even if you are being hunted at that point).
BBM
September 16, 2015 at 10:07 pm
I started out playing a couple other mafia games online and they didnt fill my needs. This game does. Been playing for a decade now. Highly recommend this game.
Smoke
September 16, 2015 at 09:56 pm
Where do I begin?! I've been playing this game since 2001 and seen some major changes during that time. Mafia.org will keep you entertained, will keep you coming back time and time again, and you'll get to meet some amazing people from all over the world. Once you get into everything, and if you love thinking about the behind the scenes action, you'll fall on love with this game. It's worth a shot! What do you have to lose?!
robert
September 16, 2015 at 09:20 pm
The only game I play and the only game ill ever play.I have played for many years have made some friends and I don't go a day without it.Always changing but staying the same you never know whats gonna happen.
Shermond
September 16, 2015 at 08:43 pm
I've been playing this game about 3 years now and I can't seem to leave it. Out of all the RPG I have played this is the only one I have stuck aroud for and I've met many people who keeps the game fun and going that makes you want to stick around no matter how many times you say you are going to quit.
Tricky
September 16, 2015 at 08:34 pm
Best game I have ever played myself. I have been playing for quite some time and met some interesting people on here. The community is one of the best games I've played, so come along and join our little user base! We'll love you and you'll love us! (Hopefully)
NickConti
September 16, 2015 at 08:32 pm
Fun game give it a try today.
BB
September 16, 2015 at 08:11 pm
Been playing this game for a very long time. I have played other games during the time frame as well but this is the ONLY one that I keep playing. It is very addicting and a great time. Met some great people also. Highly recommend this game. If I could give it 100 stars I would.
Veeto
September 16, 2015 at 07:26 pm
Don't dismiss this game too quickly, I've been quitting for the last 3 years and alas I am still there. Gives you the opportunity to create your own persona and play it as you see fit whilst meeting new people. Really enjoyable.
Baker
September 16, 2015 at 06:46 pm
There is more than meets the eye here. This is a great text based strategy game. It is really immersive once you get into it. Do not dismiss it too soon, give it try and I bet you will be hooked like the rest of us...

Baker.
wex
September 16, 2015 at 06:04 pm
The original Mafia Game. Been playing for a decade now and it's so addictive. Visit the site and try it :)
RoseyP
September 16, 2015 at 05:56 pm
The original Mafia RPG.

Small but growing userbase. Has a whole list of good features and interesting player dynamics.

definitely worth a visit.
McCoy
September 16, 2015 at 04:29 pm
Very enjoyable game. The admin team have gone above and beyond to add new features and improve the game.

I'd recommend this to anyone who enjoys role playing games. 10/10.
Hugo
September 16, 2015 at 03:38 pm
I've tried many RPG games an none is like this. And I've been trying them - and playing this one as well - for more than a decade. While others lack personality and tend to be commercial, this one offers you a great sense of community(which is the best part of the game), in a game you can get to the top without putting a dollar on the table. One of the one's where role playing can really make a name for you. Join us!
Stout
September 16, 2015 at 03:30 pm
This is the first Mafia game I ever played. Its an oldie but a goodie. No matter how many times I tell myself i'm going to quit I always come back. With all the new updates being done to the game it's worth checking out.
WarrenPeace
September 16, 2015 at 03:20 pm
Originally found the site in the heyday of the FHM top 100 list, an uncorrupted youth. It's been through many changes since then, yet I've stuck around for a very long time. It's a game that may be a little daunting at first when you dip in your toe. But you invest the time in it, you'll meet people from all across the world, some perhaps even very close to where you're from.

If you enjoy the mob, or just like the power struggles that come with being a surly Mafioso this is most certainly the place to be.
Carrie
September 16, 2015 at 03:14 pm
The game has been around for a long time and the original Mafia game. The admins recently started making tons of updates breathing new life into the game. Highly recommend checking it out if you enjoy text based games.
Ambi
September 16, 2015 at 02:56 pm
For a text based game it is amazing. A bit of a learning curve at first, but I promise you will get addicted within a month.
Moretti
September 16, 2015 at 02:53 pm
The most addictive game of all time. New features coming constantly too, best game of it's type bar none.