Mafia Rising (OFFLINE)
In Mafia Rising you have been given a possibility to become a gangster. Your basic goal is to survive in the murky underworld. To accomplish the goal, you have to train your stats and get stronger. You can easily apply for a job, but you could also run your own business. There's a possibility to create a restaurant, a waste management company or a night club. In the clothes store you can purchase or steal clothes.





(20 votes, average: 4.1 out of 5)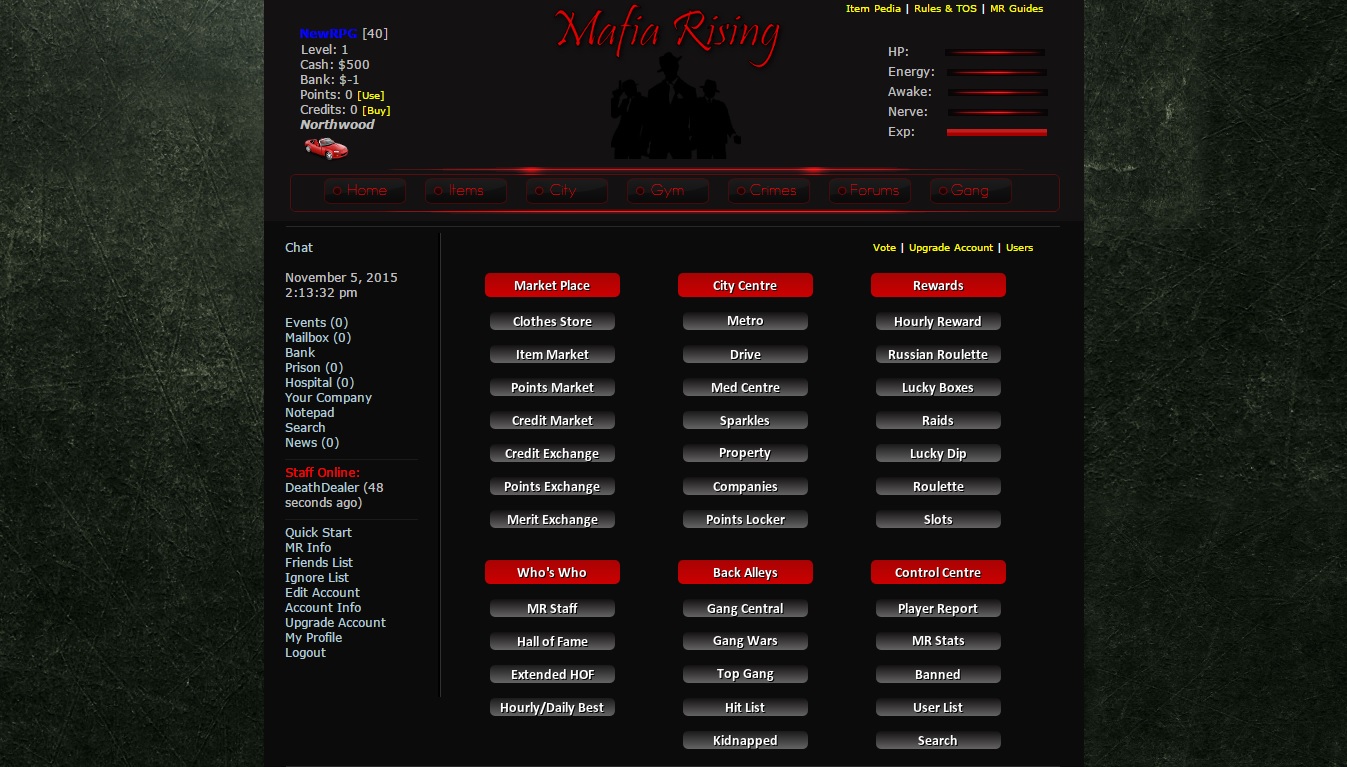 15

comments on

"Mafia Rising"
Sunyanzi
September 15, 2018 at 10:27 am
FYI, this game is currently offline.
NewRPG
September 16, 2018 at 12:35 pm
Thank you for letting us know!
Madison
November 07, 2016 at 02:03 am
This is a pretty cool game, it just needs more players.
Nihil
August 09, 2016 at 05:39 pm
Everyone, keep calm and carry on, game's working as a charm, so if you want a ton of fun and excitement, jump onboard. If not, have a beer. On me.
Laurentus
July 23, 2016 at 07:30 pm
Who needs another vulnerability ?
This site has been down on numerous of times !!
Gets to be awfully quiet in there.
Where is Harley ??
isaac
May 02, 2016 at 09:31 am
LOVELY GAME AND ITS D BEST
Louis Miera
February 23, 2016 at 12:47 pm
Always improving and taking suggestion for future improvement. Activity is key and gameplay is pretty engaging as is. Highly recommend.
Pitbull
January 22, 2016 at 10:58 pm
amazing games one of the best i have played with a great admin! very active and she is always doing her best for the players!
UnNaMeD
January 11, 2016 at 08:59 pm
Very nice game, with a lot of active players, great fun chating and hanging out with all of them, 2 crazy admins, both females :D
All the times some very very col updates, admin is really paying attention to everyone and putting a lot of effort to this site. :) Go on with great work, we are with you.
gunner
December 25, 2015 at 07:01 pm
Good game
Active admins and always have an update ready to come
Addicted to it ??
Valentina
December 18, 2015 at 08:33 am
Great game!Staff always fair and active
L
December 17, 2015 at 12:46 pm
Good game, great community and active staff. Give it a go, it's not like other Mafia games and it's only 8 weeks old.
Thomas
December 12, 2015 at 06:48 pm
Another tacky looking mafia clone. Nice admin, but they aren't bringing anything new to the table.
Rev
December 08, 2015 at 12:17 am
Cool game, the owner is dedicated to it and is active - Can't go wrong with that right?

Crimes give you items, I found that cool and different. Sign up today and check it out. :)
B
November 07, 2015 at 02:22 am
Its a great game so far!
It has only been open 2 weeks, and in that time has introduced something new each week; keeping players entertained and coming back for more.
More new players are joining up every day which is fantastic to see.
The staff are encouraging and enjoy playing along too it seems.
Harley
November 05, 2015 at 10:40 pm
Great community and active staff.

Less than 2 weeks old, MR is an old style, text based MMORPG.

No resets and original content with an 18+ area too.

Join today to get 3 RM Days for enhanced play.