Mafia Struggle
Mafia Struggle is a free mafia browser game. You can complete missions to earn points as a reward. Back Alley is a risky place where you have a chance to find cash points and items. Commit crimes such as robbing a house, stealing a ice cream van, shoplifting a jewelry store, mugging a teenager, killing an FBI agent, lottery fraud and much more. Drug dealer is where you can buy marijuana seeds and sell your weed. You should search downtown every day to find cash, points and items. Purchase cars, create a gang, play Car Chase, gamble in casino and reach the top.





(24 votes, average: 4.21 out of 5)
Rate it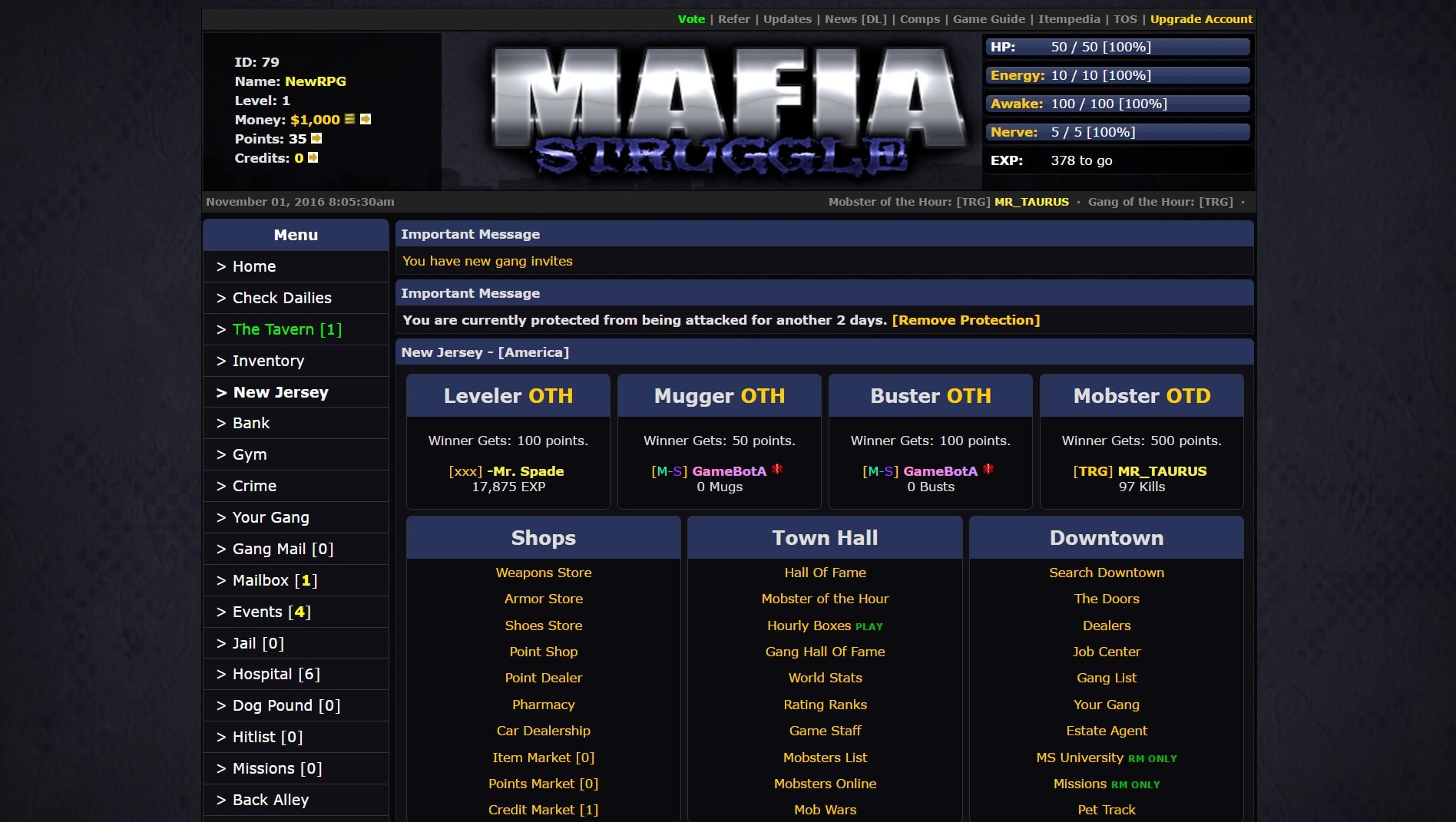 13

comments on

"Mafia Struggle"
-DEXTER-
August 20, 2022 at 07:20 am
Wiped stats multiple times, cannot log on or retrieve account. Do not play when able. Scam
The king
February 27, 2018 at 08:48 am
Don't like, do not play.
Cobra
October 24, 2017 at 04:12 pm
Is it me or is the game suqn it came back and went back down, is it gone for good ?
Reaper
October 17, 2017 at 05:27 pm
Its ok but don't bother talking or joining these guys gang, Anarchy or Silent Assassin or they will just hit you on and offline, guys have no life
Silent Assassin
April 16, 2019 at 10:55 pm
Only just seen this quite funny, he fails to mention he permed me for 9 days till I out-statted him...

But yes I agree, don't mess with me or my gang or you will go R.I.P ;)
RiPslicker
August 02, 2017 at 08:03 pm
The admin, slicker, sucks c***s! Do Not Play This Game!
Guess
April 07, 2017 at 12:13 am
its nae bad ... never a dull moment, great missions and tavern is always good for entertainment .. regular updates and active admin what more do u need :)

5/5
Steve
April 06, 2017 at 06:12 pm
Okay game, Full of noobs with massive egos. specially one guy called gunner. hes a massive n00b.

so if u play be ready to be in a argument with some egotistical noob on day 1
Guy With Huge Cock
April 06, 2017 at 06:05 pm
Its aight 6/5
Gabby
April 06, 2017 at 05:55 pm
Great game with an active Admin. I agree the missions are the best part of the game, as well as the fun in the Tavern! Always a good time!!
The Joker
April 06, 2017 at 05:48 pm
Great old school mafia MMORPG game Admin is friendly and updates game all the time, good rewards and missions easy to get established.
Some great players here too great game to kill time and chat, create a good account and compete or just make friends.
random
April 04, 2017 at 03:34 pm
One of the best!!
MrOdge
November 15, 2016 at 03:17 pm
Cool new game, launched November 1st 2016 - Nice players who are always up for a chat. The admin is an amazing fella and extremely active and adds new content constantly. 5* / 5*
Gunner
November 04, 2016 at 06:33 pm
Awesome game with an awesome admin .There are many new missions best part is the most active admin whenever u need help he will be there to help u plus he had a good experience of playing these kind of games so he knows how to handle situation.