Mafia Thug
Mafia Thug is a browser game where you can mold your thug life the way you want. Get yourself a pet, train it and let it help you with crimes. Your equipment plays a major role in terms of power so save up some money and get the best gear you can find. The game features classical mafia activities that include illegal actions, so you have a possibility to live outside the law. Under events section you can read more about events that are related to you. For instance, you can see whether you've been attacked recently and who won the fight. In the car dealership you can purchase some exclusive cars.





(17 votes, average: 4.76 out of 5)
Rate it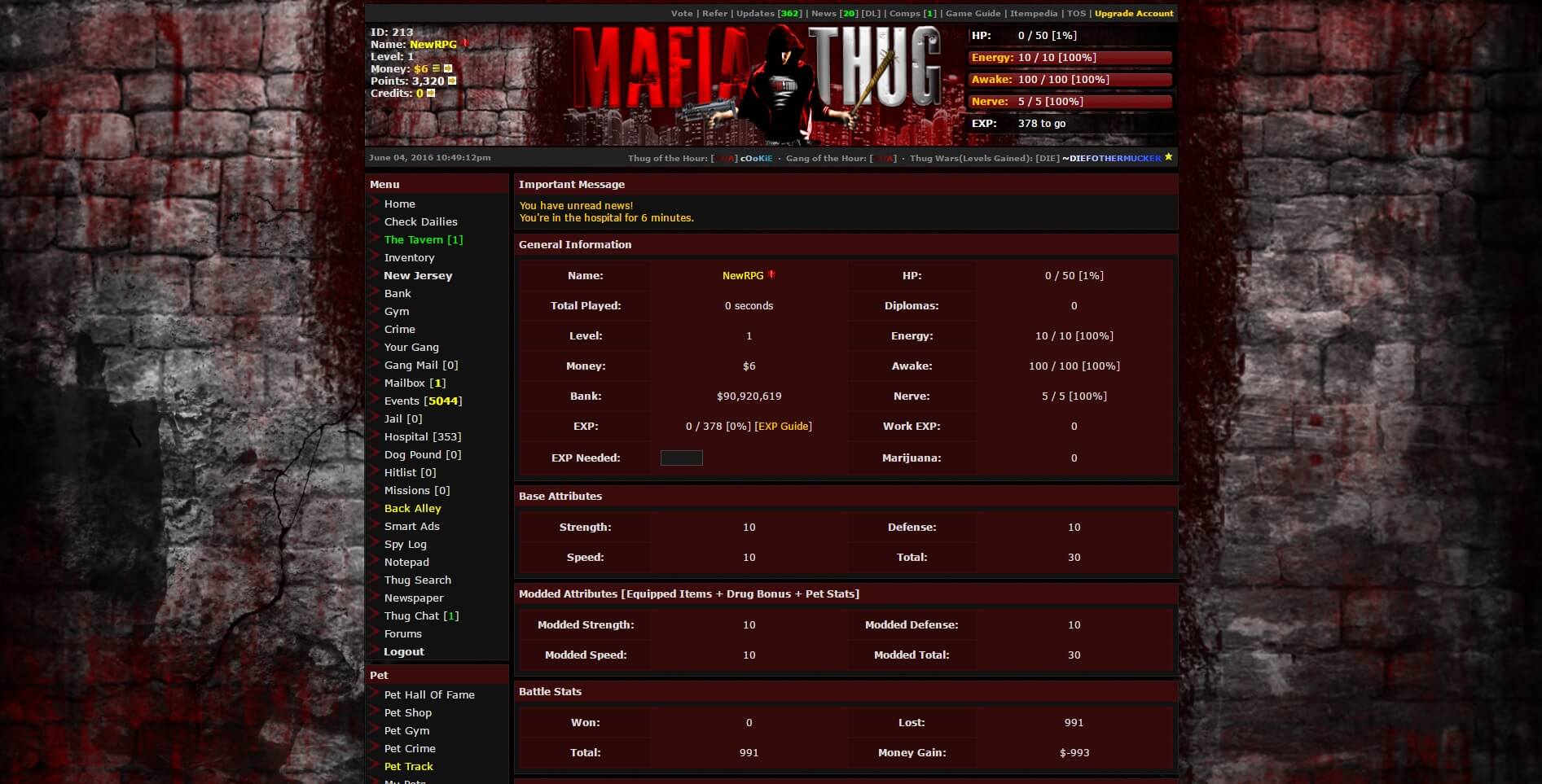 9

comments on

"Mafia Thug"
beadzz
June 29, 2016 at 09:19 pm
great game great admin and coder easy for new members also
Xyz
June 04, 2016 at 10:21 pm
Generic mafia game with the most unoriginal name ever.
fonzo
June 03, 2016 at 05:05 am
top 3 of 10-15 I play regularly
Mark
June 02, 2016 at 10:55 pm
Beefcake,

This is a very good game, Admin very helpful and I find myself playing it for hours lol Lots of great new things added to the game all the time! 5 Stars.....
Anon
June 02, 2016 at 04:45 pm
The best Mafia-style game ever! Don't look anywhere else.
Darryl Goodchild
June 02, 2016 at 09:38 am
Top quality browser game, one of the very few games out there that gives every one a chance to get to the top with very fair game play. Run very well and fair and in the main has a very good community of players. Well worth a look.
Larry randan
June 02, 2016 at 09:32 am
fun to play and you can meet new friends too
~Shaggy 2 Dope~
June 02, 2016 at 09:06 am
Great game really good community..looking forward to seeing you all on the game… worth the time .. :)
Slick
June 02, 2016 at 08:46 am
Greatest of all time