Mafia Turf
Mafia Turf is a free browser-based text game where you can become a gangster. Commit various crimes because mafia life is all about illegal action. Before you can create your own gang, there's a requirement that you must be at least level 25. Meanwhile you can join other available gangs. Street Dweller allows you to attack dwellers with each having different levels. Complete missions, train your stats in the gym, buy a pet, make enemies and become a mafia legend.





(8 votes, average: 2 out of 5)
Rate it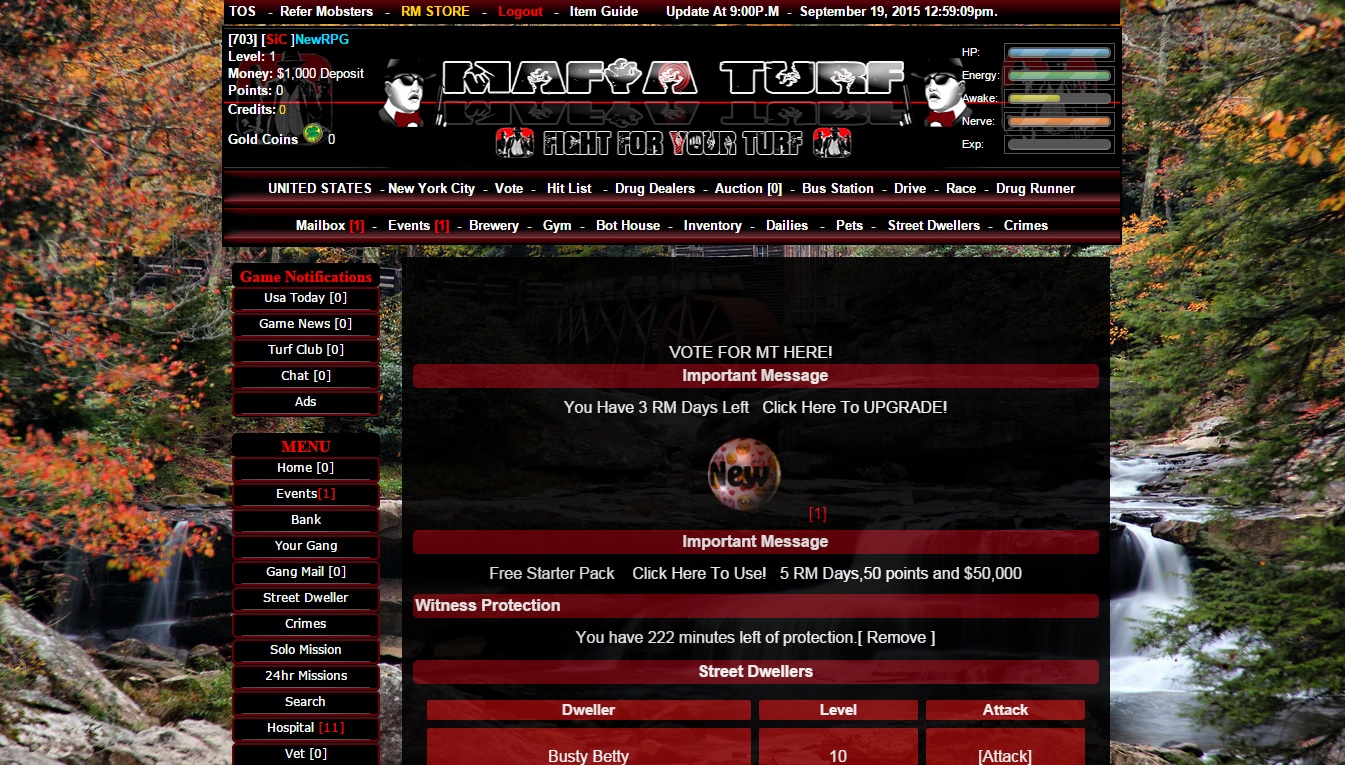 9

comments on

"Mafia Turf"
Kimberly
July 22, 2017 at 09:09 am
http://prntscr.com/9bvye7 me talking to owner and tell him i got banned for saying chat room was dead and he told me i was putting his game down lmao.................. Now that is funny as hell saying its dead in chat room and you get banned ... the dude is a paranoid self absorbed idiot
Kimberly
July 22, 2017 at 09:03 am
All above comments are true and worse this owner has no business running a game he should have handed it over to someone else, he claims he has "tools" that catches people running automation ... well get them checked because it was not happening. He demands to know how you did something that others did the exact same thing hours or the day before. He will go into your account take all you point, cash and gang vault then manipulate ur mobster while you are still behind the wheel. He will play his own game from 3 different accounts to only pretend he is 1 and then demand you not kill in a killing game. He will accuse and lie about you chasing people off when some of them were him playing the account and the others left because of him and you still play with the people that left in other games so how is that possible that you chased them away? He is in complete denial of being the biggest idiot and has no clue to even how to play his own game wheich completely blew my mind since it has been out for 3 years. Gamers beware NEVER play a game owned by this person cause really do you even want to know about his real life also? Hell no! You want to play a war game.
Snooks
April 05, 2016 at 09:55 pm
The staff killed this game!!
Max
February 12, 2016 at 03:08 am
Poorly run game, click staff, no one knows what's going n or how to fix things. Many friends that I tried to get onto the game had the same issue as Un Sa had as well.
UnSa
February 11, 2016 at 02:38 pm
Made a new account after getting rid of my old one, I was able to make the account once logged out tried to log in and it says invalid account, After reading the comments here I can now see why noone on this game knows how to code, no wonder there are so many glitches with in this game. Save your money for a game that actually has someone who can recode this game.
Kim
February 10, 2016 at 02:14 am
Kinda dying out, used to have lots of players tho.
ThxPal
December 08, 2015 at 10:37 pm
http://prntscr.com/9bvye7 me talking to owner and tell him i got banned for saying chat room was dead and he told me i was putting his game down lmao
ThxPal
December 08, 2015 at 10:31 pm
I agree 100% with what Jason said.. I played this game for a bit till i got banned for saying this chat room was dead. Not only was that BS, but i was in a Say what you want chat room that had no rules.The owner is a cry babe and boots or bans anyone for a simple thing.He has also told a lot of people others real life info. He can't be trusted in the slightest bit. I have seen him ban people for dumb reason and turn around and give his friends Staff who did the same damn thing. If you try to bring it up he just banns you. Can't see this game going to far. would give it a -1 stare if i could .
Jason Simmons
December 07, 2015 at 03:46 pm
I have known a few to play this game and I played this game for a total of 3 days to only find out the the owner Skywolf has no business running a game. He has no clue how to code and is completely lost on how his own game even works and what makes it so bad this game is already a template and he has another coder doing all the work. So I ask you how hard is it to just learn your own game and not cry? This dude cry's about anything and everything and the game runs like it was on BETA 8 months after the release. If you mention anything that is wrong about the game that needs to be fixed I have seen his ban people saying that they were talking bad about him like he thinks he is the game. This guy needs to get real or get with it and shut his trap because he is completely out of touch with reality with a game that was dying before it started and by what I saw it was him that killed it by being lazy and not fixing his own issues but instead talking about personal bs in chat rooms. I would never spend or even play a game of his EVER just for the mere fact I would not want to have to have to listen to his ass ramble on about his pathetic life. But shoot me an email when he creates an account somewhere so I can sign up and keep his babbling ass dead.