ManagerLeague
(Online since

2005

)
ManagerLeague is an online Multiplayer football manager game for thousands of players from the whole world.
Once in, you take charge of your own club, buy and sell players, train your players to develop their skills, build your stadium and manage the club economy. Hire staff, sign sponsors, book training-camps and try to promote to a higher division.

ManagerLeague is the most action-packed football manager game of them all, with 2 league matches (and training sessions) per weekday, making sure a full season is played in a month.
Playing friendlies is vital to help your team gain experience, and you can challenge anyone at anytime.
You can also enjoy some weekend action by creating or joining player-cups.

Join a vibrant community of managers and get social in the chat or in the forums where you can talk directly to the developers or just discuss the latest matches for your favorite team. Free to play, or pay for extras, it's up to you.





(265 votes, average: 4.58 out of 5)
Rate it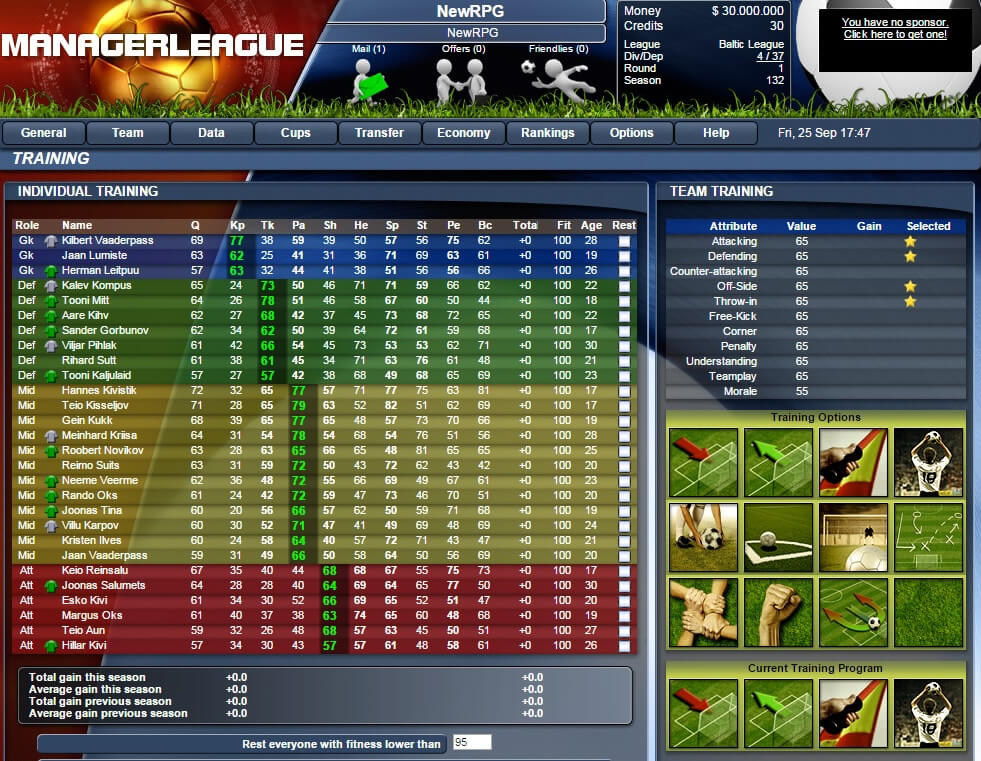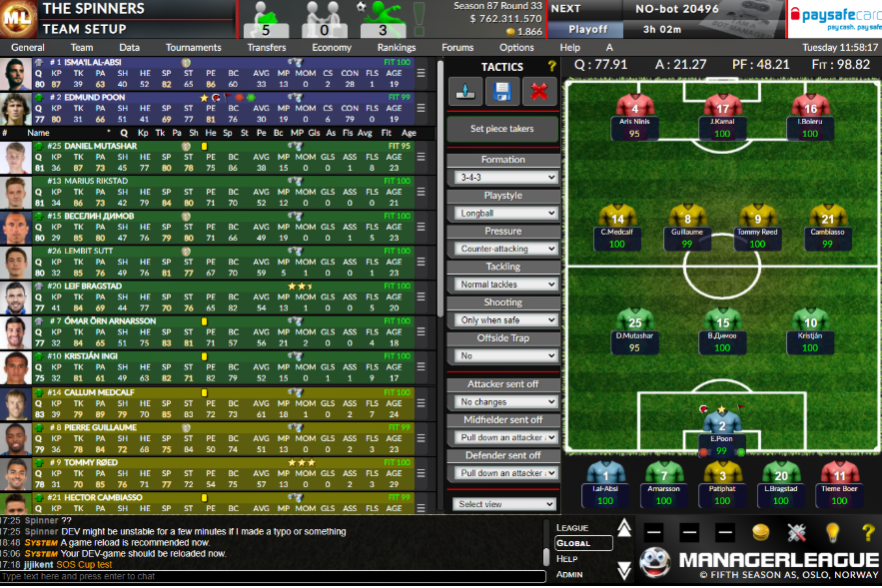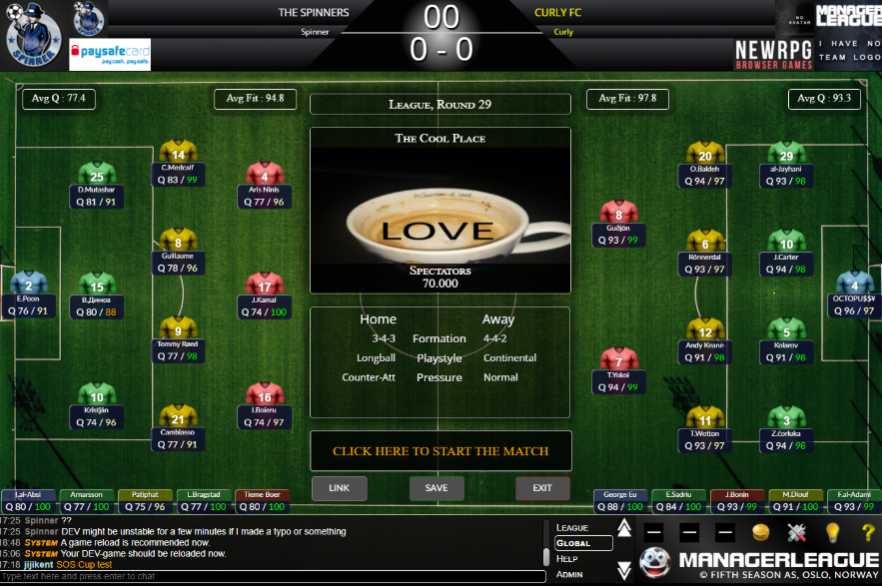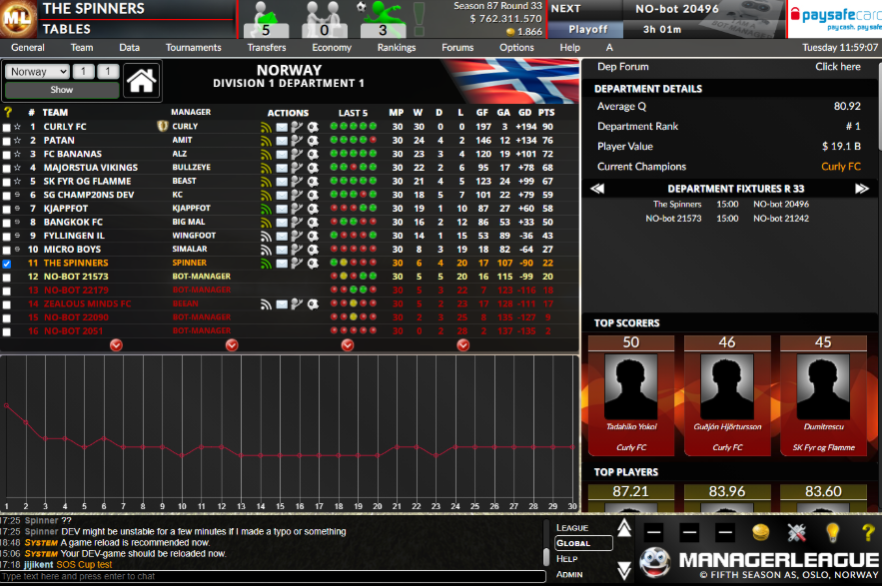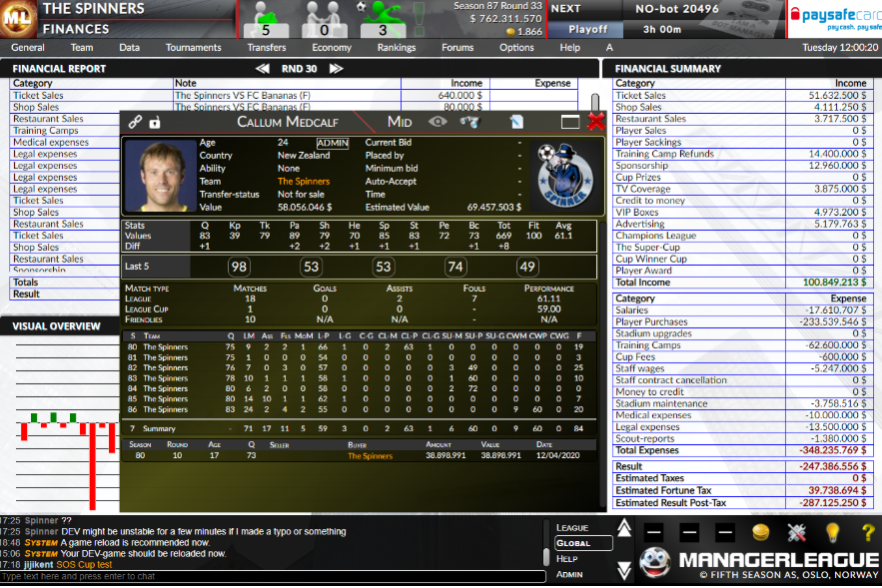 Finances and Player Info popup
29

comments on

"ManagerLeague"
Hentje Hendriks Hentridge FC
July 19, 2022 at 01:19 pm
Been playing in the Dutch league for 10+ years, still addicted because of the fast seasons (one every month), excellent gameplay , talent scouting etc. You can play it various ways, build a team with own youth players or get the best from the market. You start to play against easy to beat BOT teams but the higher in leagues the more experienced and friendly managers you engage !
Pluppy
October 09, 2021 at 03:13 pm
Been playing Managerleague for some years now, and so far the only game that really kept me hooked.

one of the few only manager games that's still under constant development and holds a active and helpful community. very happy to be part of this community :-)
Miv - Lyngby BK
March 31, 2021 at 10:55 pm
Best online footballmanager game

Played it for about 13+ years now :o)
Cristian
March 31, 2021 at 05:08 pm
The best!
pablos1979
March 31, 2021 at 04:14 pm
Definately the best and most joyful browser game I've ever played. I started almost 14 years ago and still love it.
Songvui
March 20, 2021 at 05:23 pm
I really love it! It's so attractive
AllOrZero
March 20, 2021 at 05:21 pm
It's the best manager game I've played
BotNoob
March 20, 2021 at 05:09 pm
Managerleague is a really good game.
It has forum, chat box and mail for the communication or the society. And you can block the manager you hate and you won't see his/her message on the chat box until you unblock he/she.
About the league, it has about 10 league (The league you go depend on your IP) and 4-6 division per league. Specially, it has forum, chat box for each league. You can go to another league's forum, but not chax box.
This game has lots of cup: League cúp, Department cup, etc. And it has a lots of achievement (it like quest) and it's can help you if you can't find your next aim for the game.
IDK
March 20, 2021 at 05:17 pm
Agree
Are Spyd
January 28, 2021 at 07:50 pm
Live the managerial life, and learn more about your leadership qualities. As well as help keep your financial strengths in plus season after season.
Mr C
January 28, 2021 at 10:35 am
Extremely deep, takes a while to get to grips with, but the more you play, the more you learn, the better you can get over time. Just like real football, nothing is guaranteed and some crazy results happen at times. Not for you if you think you can win the league tomorrow and want flashy natch graphics. For you if you want to invest time learning the game, developing your players, trying different tactics, and working your way up
Klaebs
January 28, 2021 at 09:46 am
Best Game
Herian
January 28, 2021 at 09:17 am
great game. lots of action every day, love it
Costis
January 28, 2021 at 09:08 am
I have been playing this game for many years now and has never failed to keep me excited and engaged!
There is always room for improvement by the show runners are listening and they implanting changes after forum discussions.
EL Marlin ROjo
August 14, 2020 at 03:13 am
Excelente juego, estructurado divertido y muy completo, mucho que hacer para no aburrirse, felicidades!!!!
Paul
April 18, 2020 at 01:34 pm
I played it for awhile but quit because I would yo-yo from Division 3 to Div. 2 and back to 3. Never had enough money to buy good players. It was a good game to play but my number one complaint was too many bot teams.
Mathieu
September 09, 2019 at 12:01 pm
Down since several hours :/
Nuno Miranda
January 22, 2019 at 03:27 pm
Melhor jogo de estratégia de futebol, jogo à vários anos sem me cansar, ainda não consegui estar na primeira divisão, mas lá chegarei
SANDORA
July 03, 2017 at 12:47 pm
NICE
Ritchie Chitvun Sumbhoolaul
March 09, 2017 at 06:31 pm
Great game ! Well structured ! Contains League cup, Champions league and Euro League only for TOP teams fo shure!
Electrohippy
November 12, 2015 at 08:59 pm
Great game. Good development team who keep players updated with info. Fascinating gameplay. One to play for the long-haul.
Nemesis
November 12, 2015 at 12:42 pm
the best online football manager game i ever played
Pessoa9
November 11, 2015 at 09:17 pm
Keep calm and love Manager League!
Ban Nowler
November 05, 2015 at 03:30 am
Is fast with season is done within the month, and you can train your players to make them improve twice a day. And it's challenging. Immediate success is not possible, everybody has a chance to be the best.
Nowler
November 04, 2015 at 02:23 am
Pretty good game and is not as time consuming as many other games today.
Take a little bit of time to get used to, but once you understand the basics, it's great!
Good forums also, so plenty of banter!
Del Boy
November 02, 2015 at 09:34 pm
Great game. Very addictive and there are no cheats or easy paths to success! 2 years and counting!!
Nafta
November 01, 2015 at 10:24 pm
Great Game! Obsessing and interesting. Various approaches could be followed for a team development! Also the game is supported by several analysis tools. A mania for those who like stats!
JCogs
November 01, 2015 at 07:07 pm
Great because of its flexibility. Other sim games have "a way" to win, but you can train your players and combine that with a unique strategy to compete any way you want. You compete in your nation's league, but if you make your way to the top you get to compete in a Champions league style competition, fantasticly simple yet challenging. Great game.
Flirtybee
September 26, 2015 at 04:08 am
Simple to start, complexity that grows as you do. Fabulous game, the best manager sim out there
YV
September 25, 2015 at 08:52 pm
Great game ! Well structured ! Contains League cup, Champions league and Euro League only for TOP teams fo shure!