ManagerLeague
ManagerLeague is a text-based football management game. Create your team, train team members and work hard to reach the top. Having the right staff has a great impact on the entire team so try to hire the best coach, scout, caretaker and physio. You can search for staff members according to their quality. There's a possibility to reconsider the tactics and manage responsibilities of each player. The game has a mobile site which is user friendly so start scoring goals.





(182 votes, average: 4.51 out of 5)
Rate it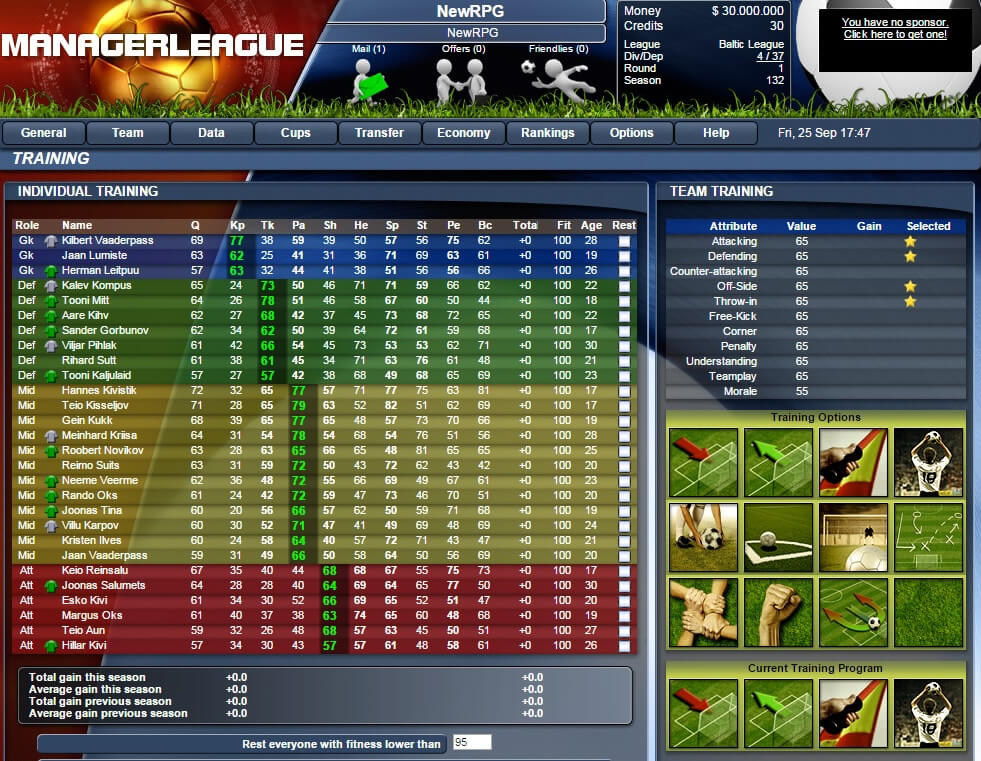 16

comments on

"ManagerLeague"
EL Marlin ROjo
August 14, 2020 at 03:13 am
Excelente juego, estructurado divertido y muy completo, mucho que hacer para no aburrirse, felicidades!!!!
Paul
April 18, 2020 at 01:34 pm
I played it for awhile but quit because I would yo-yo from Division 3 to Div. 2 and back to 3. Never had enough money to buy good players. It was a good game to play but my number one complaint was too many bot teams.
Mathieu
September 09, 2019 at 12:01 pm
Down since several hours :/
Nuno Miranda
January 22, 2019 at 03:27 pm
Melhor jogo de estratégia de futebol, jogo à vários anos sem me cansar, ainda não consegui estar na primeira divisão, mas lá chegarei
SANDORA
July 03, 2017 at 12:47 pm
NICE
Ritchie Chitvun Sumbhoolaul
March 09, 2017 at 06:31 pm
Great game ! Well structured ! Contains League cup, Champions league and Euro League only for TOP teams fo shure!
Electrohippy
November 12, 2015 at 08:59 pm
Great game. Good development team who keep players updated with info. Fascinating gameplay. One to play for the long-haul.
Nemesis
November 12, 2015 at 12:42 pm
the best online football manager game i ever played
Pessoa9
November 11, 2015 at 09:17 pm
Keep calm and love Manager League!
Ban Nowler
November 05, 2015 at 03:30 am
Is fast with season is done within the month, and you can train your players to make them improve twice a day. And it's challenging. Immediate success is not possible, everybody has a chance to be the best.
Nowler
November 04, 2015 at 02:23 am
Pretty good game and is not as time consuming as many other games today.
Take a little bit of time to get used to, but once you understand the basics, it's great!
Good forums also, so plenty of banter!
Del Boy
November 02, 2015 at 09:34 pm
Great game. Very addictive and there are no cheats or easy paths to success! 2 years and counting!!
Nafta
November 01, 2015 at 10:24 pm
Great Game! Obsessing and interesting. Various approaches could be followed for a team development! Also the game is supported by several analysis tools. A mania for those who like stats!
JCogs
November 01, 2015 at 07:07 pm
Great because of its flexibility. Other sim games have "a way" to win, but you can train your players and combine that with a unique strategy to compete any way you want. You compete in your nation's league, but if you make your way to the top you get to compete in a Champions league style competition, fantasticly simple yet challenging. Great game.
Flirtybee
September 26, 2015 at 04:08 am
Simple to start, complexity that grows as you do. Fabulous game, the best manager sim out there
YV
September 25, 2015 at 08:52 pm
Great game ! Well structured ! Contains League cup, Champions league and Euro League only for TOP teams fo shure!