MeanStreets (OFFLINE)
MeanStreets is a text-based browser game where you can become a mobster and rule the underworld. Start your career by working at McDonald's and work your way up to become a pilot. There are lots of crimes such as breaking into a car, robbing a wallet, stealing a lamborghini, running a lottery scam, selling herion, beating up a teenager, identity theft and much more. Train stats, buy a car, take educational courses, purchase a house and search the city to find cash and earn points. You can also visit the weapons store, buy points, play roulette, travel to other areas and do missions.





(15 votes, average: 4.2 out of 5)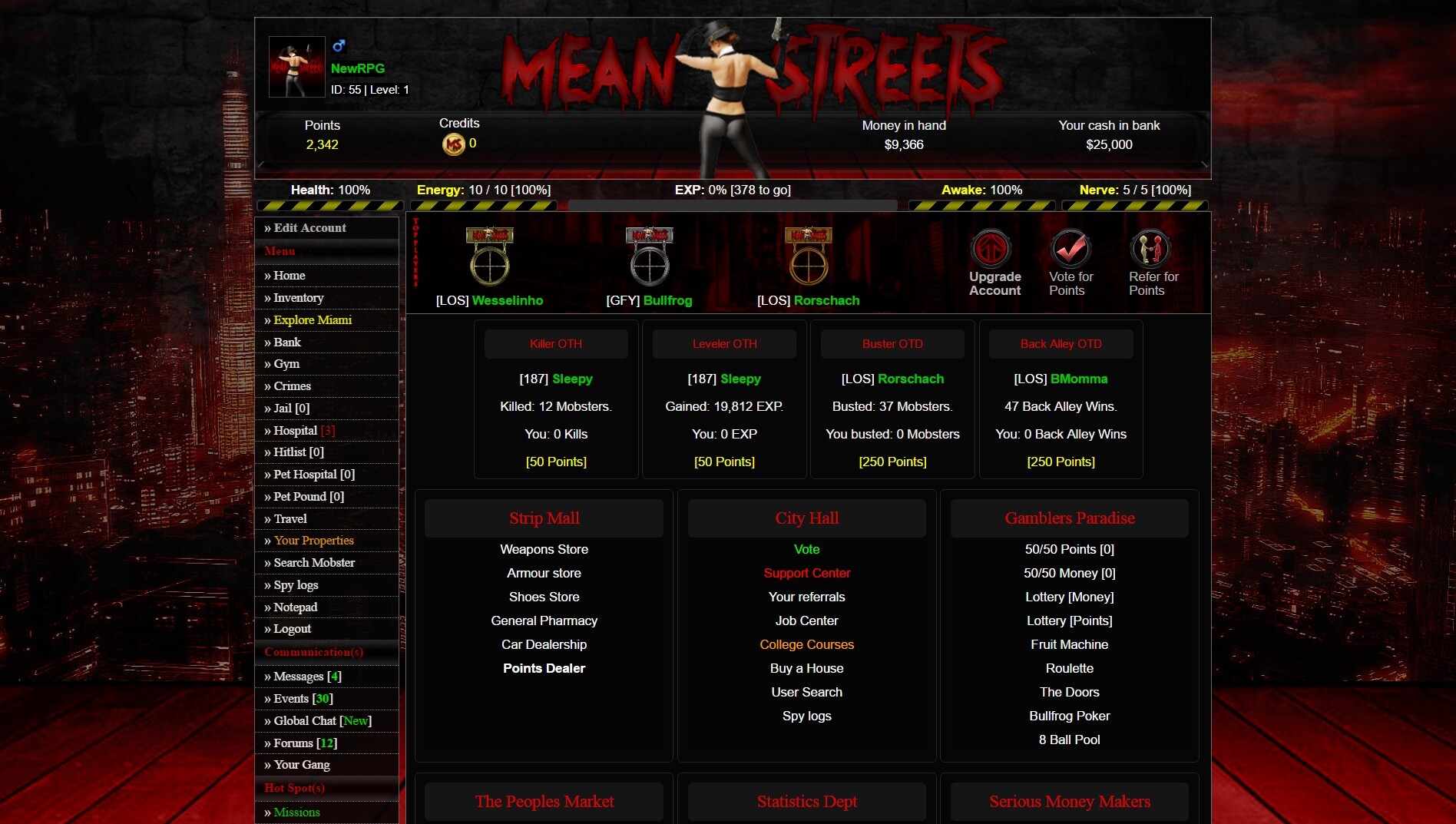 11

comments on

"MeanStreets"
Offline
December 15, 2021 at 08:27 am
OFFLINE for a while now too....
christopher bruner
November 30, 2021 at 11:47 pm
ok cant wait
Lu
May 30, 2017 at 10:36 am
Lots of friendly, active players.
A good game.
Graham
May 05, 2017 at 07:40 pm
You've got to play this game! It's the best Mafia-type game going!
Chronic
April 05, 2017 at 11:14 pm
Fantastic game, active player base with a bunch of features to make it enjoyable. I have been playing Mafia games for 12 years now and this is honestly the best one I've played.
M
February 21, 2017 at 09:15 am
Quite enjoyable
Wild
February 15, 2017 at 04:02 pm
Simply grow on you
Luke daveis
January 25, 2017 at 11:27 pm
poor game , trading on a name made years ago by a different owner.
Prec
November 16, 2016 at 12:16 am
Looks cool thanks for the invite
Wild
November 04, 2016 at 05:20 pm
Join this fabulous game
JessicaRabbit
November 03, 2016 at 06:12 am
Great game, super friendly players and staff. Everyone is pretty helpful if you're completely new. Come join in a active game.