Medieval Europe
Medieval Europe is medieval strategy role play game. Game is focused on Europe territory during Middle Ages. Mine, dig, chop and fish, raise cattle, buy land and grow crops. Earn money in market by buying and selling for profit. You can become a Vassal, a Monarch or even an Emperor. Medium playerbase with 9 different website languages. Design is below average and mobile support is flawed. The game does look promising and community is very friendly and will welcome all new users with open arms.





(153 votes, average: 3.59 out of 5)
Rate it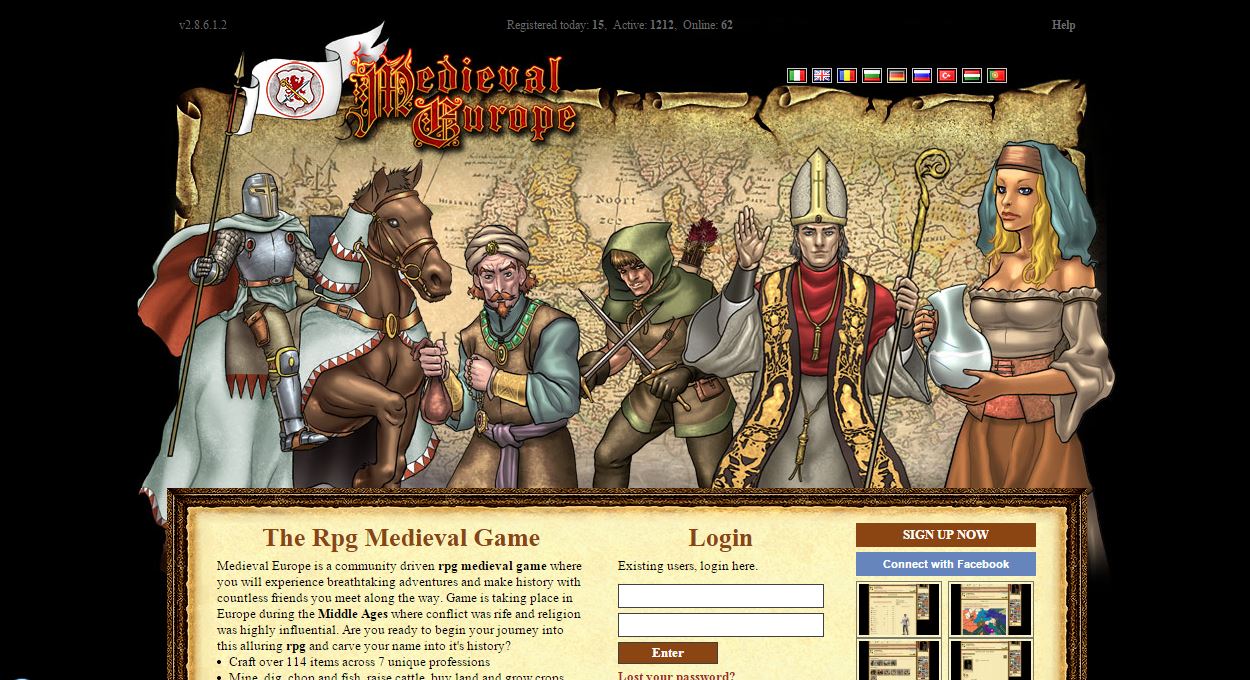 27

comments on

"Medieval Europe"
Mikey
September 07, 2021 at 10:38 pm
The rather not help you and not improving any of the game features, and not fix the bugs. He rather insult paying customers and make false promises.
Ken
September 06, 2021 at 02:11 am
The owners supports kingdoms extorting other kingdoms for purchased game money. I don't even care that he called a twat, when I pointed that out.
Whocares
December 12, 2018 at 05:43 pm
Absolute garbage of a game. Run by the Russian mafia and one or two families.
Designed to take money from the players in an endless loop of 'sponsored' suggestions.
Garbage! Stay away!
MEDIEVALEUROPESUCKS
January 07, 2018 at 03:14 am
Absolutely the WORST game online!!! Admin is based in Italy, but recently claims "New Ownership" by some jerk called DONUT LORD, as the former admin and creator of the game was supposedly threatened with his life by someone he banned. Doesn't surprise me if that is true, since they treat players like dirt UNLESS YOU ARE RUSSIAN in RL. They LOVE Russians and HATE Americans with a passion.

Stay away from this excursion into EVIL. The game is dying fast and they are raping all remaining players for as much money as possible before pulling the plug.
barbaramori
December 15, 2017 at 04:22 pm
this game is really nice! i start 4 month ago to play, and i love it!
now i play like warrior and i fight very well more time!
Canebau.
July 06, 2017 at 04:08 pm
Hi all!

The user "gattomiao" is one of the moderators of the game who tries to prevent the "reputation" of the game from falling into the mud thanx to his total incompetence as virtual community management.

Sign up in Renaissance Kingdoms. a billion times better: more prepared players, more affinity with the Renaissance period, more players, better graphics, much higher rpg level, much more tolerable management, there is no "more pay-more win" formula. This is enough to make it a much better game than Medieval Europe that has always been and will remain a bad copy.
Sakura
July 06, 2017 at 03:49 pm
The worst game ever. As someone have already mentioned below, Medieval Europe is an awful copy of other more successful games that suffers from management incompetence and finds its biggest limit in it. I have played at a myriad of RPG games, but I have never seen a platform where, support a concept that disagrees from the standpoint of the administrators, constitute a crime punishable with the eternal ban from the platform. Are you kidding me?! No way! Here this happened, again and again. A few months ago, the greatest player in Medieval Europe, who has the merit of keeping the game active by providing valuable ideas to the directors was banned for life . Although half-platform publicly complained (on the forum), administrators, as in the best dictatorial regimes, censored all the demands that they wanted for clarity, because they didn't want uncomfortable truth to emerge. Who knows, maybe we will open a blog to divulge the truth by avoiding being censored.

I don't recommend this game in the most absolute way, because there is nothing fun or addictive. The best players leave the game 'cause they have been bored or worse, have been banned, so now remain nothing but a scattered group of low-level players. The game survives because administrators try to keep it alive as long as possible hoping to earn as much as possible by putting everything buyable with dobloons (real money spendable in a sort of item shop), basically, the one who pays more, wins.
Sven
July 06, 2017 at 03:32 pm
I played this sh***y game for around 4 years and I can say for sure that it's no longer a game, but an alternative way for administrators to round up their salary. In fact, the real platform problem is how it's handled. Don't take the lies that are written here below. Everybody knows very well (it's written in a lot of reviews here and in other site) that administrators don't like ideas that are in conflict with theirs. For this reason, behind an apparent veil of democracy is hidden the fiercest of dictatorial methods. Administrators try to censor the truth repeatedly (by deleting reviews from various sites, closing internet pages so that the truth is never disclosed and they can save their a*s) so they will not be exposed, but I'll tell you a couple of things:
- They stole the ideas of other players to push ahead the game, because without them, they wouldn't be able to develop good ideas,
- They used to ban (even forever) anyone who has only the courage to support concepts that are contrary to their policy,
- This is the only game where the directors directly influence the game's continuation, undermining the equilibrium of the game itself.

Now, do you like to lose time and money (yes, why pay you here to win) for a game where your labors could be erased if the amministrators got up with the wrong foot?!

There are many other games managed by better people.
LorenzodeMedici
July 03, 2017 at 12:41 pm
I play this game for 3 years, and is a great game! You can become King or warrior or priest or more other choise! You can play in full freedom and I find that the administrators are very helpful and do not allow cheats, which is very appreciated!
gattomiao
July 03, 2017 at 12:33 pm
Hi, i am on old player of this game and really I don't understand these last comments. Maybe the review is from the banned player?

Admins of ME are listening to the community and they change things based on their input (whenever possible). For example, this is one of the community survey: http://blog.medieval-europe.eu/2014/12/06/2014-2nd-preferred-suggestions-survey/

Not every time i agreed with admin decisions but overall they seems fair. I don't understand also the equation "I pay therefore i can decide how the game is developed" ???
Daff
April 02, 2017 at 01:41 am
Don't mind the haters, they are the ones getting beat up so they spread the hate. Been playing for 3 years now I think and will play until it shuts down, which I hope is never.
Jilly
April 01, 2017 at 06:56 pm
This game used to be fun. However, the devs have made it so tedious over the last couple of years that there is barely any fun left to be had. Also, the devs is so heavy handed, and is on such a power trip, there is literally a user banned every two days. For example, you can be banned for saying ANYTHING negative about the game or the devs. Used to like this game, now it's intolerable.
Andrew
April 01, 2017 at 05:19 pm
Stay away from this game if you are looking for a RPG. Medieval Europe is a bad copy of the most famous RENAISSANCE KINGDOMS. In addition, the Admins are the real reason that should keep you away from this game: arbitrary punishment, censorship, banning, humiliation agains all users and more. As it was not enough, to survive you have to PAY and this is what interests to Admins: to earn as much as possible with a mediocre product.

This isn't a game created by fans aimed to fans of RPG'S, but a game created by those who tried to rip off an idea already developed (better) from other company.

Rejected.
Alexios Doukas
December 11, 2014 at 06:26 pm
Great Rp game. Anyone that likes DnD will love it.
Giovanni di Baldino Suardo
December 11, 2014 at 07:45 am
ME is an amazing game, I'm one of the oldest players since I started about 4 years ago. I saw it improving and I'm sure it will become even better in the future. Admins do a great work, they're present and open to new ideas and suggestions from the players. The community is very kind and helpful, I met a lot of nice people among the years. This game is definitely a part of my life, I absoluely recommend it, it's worth trying!
Attila Hun
December 10, 2014 at 09:37 pm
It is realy good game. If you want to play trust game, you can play the game. I started about 3 years ago and I met a lot of good humans. Now, my family is a bit big with the medieval-europe game.
Ugus-Cherkes Da Karabay
December 10, 2014 at 08:45 pm
Nice game with great opportunities and fun!
James Britcliffe
December 10, 2014 at 08:42 pm
5 Stars for sure... Less of a game and more of a simulation of medieval life in real time (one day = one day). It's a great place to role-play with a very dedicated staff who are constantly improving the game based on player input. People who like to role-play will certainly excel and advance much quicker (if advancement is your thing) so though it's not mandatory it is fairly important!
chris
December 10, 2014 at 06:02 pm
It's running the 3rd year of this ''addiction'' called medieval for me.bring your friends.Make your city or uprise in ranks in a great city like Konstantinoupolis, London or Urbino.Create a civilization or remove one from the map by building an army.these... and many more choices
William Lambert
December 10, 2014 at 05:41 pm
Good RPG. I'm playing it for over a year. No NPC, no quests, no farm, even no exp. But beware - the permanent death took our king.
Game more about talking and communicate, than other stuff, so it's good for learning languages.
Leseyk Hydros
December 10, 2014 at 04:26 pm
Aside from a rather long tutorial, this is the best moderate speed RPG I've found on the web. Many of them speed up gameplay, so you can only be competitive if you play for 6 hours a day and live in your mom's basement. With Medieval Europe's realistic game speed, you can keep your character just as busy as you are in real life, without playing for more than 15 minutes a day!

The user base is fantastic, too. I started playing a little over a month ago, and I've yet to meet anyone who is anything but helpful! You figure there'll be some internet trolls in every game, but honestly I have yet to meet any in ME.

The technical support are pretty quick on the draw as well. Whenever I have a problem with the game, they get back to me fairly quickly, usually within an hour. They are always friendly and helpful, and everything has always been addressed promptly and professionally.

I would recommend that everyone try this game at least once, since anyone can easily fit this game into your schedule. At the very least, it's worth a try!
DamionE
December 10, 2014 at 03:55 pm
Medieval Europe is a nice game for those who like to see their work pay off. It takes a little patience but there are many helpful players who would drop everything to lend a helping hand to new players. The game is really worth trying as it is really enjoyable and is and is pure player based, there is little or no NPCs in the game.
ScotlandMEPlayer
December 10, 2014 at 02:13 pm
Medieval Europe's first player began on September 4, 2010. I joined in November, 2013. Players want to help the game improve. And they tend to put their players where they live in real life, except for players like me who in real life live outside of Europe and areas bordering Europe.
You play a game where a core of deeply loyal three year players welcome new players. Many players want to help the game improve from the starting design. You are welcomed. There are over 40 kingdoms. Expect players to ask you to move to their kingdom to help it prosper. I use a translation program when necessary to translate messages I receive or send to talk to some players, although nearly all write in English. It is fun to talk to so many players from foreign countries who typically base in or near their nation's medieval counterpart.
This is your chance to enter a game before it draws thousands of players. It is designed to expand. The map includes areas which have not be turned into kingdoms yet. The resource system is designed to easily add more resources when necessary. The kingdom design has no limits – they can add hundreds of players to a kingdom and it will handle them.
And one very important point: this game is designed for speed. You click enter and enter. No wait while it loads up. No stalling since too many players are on the server. You click enter and enter, and make your move and leave if you want. It is designed to be played rapidly. Or you can talk to players through messages or in the Forum. The Forum is where you can make suggestions to improve the Game, or ask for help beyond the normal help archives or support ticket system.
Do you want to join a game which is still developing, where you are not just welcomed but likely begged to move to one of the kingdoms, where multiple nobility positions are waiting to be filled, where you talk to people from all over the world with most able to write in English, and which is incredibly fast to access and play? Join.
If you join and don't feed yourself, you will starve and die. Players who stop playing except by using the Meditation mode (put in for those who cannot play since they are vacationing in real life, etc.) die. They don't cloud the Game with their character and their character's possessions. They die and are removed. The only players you encounter are those playing or those who stopped but are headed toward removal from the Game.
Dusan Nemanjic
December 10, 2014 at 01:51 pm
This is great game for all people who would like to live through medieval age , and for all people who want to have fun ;) This game is great and fun for playing, there are players from all over the world.
Anyone who is looking to play online RPG medieval time game will love this one... And those who do not look out for this kind of game , I still reccomend them to try this one, but may they be aware if they try this out they might stay on this game much longer than they intended to. ;)
AlbrechtHoHe
December 10, 2014 at 12:17 pm
Great game for all that have a pleasure to live an experince in the medieval age. Join the Kingdom of Prussia! I wait you :)
Benoit
December 10, 2014 at 12:15 pm
All RPG at your own speed. Be patient to growth and make steps to discover the game. Key factor communication and playing your role.
Meffistoe
December 10, 2014 at 10:57 am
This is a great game for all you pure RPG fans out there, who look for an easy going web game to play which is not a farmville cookie cutter game.
All the content is player based. No NPC kings or quest givers. You control your own destiny !