Minethings (OFFLINE)
Minethings is a strategy based online game. Real time valuable collecting throughout the day even during logged out session. Feel free to trade with other players locally or even in foreign cities. Let the bot work for you, check what you have gathered and increase your profits. There are also 12 professions, each a little different. Create your own collection of high valued items and keep on mining!





(24 votes, average: 4.54 out of 5)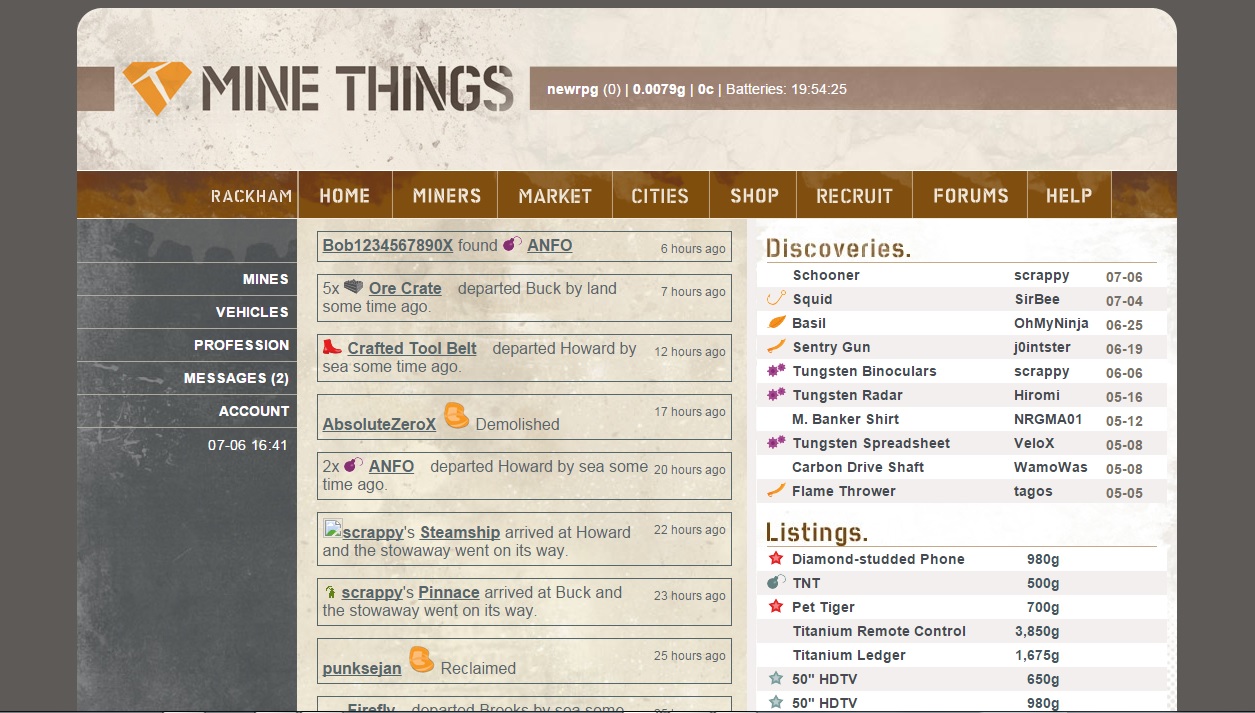 6

comments on

"Minethings"
Amber
December 18, 2017 at 02:45 am
I,be gets got this game
RareAF
September 06, 2017 at 06:59 am
Amazing game! I start playing it 2 days ago and just love it. ♥ Is interesting, challenging, community is frendly and helpful. There are always something to do. You can choose a profession: trader, merchant, worker, guard, bounty hunter, highwayman, pirate, fisherman, pilot, manufacturer or banker. You can mine mines, detonate them with gadgets, ride vehicles, float with ships and fly with aircrafts. You can go to different cities, buy and sell with other players, make battles with them and chat with friends in chat. Come and try it, you will not regret. :)
Sauce
September 24, 2015 at 07:16 pm
I have been playing for about 2.5yrs and what I love most about it is that if you get board with one profession you can take on a different challenge but it wont be something you can just jump into. if found it to be very well put together and like bob said the community is really what help makes this an awesome game
GoddessVanessa
July 08, 2015 at 12:07 pm
It's slow going at the start but there's so much to do and so many people to interact with that you'll get addicted and never want to stop checking in. I have been playing for years and have no plans on stopping.
scottlarock
July 07, 2015 at 08:36 am
For me, on many levels, it's one of the most immersive and compulsive games I've ever played.................curiously addictive (I played Eve for ten years....Minethings is more important).
Bob1234567890X
July 07, 2015 at 12:08 am
I've been playing since 2009 and, while the game is slow to start, the community makes sticking around worthwhile.