MMA Tycoon
MMA Tycoon is a free RPG about making a fighting career. You will be a manager and you must create your fighters. Take a look at fight offers to make sure not to miss booked fights. Get yourself sponsors, make great contracts and keep an eye on your financial situation. Visit Highstreet to join various gyms or gamble and win money with Spin and Win game. You can also become a VIP-member or purchase various clothes such as T-shirts, shorts etc. Train in the gym, make history and reach top rankings.





(35 votes, average: 3.77 out of 5)
Rate it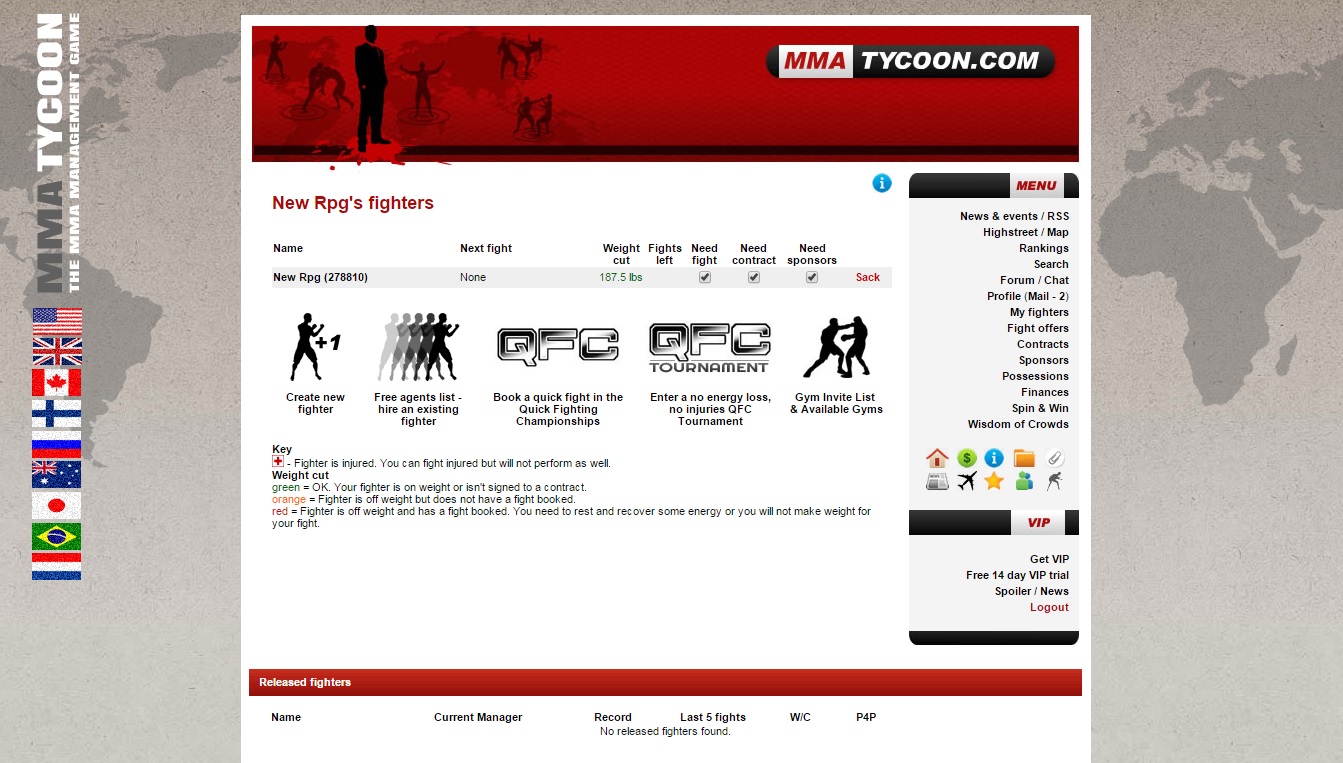 8

comments on

"MMA Tycoon"
UniConor
August 09, 2015 at 11:27 am
Pros:
Best MMA simulator
Real time game, you can't binge 10 hours of play time and never play again - When you play, you keep playing until you rage quit because you lose, you're in a coma or you die.
Lots of nice guys and like 3 girls, willing to help you out
Bjorn might do a profile month or something for you and stroke dat ego
Lots of social groups like skype and steam to enhance your time in the game
Mike, the owner is dedicated to keep making this game better.

Cons:
Addicting
Will make you cry if you lose
Legion of Doom
StPierre commenting on everything on the forums with shit
Some adults acting like little girls

10/10 would get negged for sarcastically replying to StPierre again
madbob
August 07, 2015 at 12:05 pm
Best MMA Browser Game out there. Highly addictive. Try it, love it, stay.
Giorgistpoop
August 07, 2015 at 10:00 am
Very addictive management game. Probably the best website game I've ever played in my life. MMA fans must join it and enjoy the gameplay!
humors
August 07, 2015 at 01:43 am
Game is good but Mike doesnt allow me to play :(
Mike Melton
August 06, 2015 at 11:19 pm
I absolutely love the game. Great and friendly community. Please try it!
Bradley Burns
August 05, 2015 at 08:06 pm
Been an active member since mid 2009 when the game started, and I haven't stopped playing it since. It is the most realistic, addicting, amazing game out there and you can do unlimited things within the game.

Need any advice, send me a message mmatycoon.com/index.php?Ref=1540

Lots of great managers in MMATycoon to mentor you.
Mark O'Sullivan
August 05, 2015 at 06:59 pm
MMA Tycoon is probably the most realistic simulation you'll get of a real life MMA world where there's organisations big and small, gyms, nutrition companies, clothing companies, bookies at every single city within the game. Keep an eye on the P4P list as you'll see some of the biggest MMA Tycoon stars on that list, these fighters can easily be compared to the likes of Conor McGregor, Anderson Silva, Jon Jones and Fedor Emelianenko.

MMA Tycoon can seem extremely daunting the first time you delve into the game. Fortunately for new players there's plenty of guides available and there's a very active community within the MMA Tycoon forum and the MMA Tycoon chat should you ever get stuck and require guidance.

What you waiting for? Head over to MMA Tycoon and sign up. Who knows you might end up having your fighter fight one of my guys.
Lance Templeton
August 05, 2015 at 06:41 pm
Best game on the internet. Period.