MMArmy
MMArmy is a free strategy browser game about team fighting. First you must recruit a fighter so take a look at their skills and make your decision. Overall you can have five fighters in your team. Sparring is the right place to learn new skills and train technique. For example you can train boxing, judo, sambo, reflex, power, flexibility etc. Shop for clothes such as shorts, singlets, long tights, jackets, belts and more. If you want to start fighting you have to sign a contract with an organization first.





(62 votes, average: 4.5 out of 5)
Rate it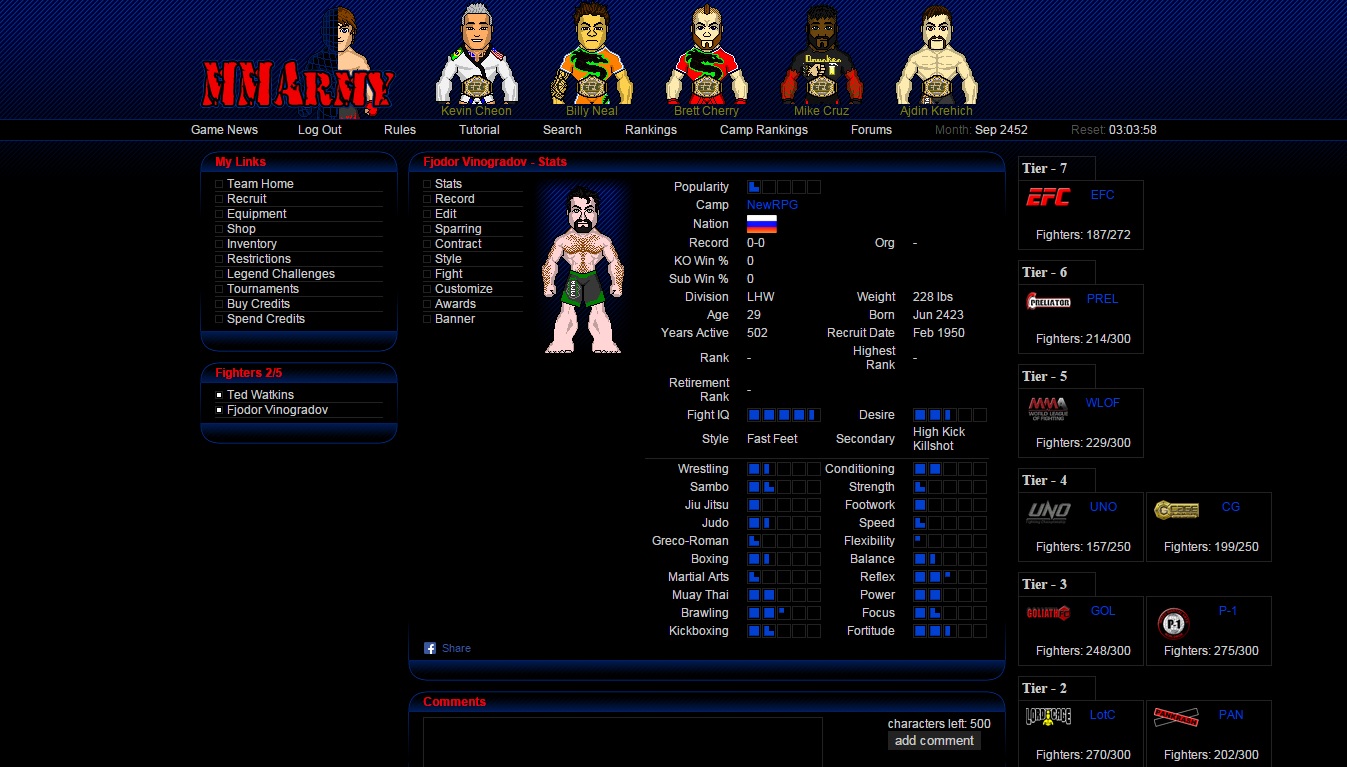 34

comments on

"MMArmy"
scrappy
June 19, 2021 at 04:36 pm
Highly addictive, tons of info on the forums to help you get started. I love training my fighters and seeing them improve. Cant recommend it enough.
Sarang
August 03, 2016 at 03:03 am
It's a very addicting game, I've played it on and off for years. game keeps improving. even people who not in your Alliance will help you if you need some advice most of the time. Chief is always around to help if you need him, and he help Improve this game a lot.
New styles are coming so if you haven't played this game yet now is the best time.
:)
GoodkidCC
July 30, 2016 at 04:45 pm
I'm still trying to figure out why I was banned, but can't get an answer from the owner. I logged into the forum one day only to find out I was banned, and I can't think of anything that I had done to be considered ban-worthy.
King Hector
July 30, 2016 at 01:16 pm
MMArmy is the most strategic and detailed MMA game of its genre. If you like to be challenged and are a fan of MMA it is worth a try. Just make sure to check out the forums to make the learning process much smoother, a lot of information to take in at first but many helpful threads around.
The Captain
July 28, 2016 at 04:30 am
This game is awesome. It's very addictive. It works if you just want to play a couple times a day on the can, or if you want to get real deep into it. The thing that makes this game worthwhile over comparative games is an active owner, who is constantly putting his time into the game and a (mostly) friendly community that is always willing to help. Come try it out and join the forums! Ask for some help in the Shout Box, and you will be overwhelmed with positive response.
Robo
July 25, 2016 at 01:25 am
Play MMArmy and come fight me. I'll change your bum life.
Outchea
December 27, 2017 at 05:37 am
you won't do nuthin Robo
Hector68
July 24, 2016 at 03:27 am
This game f*cking blows and i hate all those mothef*ckers there.
BOBERT
January 14, 2016 at 05:26 pm
This online game is pretty amazing just as you read from the other comments. its definitely not a fast pace game, it does take time. When you get on the forum you will be welcomed to a community that will help you with the game and give you a basic understanding on what your actually doing. I've been playing since the beginning of 2015 and its been pretty amazing. I highly recommend this game to all that like strategy fighting games.

Give it a shot.
Andymac86
October 08, 2015 at 12:52 pm
I would tell you to look us up but eventually your going to face the Oil Checkers and you'll have plenty of time to look up at us from you back on the canvas!

BEST GAME EVER!
Blindado
October 08, 2015 at 12:42 pm
This game is in new hands and gets new content weekly, you ever wanted to see how good you would be as a manager now is your chance! The community is awesome and although this isn't a 36 hour content game where you can win in a short period of time, if you join the forums and an alliance you will get plenty of guidance to victory.
Tyrion
September 27, 2015 at 09:23 pm
Fun game but shit community and even worse game owner.
The owner of the game was a player before, so his group of friends in the game get special treatment like how to build, they can cherry pick opponents or verbally abuse, even the game owner will verbally abuse you and you can either chose to be a suck up or you will be banned sooner or later.

My advice is not to start playing this game since it take a lot of time and you are not free to play however you want.
Emma
October 08, 2015 at 01:08 pm
Fun game you can spend a minute or the entire day on!
JeyJey
August 13, 2015 at 11:46 am
super bon jeu de stratégie basé sur le MMA.Trés addictif, tu y dois construire ton propre camps de MMA et former des futurs champion, jusqu' à gagner le titre suprême de l' EFC.Une trés grande varièté de styles, techniques, équipements rendent ce jeu unique et sans fin ...le forum associé est trés sympa, et trés renseigné en aide, conseils.
Team Werewolf
August 11, 2015 at 01:33 am
I have been playing this game off and on since 2008, yes you read that correctly. However, since the game was bought by a new guy, he has really done a great job of consistently adding new content to the game. The nice part is that even if you're fairly new, once you build up your camp, guys like me that have been playing forever don't have some unfair advantage. You can't spend money to become super good or anything like that. It takes good strategy to be at the top and that's why this game is a winner!
Ironhead
August 06, 2015 at 01:42 am
Honesty the best RPG I've ever played. Whether it's at home or work you can do tons in a few minutes or hours, it's up to you how deeply involved you get. Chief is phenomenal in the great improvements he's made and it's only getting better. Do yourself a favor and start a camp now. Even if you're not an mma fan you'll love mmarmy.
Tonester
August 05, 2015 at 06:43 pm
Ever wanted to recreated some of your favorite fighter's looks or even your favorite wrestler's looks? This game allows you many different customizable looks and outfits to bring any character you want to life in the game. Also with 28 different fighting styles and 20 different stats you can make any kind of fighter you've always enjoyed seen fight or train. With an owner that is constantly updating the game and hosting events for the community you can not ask for someone better in his place. Fun game with an easy basic to learn at first but with more information to learn and master later on. Make sure to sign up for the forums for tips and chance to partake in events for fun or reward.
Matty
August 05, 2015 at 05:41 pm
Great addictive game, it's a marathon tho, not a sprint, been playing for 5+ years and still loving it! Very active owner constantly updating the game and very open to suggestions to improve the game! Also a great community on the forums, open and friendly. Highly recommended for any MMA or strategy gaming fan!
FistK
August 05, 2015 at 03:15 pm
Highly addictive, fun game with hands on owner consistently updating new features.

5 stars all the way!
the godfather
August 05, 2015 at 12:50 pm
Mmarmy is literally the only online game I've ever played for more than a week, it's the only forum I ever attend or post on. I am not a computer game person by any means but this game has kept me coming back since 2008. Coming from a background as jiu jitsu competitor and coach, this game is great for my downtime and keeps my mind in the competitive world while not having to sweat one drop. Highly recommended for fans of strategy or mma, this will have you hooked.
drink
August 05, 2015 at 07:40 am
Great game. Awesome community on the forums. Lots of new content being added regularly. Give it a try! Warning: Highly Addictive!
BlackSanta
August 05, 2015 at 03:03 am
Highly addictive. I have been playing for over 5 years. If you are a fan of strategy and MMA you'll like this game. It takes time. Be patient. Its a lot of fun
ATTBoxer
August 04, 2015 at 11:30 pm
Been playing this game since 2011. Very easy to get the basics down, but fairly deep once you get further in the game and up the rankings. Good community of people and the owner is normally available to help and interacts with the players regularly. Definitely a fun game
Fedor_A_Million_Ankles
August 04, 2015 at 11:21 pm
Alright game, but I prefer MMATycoon.com . Much better IMO.
hinch
August 04, 2015 at 08:25 pm
Addictive game that can be a quick lunchtime distraction or be ramped up to a strategic MMA game dependant purely on how much you want to put in. Behind it all is a great player community with alliance and camp tournaments/events to always give you something to focus on and enjoy.

Give it a try and soon you'll be trying to mainline it into your bloodstream.
Spartan_Systems
August 04, 2015 at 08:06 pm
High quality of game substance over style, don't be fooled by the lack of fancy graphics this game has depth and will keep you hooked. Like the tag says it's a game for months not hours. Invest some time in it if you love combat sports, it'll be worth it.
Sankeyboi
August 04, 2015 at 07:14 pm
It's a GG
ippo4ever
August 04, 2015 at 07:07 pm
If you're looking for a complex game that can consume countless hours of your time, MMArmy is for you. The game itself is deep and complex, with countless styles that are supposed to be paired with numerous stats. The community is friendly to newcomers, diverse with players form all over the world, and active with special events being held constantly. Finally, the owner, ChiefBD, is hands-on, constantly on the forums, hosting events for perks, updating the game frequently, and working for a better version of the game at all times. Guaranteed to ruin a few personal relationships as well as burn through your smart phone's battery life.
Foul
August 04, 2015 at 07:07 pm
This game is virtual crack.
mr.judo
August 04, 2015 at 07:02 pm
The best game ever and I was the best coach ever. Just don't get the owner (chiefbd) upset of he'll ban you. We were friends until he became owner and then got power hungry and banned me because I was too good.
caranogirl
August 27, 2015 at 04:37 pm
if you dont play their way they blacklist you from important title shots like they did to me cause i didnt play their way

also if chief the owner doesnt like you he bans you, he freely admits this and he also doesn't care about his fan base or making money he said, he just loves banning people and making their lives torture on his game
Ryzomac
August 04, 2015 at 06:56 pm
Been playing slightly over a year now, highly recommended for fans of mma who want to play the role of a team coach. Very inviting community on the forums and an in depth but not complicated game that will have you hooked quickly
BFC MMA
August 04, 2015 at 06:47 pm
Best MMA sim on the net! frequent updates, active players, great owner, forum full of awesome people willing to give advice and lend helping hands. customizable camps and fighters from nicknames all the way down to fighting apparel and fighter looks. don't bother wasting your time on any other MMA sim out there. this is the real deal!
Spidey
August 04, 2015 at 06:01 pm
One of my favorite games to play.Create a camp,and recruit your fighters.Each fighter comes with a certain set of stats,Its your job the train them and build up your camp they way you choose.Tons of different style to choose from as well.are you tired of games that never last ,well MMArmy is different.The game never stops.This game has a great community as well,so dont forget to sign up in the forums.Its a great place to learn the secrets and share your experience within the game.Come join us,you wont regret it!
BBZ
August 04, 2015 at 05:58 pm
Deep text based MMA strategy game with a strong community of players and dedicated owner deploying regular game updates. Addicting gameplay with a lot of replay value. Highly recommended.
Carano Girl
August 04, 2015 at 05:04 pm
greatest free strategy browser game based on team fighting EVER!!!!
Migrant Workers
August 04, 2015 at 04:28 pm
This mma rpg has a wide variety of unique fighting styles. Trains fighting skills on personal athletic skills to create fighters with only your imagination as the limit. Fight against other players from around the world using customized camps from dozens of countries. Be sure to join the forums to get playing tips, join tournaments and keep up to date on the constant flow of new additions to your fighting experience. Excellent game that does require patience at first as you build up your camp. 9 out of 10. DBA