MobstarGame
MobstarGame is a free to play mafia-themed MMORPG and the most complete mafia game to date. With constant updates with new features, mobile support, community feedback and support calls. Here are some of the many key features:
Family
Join a family or start your own mafia family. You determine the future in the family with family positions. Drug mules, soldiers, constructors up till minister posts and council with different abilities within the game. We also have family properties including family owned bullet factories, warehouses and more that you can rank up for the benefit of your family.
Money making: Claiming a name for yourself is partly getting bullets and partly making some nice cash. In MobstarGame the ways to earn money are massive. Steal cars, do minor crimes, major crimes, produce illegal booze, produce resources for drugs, smuggle drugs, do a hitlist, wack cops, do organised crimes, do missions and much much more.
Financial markets: MobstarGame is a full thought out project with much going on. It also affects one another. Like the financial markets are game related. The more killing? The higher the stocks and much much more.
Casino's: We offer bullet factories for players to hold. We also have a government based bullet factory for stability. We offer Blackjack, roulette, dice game, brothels, underground banking, country drugs stores and much more to hold as a player.
What else? Unique ways to kill enemies, graveyard with gravediggers to rob the dead, kill frenzy with a 375,000,000 price pool per round, Street races with cars you can upgrade, full GIF support for your profile, unique skill set per player that makes the game different for every player, and player achievements.
Oh, and we have a hyperactive community and full on helpdesk on Discord. Join Discord (it's also FREEEE) here to be guided and boosted on your arrival.





(108 votes, average: 4.54 out of 5)
Rate it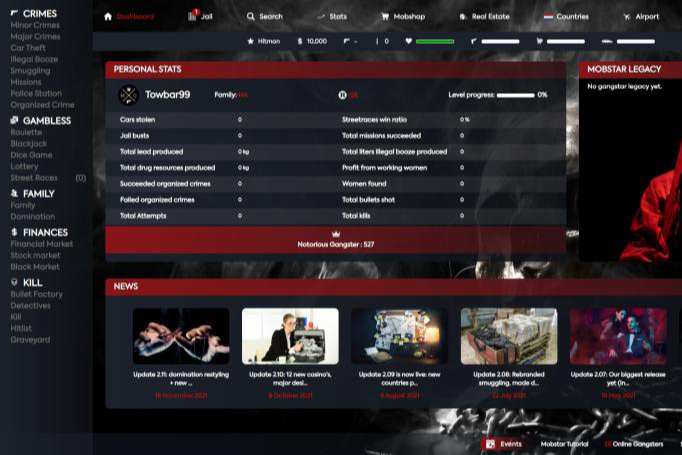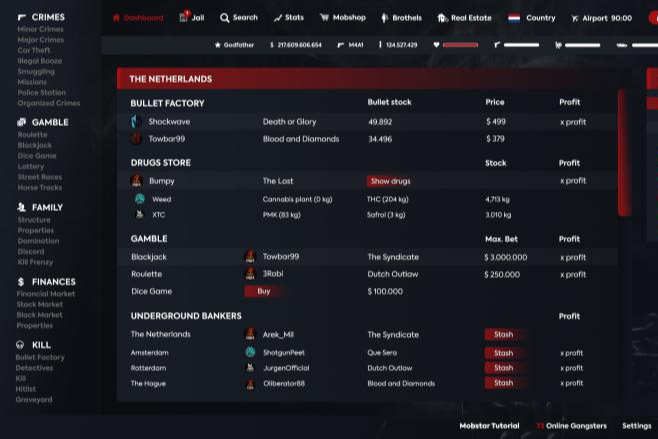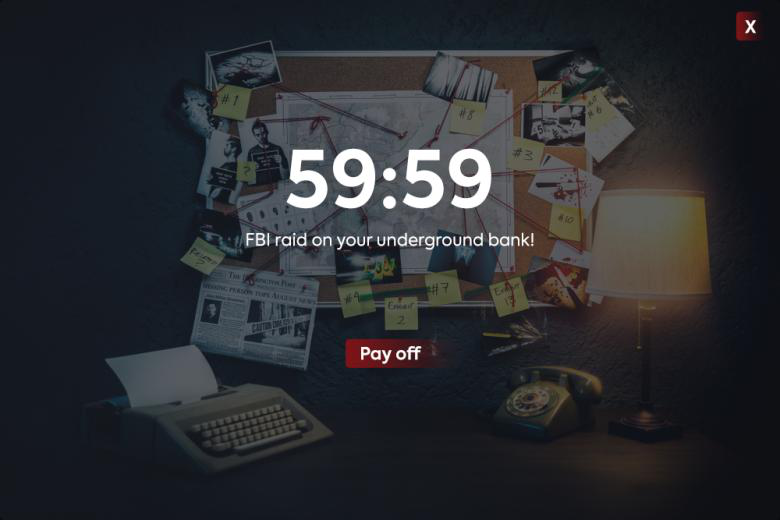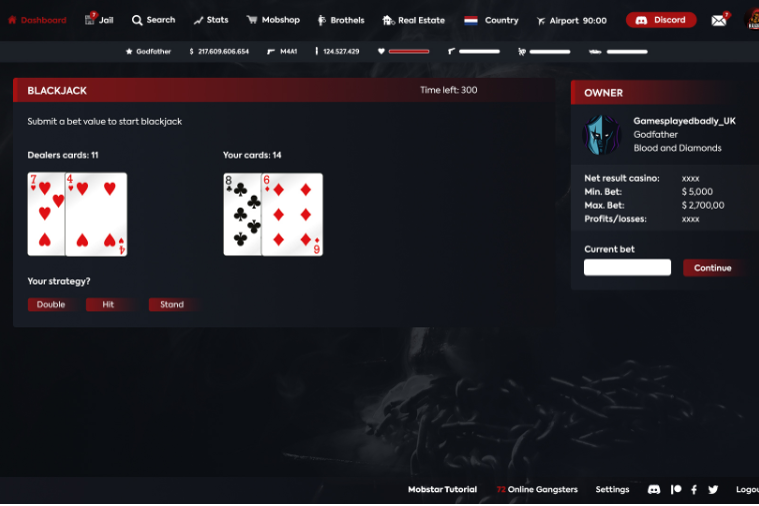 29

comments on

"MobstarGame"
Johnny Blaze
January 12, 2022 at 01:39 pm
Still awesome and lots of new features :)
Robert met de Gouden Handjes
January 04, 2022 at 08:30 pm
You have to take the time to fully understand this game, but its epic. This Mobstargame is so much better than the old Mobstar 2005 ( oke I'm old )
Hollywood Nicky
December 20, 2021 at 06:50 pm
Great game! Like old time then better!!
Don_Pojke
December 16, 2021 at 03:03 pm
Best Mobstar game out there on the market. Really friendly admins that are active, friendly people to play with! You should give it a try and i bet you will be hooked :)
Tukker_79
December 16, 2021 at 02:39 pm
Great game, good and active admins, keeps on developing
WhatAreYouWaitingFor
December 16, 2021 at 01:08 pm
Just start playing and try it out.
Been playing and will keep on playing with lots of pleasure.
Surrounded by active players, development and dope features.
Phresh
May 07, 2021 at 05:13 pm
The game itself is amazing.

And the community on it is even better. Everyone wants to help if needed.
Band of Brother
May 07, 2021 at 03:18 pm
Great game! Active Admins!
Give it a try!
PeePee
May 01, 2021 at 05:08 pm
This game is in active development, active Discord and pro active admin team in 2021.
Building the game and its features with the community.

I like it.
Hello world
October 11, 2017 at 12:03 am
YourMafia is better.
Joost
August 04, 2017 at 10:00 pm
Game has just been reset, you should really give it a try.
Peter
June 27, 2017 at 01:52 am
This game is awesome! The admins are active fixing bugs and adding additional stuff, definitely give it a try! People are very friendly overall.
Vivaldi
May 08, 2017 at 11:06 pm
What an awesome game I am hooked... and its free to play without a rank limit!!!
explorador
November 09, 2016 at 02:48 am
wow greeat game and design
Mous
September 03, 2016 at 06:46 pm
Love it!!! With the apps I can play a lot. Also frequent updates and nice updates!
R
August 01, 2016 at 01:32 pm
Great game, great admins and constant updates definitely one of the best of it's genre at the moment!
Xamax
July 29, 2016 at 11:36 am
This game has baffled me. Haven't seen this type of advanced strategy and teamplay in an online maffia game. Plus, not many Mobgames that have apps, great for ranking.
Dennis
June 30, 2016 at 08:36 pm
This Mobstargame is soooo much better. This is what we have been waiting for, the only app based mobstargame!
ItsBongo
June 29, 2016 at 03:17 pm
Just like you're used to 10 years ago but than even better!
Fred
June 29, 2016 at 02:05 pm
Great game! Great improvements, fantastic visuals and lots of fun when playing with friends!
zerowtjuh
June 29, 2016 at 01:35 pm
Get ready for pokerrrrrrr... xD Awesome game, works fine on mobile's aswell, and soon there will be a app :)
J. Bravo
June 29, 2016 at 10:50 am
Become a gangster. To start it's difficult, but once you are in a family and the hang of it yu can make some nice cash and have a lot of actions to work on through the entire game. Come join this cool mafia game.
Sebas
June 29, 2016 at 10:41 am
Really cool game. Absolutely love it. Best screens since many times!
Cleo
June 27, 2016 at 07:53 pm
Plain awesome. Nice updates, Drug muling etc. It's really a strategic game and I love it.
JJ
June 25, 2016 at 09:25 pm
Based on mobstar this Mobstargame is soooo much better and in development. Even an app will be soon available for continues play time anywhere anytime. This is it for me for upcoming years! This is what we have been waiting for, the only app based mobstargame!
Erwin Lemmers
June 29, 2016 at 01:24 pm
Very good
Johnny Blaze
June 22, 2016 at 12:54 pm
Been an addict on Mobstar for years but that game changed a lot for the worse,
but this game takes me back to when I loved playing it, really addictive once you get the hang of it.
Admins online a lot and really listens to their community.
Cuch0
June 22, 2016 at 11:33 am
It's amazingly addicting!
Boal
June 22, 2016 at 10:45 am
www.mobstargame.com is inspired on the original mafia .cc Mobstargame. But this version is in active development so expect new features and good support from the developers. Definitely the best text based browser RPG.
Butcher
June 17, 2016 at 09:43 pm
You have to take the time to fully understand this game, but its epic. The best textbased mafia game with apps. Like it a lot.

// The Butcher