MobstarGame
MobstarGame is a free mafia-themed MMORPG where you could become the godfather. Commit minor crimes like robbing an old lady or stealing a jacket. As you progress, you can unlock more difficult crimes. Accept a mission, complete the required tasks and win rewards. Add skill points to take more damage, create more resources, construct real estate faster, increase your power and much more. Apply for a crew, gamble in casino and earn achievements. Some features are only available for a paid account which can be purchased in the Mobshop. Explore the underworld and become the most respected gangster in MobstarGame.





(70 votes, average: 4.33 out of 5)
Rate it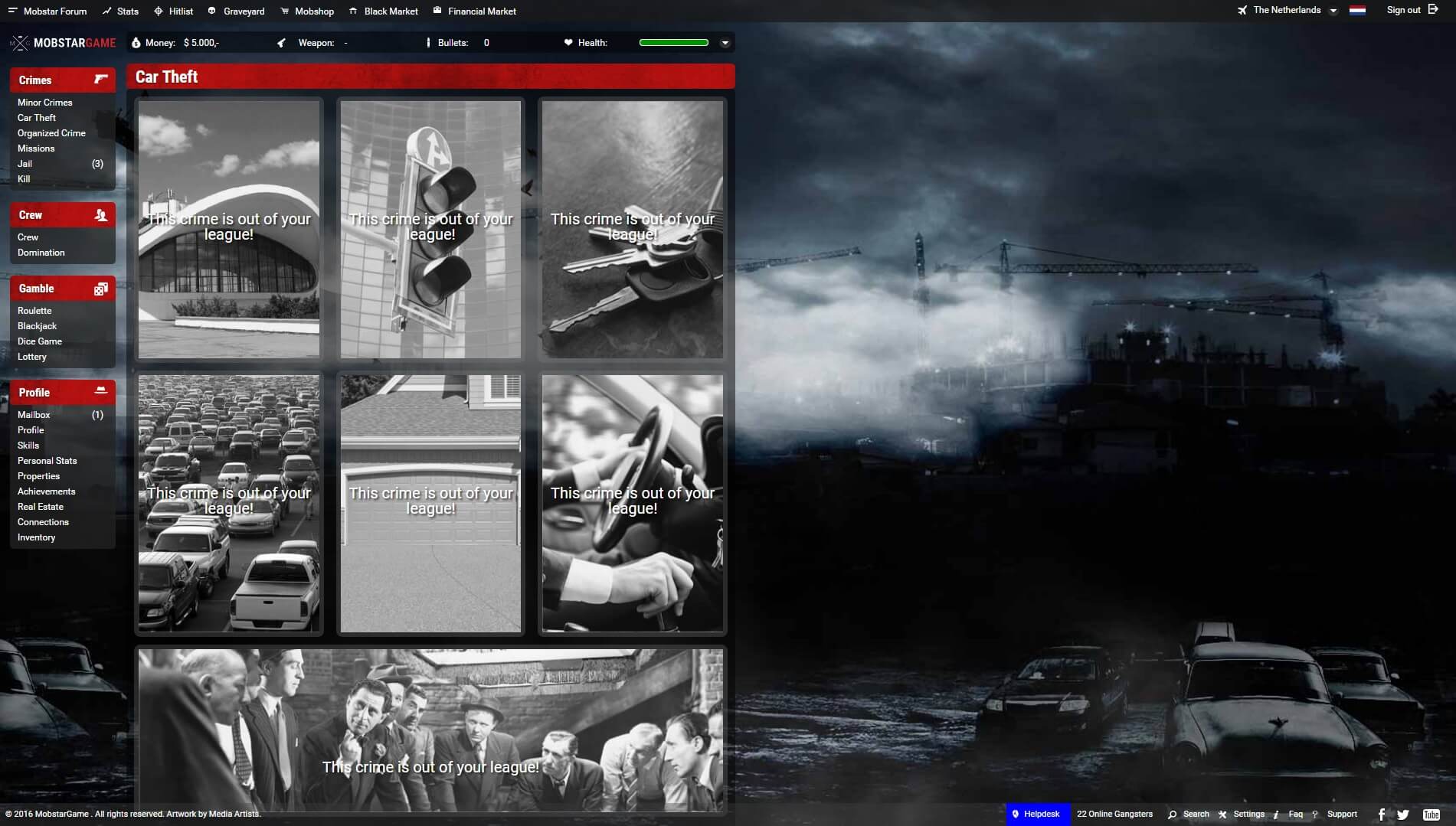 21

comments on

"MobstarGame"
PeePee
May 01, 2021 at 05:08 pm
This game is in active development, active Discord and pro active admin team in 2021.
Building the game and its features with the community.

I like it.
Hello world
October 11, 2017 at 12:03 am
YourMafia is better.
Joost
August 04, 2017 at 10:00 pm
Game has just been reset, you should really give it a try.
Peter
June 27, 2017 at 01:52 am
This game is awesome! The admins are active fixing bugs and adding additional stuff, definitely give it a try! People are very friendly overall.
Vivaldi
May 08, 2017 at 11:06 pm
What an awesome game I am hooked... and its free to play without a rank limit!!!
explorador
November 09, 2016 at 02:48 am
wow greeat game and design
Mous
September 03, 2016 at 06:46 pm
Love it!!! With the apps I can play a lot. Also frequent updates and nice updates!
R
August 01, 2016 at 01:32 pm
Great game, great admins and constant updates definitely one of the best of it's genre at the moment!
Xamax
July 29, 2016 at 11:36 am
This game has baffled me. Haven't seen this type of advanced strategy and teamplay in an online maffia game. Plus, not many Mobgames that have apps, great for ranking.
Dennis
June 30, 2016 at 08:36 pm
This Mobstargame is soooo much better. This is what we have been waiting for, the only app based mobstargame!
ItsBongo
June 29, 2016 at 03:17 pm
Just like you're used to 10 years ago but than even better!
Fred
June 29, 2016 at 02:05 pm
Great game! Great improvements, fantastic visuals and lots of fun when playing with friends!
zerowtjuh
June 29, 2016 at 01:35 pm
Get ready for pokerrrrrrr... xD Awesome game, works fine on mobile's aswell, and soon there will be a app :)
J. Bravo
June 29, 2016 at 10:50 am
Become a gangster. To start it's difficult, but once you are in a family and the hang of it yu can make some nice cash and have a lot of actions to work on through the entire game. Come join this cool mafia game.
Sebas
June 29, 2016 at 10:41 am
Really cool game. Absolutely love it. Best screens since many times!
Cleo
June 27, 2016 at 07:53 pm
Plain awesome. Nice updates, Drug muling etc. It's really a strategic game and I love it.
JJ
June 25, 2016 at 09:25 pm
Based on mobstar this Mobstargame is soooo much better and in development. Even an app will be soon available for continues play time anywhere anytime. This is it for me for upcoming years! This is what we have been waiting for, the only app based mobstargame!
Erwin Lemmers
June 29, 2016 at 01:24 pm
Very good
Johnny Blaze
June 22, 2016 at 12:54 pm
Been an addict on Mobstar for years but that game changed a lot for the worse,
but this game takes me back to when I loved playing it, really addictive once you get the hang of it.
Admins online a lot and really listens to their community.
Cuch0
June 22, 2016 at 11:33 am
It's amazingly addicting!
Boal
June 22, 2016 at 10:45 am
www.mobstargame.com is inspired on the original mafia .cc Mobstargame. But this version is in active development so expect new features and good support from the developers. Definitely the best text based browser RPG.
Butcher
June 17, 2016 at 09:43 pm
You have to take the time to fully understand this game, but its epic. The best textbased mafia game with apps. Like it a lot.

// The Butcher