National Gang Wars (OFFLINE)
National Gang Wars is a round-based browser game. You can hire Defensives such as thugs, hitmen and bodyguards but you can also hire Operative units. Enter the business world and start earning daily cash. You must start with the laundry shop but work hard to own a casino. Use your turns to produce crack, cash, dope and brew alcohol. You can travel to another destination like Rio De Janiero, Vancouver, Los Angeles, Cairo, Paris and lots of other fabulous places. You could also sell fake watches, attack others, pimp hoes, roll out casino tables, make friends, collect loan payments and much more.





(9 votes, average: 3.78 out of 5)
National Gang Wars images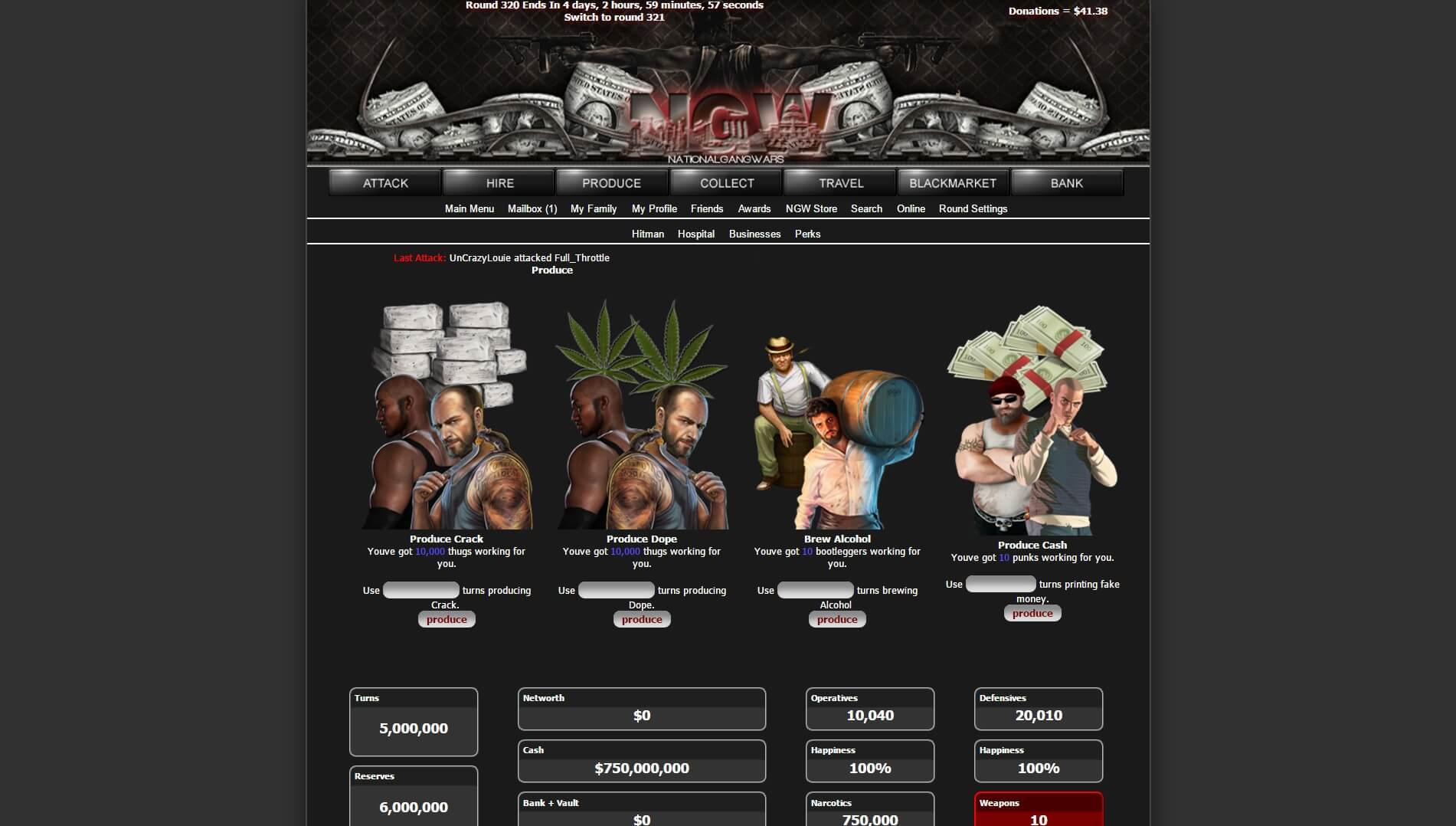 11

comments on

"National Gang Wars"
Steven S
October 29, 2019 at 08:14 pm
Love these games from allmafiagaming. This turns a mafia games completely around with a gangster twist. bang em all in the head. Come join us its easy to play and the people playing are a cool bunch of thugs!! Lets shoot em up!!
GhostFace
October 21, 2018 at 05:02 pm
nationalgangwars is sick bro, I just started playing.
Christizm
October 18, 2018 at 07:30 am
Awesome game one of my favourites
Steve
October 18, 2018 at 01:58 am
Great game!! Great mafia action woo hoo!! get her done!
Piano Man!
Silentmike
October 18, 2018 at 01:30 am
One of the best games out
Silentmike
October 18, 2018 at 01:29 am
Sup everyone
Jack Daniels
October 02, 2018 at 04:51 am
Great Game to play. Cant stop playing and meeting friends
Dan
October 02, 2018 at 01:50 am
I've been playing this for years. This game kicks ass! Better bring some friends with you the more the better.
Robert Sheaffer
October 28, 2017 at 04:52 pm
Very fun game once you start you can't stop playing!!!
Dominic
October 28, 2017 at 03:46 pm
this game rocks man. one of the best i would say!
TonyMontana
October 28, 2017 at 03:39 pm
Addictive bring a friend and raise hell. My favorite Mafia game twisted up Gangster style. you get a free 10 day sub for every 2 new friends you bring to the game. Always Buy one get one sub!! and free to play and free to win!!!