Nations
Nations as the name refers is about managing your own nation. Control your population, manage your resources and production. Create factories, buildings, start researching and create your military army. You can recruit various units and start battles. Quite unique and interesting cards system. It has to be mentioned, that this game has extremely modern looks and full mobile support.





(50 votes, average: 3.78 out of 5)
Rate it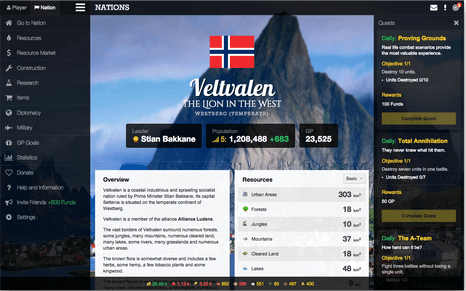 7

comments on

"Nations"
Madden
September 06, 2018 at 01:44 am
This game has a great community, and is actually updating again. The creator is working on new features and it is a really fun simulator game.
Old-Schooler
August 24, 2018 at 05:01 am
Game had potential, but an inactive owner, stalling development and lacks of game breaking bug fixes have lead to the game losing most of the active players.
Game feels dead and the only way to compete is by grinding for several hours every day.
chris
August 08, 2016 at 09:42 pm
The game's best feature is the overall UI design because it's ultra-modern unlike 99% of other nation games that look like they were built in 1995.
Billy
March 23, 2016 at 03:36 pm
Tricky and confusing at first, but you'd get the hang of it after an hour or two of playing. Great and I would really recommend it if you love rpg and simulation/managing games such as this.

5/5
BLARGED
January 30, 2016 at 11:36 pm
Great game and not a strain on time. I fully recommend playing this game.
Bouncyhunter
January 29, 2016 at 05:40 pm
A game that can go many ways, with a community that isn't too toxic.
Chris
May 03, 2015 at 11:08 pm
Fun game, a good way to burn time and have fun