NewYobCity (OFFLINE)
NewYobCity is a mafia-themed browser game. There are crimes like stealing a bike from the garden, robbing a purse, mugging a baby, kicking over a trash can and much more. Accept a mission and complete it in 24 hours. You can find items, gain experience and earn cash points in the Back Alley Brawl. Buy a pet to be able to participate in a pet track, go to the pet gym, commit pet crimes, and so forth. There's also an opportunity to pray once a day - select a prayer to get more money, points or experience.





(24 votes, average: 4.5 out of 5)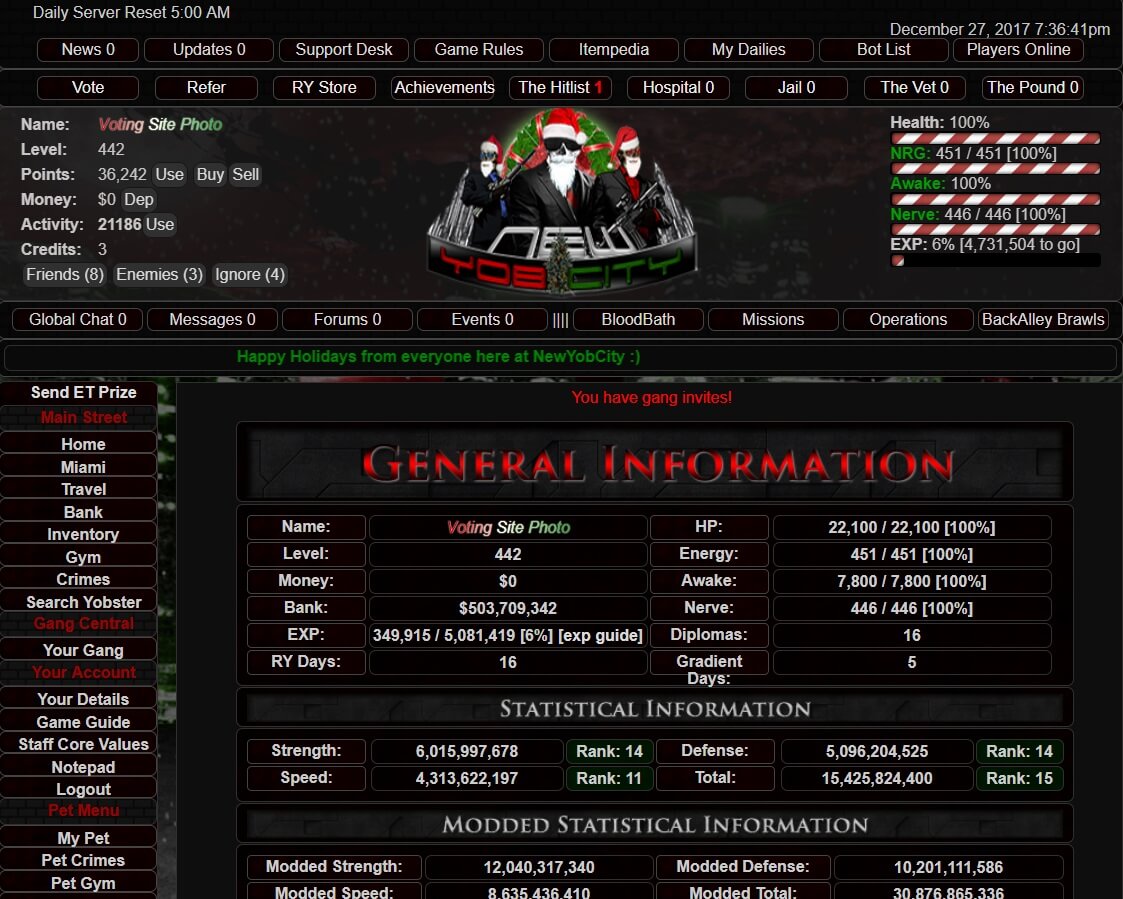 16

comments on

"NewYobCity"
Ravenous
April 28, 2018 at 07:18 am
My first day. Im looking forward to learning and playing at every chance I get.
MAYDAY
April 18, 2018 at 01:12 am
I've been a player at New Yob City for about a month and a half. A lot of these games lose my interest after just a few days, but this works for me. There's plenty of features to keep you occupied. leveling is fun and easy, and there's speed training which is a huge plus for me in this type of game. And then there's the staff... I wasn't around during the Mike era, so I can't say much about that. But Sanity and Nuker have a good think going here. And there's the rest of the staff (Apollymi, Precious, Shiloh and Psycho) who make sure everything keeps running smooth and helps keep everything fun and interesting. And there's the side benefit of being partners with rockinroundtheclockradio.com (the finest in internet radio), giving you some good tunes to enjoy while you play. So all-in-all, you'd be hard-pressed to find a better gaming experience.
Precious
May 27, 2018 at 06:38 pm
Thanks for all the support from you and your wife and the radio station you guys always keep us rocking!!
Precious
April 02, 2018 at 02:22 am
ew Yob City
NEW OWNERS, NEW DOMAIN!!!!! New Yob City, is a mafia-themed browser game, previously known as Yob City the game is under new management. Compete Missions, Operations, Compete in the Blood Bath. Improvements are made frequently, and the game is evolving
DonFanucci
March 13, 2018 at 07:14 am
My first text mafia style game and I really like it! Addicting!
Precious
April 02, 2018 at 02:21 am
Glad you like it!!
blackwolf
February 19, 2018 at 11:06 pm
ya this is a fun game better then old vergan
Precious
May 27, 2018 at 06:39 pm
Be sure to check out the simple comps to win points and game monies!!
mac KING ? miller
January 09, 2018 at 02:56 am
When trying to sign up, I got this message:


Not Found

The requested URL /register.php was not found on this server.

Additionally, a 404 Not Found error was encountered while trying to use an ErrorDocument to handle the request.

Is this game down already?
New Yob City Staff
February 03, 2018 at 06:28 am
Sorry the register page was down for a major revamp it is now back up & running
Precious
January 20, 2018 at 12:21 pm
No the game works great you can find us on Facebook
Precious
January 05, 2018 at 03:00 pm
New owner's come play!
mrsmexy
December 27, 2017 at 04:43 am
different owner now .. really great game love it
Precious
December 05, 2017 at 02:39 pm
Come play let's make a deal
Wild
August 26, 2017 at 11:39 pm
Love it
Slickster
July 21, 2017 at 10:06 pm
another by Michael Braden, go check out meanstreetsmafia his other now dying game.
That is why he has made this one , his 20th in 2 years or so, dont waste time or money on this game.
Precious
January 05, 2018 at 03:01 pm
New owners, Mike has no part in this game and never will ?
Psycho
December 21, 2017 at 10:56 am
This is no longer owned by mike. Great game, lots of fun things to do. We have active staff and admins are dedicated to improve the game more than it recently has been. Your efforts here will not be wasted.
cheekyfeet
December 02, 2017 at 03:55 am
How do you find what other games he's created.. need to find the newest one... msm, mafia duels, dead..
Gunner
July 01, 2017 at 11:03 am
Awesome game some great new updates :)
Maeve
July 25, 2016 at 01:19 am
The players are awesome, felt welcomed from the first day I started playing. Admins are active and interact with the players, always looking for suggestions from the community. Graphics are great and there's a lot of things to do that keep you busy. I give it 2 thumbs up with a fist bump
WarMad
July 24, 2016 at 01:25 pm
this is a great game i have been playing it every single day sense i signed up
AFI
July 17, 2016 at 11:59 pm
Mama said yobcity was like a box of chocolates...You never know what you're gonna get....But when i started playingggg, i found out i can run like the wind blows. Lmfao.
precious
July 17, 2016 at 10:35 pm
Great Game, Active Admin,No Lagging come join the fun!